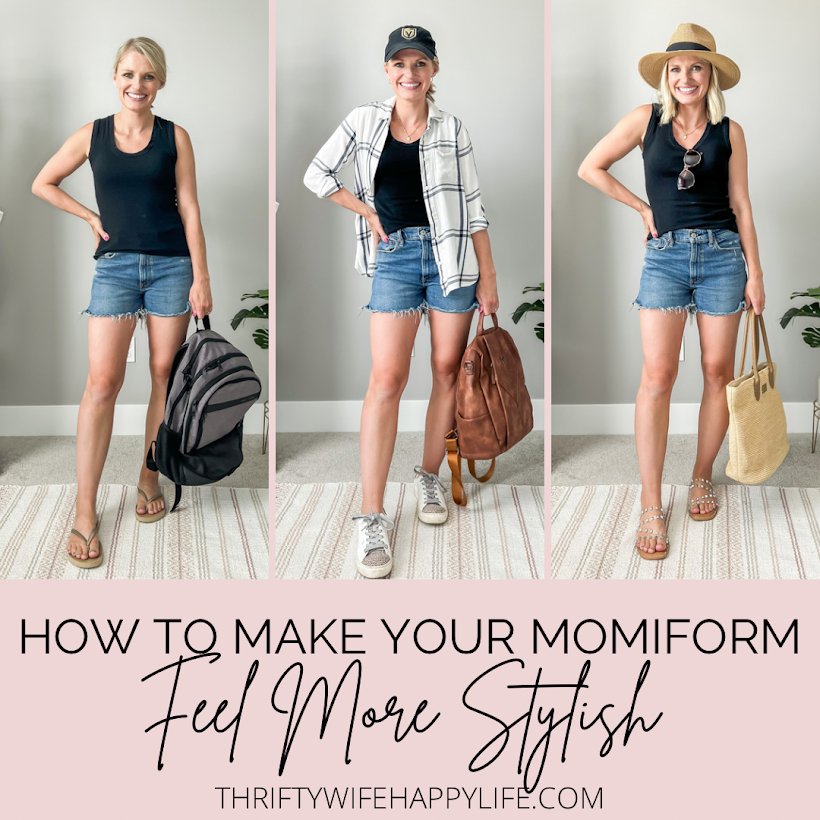 It has been a minute since I posted a momiform post, but I am back with another post on how to make your momiform feel more stylish. In case you are new here, this series of posts is all about taking simple everyday mom outfits that most of us already have in our wardrobes and making easy modifications to make the outfit feel more stylish.
This post contains affiliate links.
At the beginning of the summer, I asked my Instagram followers what their go-to summer momiform was. I got a few different responses, but most people told me that shorts and a t-shirt or tank top were their go-to mom outfits for summer. That's why today I have picked out one base outfit that I think most of us moms probably have in our closets and I have created 2 stylish momiforms out of it.
Outfit 1: Plain momiform
The first outfit consists of some really great basic summer wardrobe staples. I have on my high-rise mom shorts from Abercrombie and my $5 black tank top from Target. This creates an easy base to build any outfit on, but this outfit seems to be lacking. Let's see how we can make it feel more stylish.
Stylish Momiform Outfit 2: Sporty summer look
For the second outfit, I used the same exact base outfit as the first outfit. But with this outfit, I switched out a few pieces and added in a few new items to make the outfit feel more stylish and put together.
Top || Shorts || Shoes || Button-down shirt || Purse || Hat
Step 1: Tuck the shirt
I always start by tucking my shirt in. This creates balance in the outfit and it defines my waist. It's a simple step, but it always makes a difference.
Step 2: Lose the diaper bag
I get it, moms, we have a lot of stuff to carry. The space in a diaper bag can be very convenient. The only problem is that most diapers aren't overly stylish. I often opt for a backpack purse over the diaper bag. It's big enough to hold all the snacks and other essentials I need for the kids while running errands, but it's much cuter than a backpack diaper bag.
Step 3: Switch out shoes for a statement sneaker
I believe that shoes make your outfit. This is why I always try to wear cuter shoes. I switched out the Old Navy flip-flops for a leopard sneaker for this outfit.
Step 4: Add a layer
Layers can do a lot to complete an outfit, but it can be hard to add layers to your outfit in the summertime with the warm weather. A lightweight button-down shirt often makes for the perfect summer layering piece. You can throw it on when you run into a store that has the A/C on full blast, then tie it around your waist when you get warm.
Step 5: Add a hat
In the summertime, hats are not only cute, but they are also practical. I'm always trying to keep the sun off my face, so a cute baseball cap makes for the perfect accessory. It doesn't need to be a sports hat either. There are plenty of plain baseball caps that will give you the style.
Stylish Momiform 2: Simple summer look
In the last outfit, I made very simple changes to make the look feel more stylish. I dressed it up a little more than the last look, but it's still very casual and mom-friendly!
Top || Shorts || Sandals (similar, similar) || Purse || Hat
Step 1: Tuck the shirt
This is repetitive, but again I tucked my shirt in. It's the first thing I do to elevate every outfit.
Step 2: Switch out the diaper bag
Again, in this look, I switched out the diaper bag for a cuter bag option. This time I opted for a straw tote bag. Tote bags are a great purse option because they are big. In the summertime, I really love straw accessories, so a straw tote is the perfect mom-friendly purse for summer.
Step 3: Switch out the flip-flops for a cuter sandal
Like I said before, it's all about the shoes. For this outfit, I switched out my plain sandals for my studded slide sandals. Having a cute shoe just elevates the outfit.
Step 4: Add jewelry
I forgot to mention in the last outfit to add jewelry. I always feel that simple jewelry can make your outfit feel more complete! I typically wear a dainty gold necklace and some simple earrings. If I want to elevate the look I will wear my lightweight statement earrings from Tracy Lynn Designs! (Code: KATIE10!)
Step 5: Add a straw hat
Instead of a baseball cap, I added my straw fedora. I know that some people are afraid to wear hats because they feel silly or aren't used to wearing them. I felt the same way, but then I just decided to start wearing them with confidence. Now I don't even think about it.
Shop the momiform


If you feel inspired by this post, or any other of my posts to step up your momiform make sure to share it on Instagram and tag @thriftywifehappylife! I love seeing your outfits!!