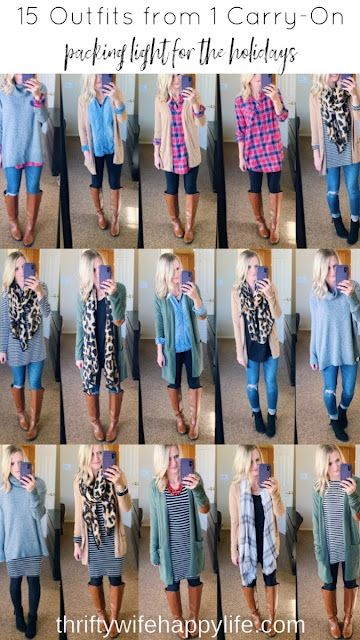 Next week I'm going to be making another trip home to Michigan for my Christmas break. I'm excited, but of course, overwhelmed thinking about it all. It's always stressful traveling around the holidays. My husband is going to be flying our flight, which I'm very excited about, but it also means that I'm on my own with our crazy 2-year-old. The hardest part about traveling by myself with a toddler is the amount of stuff we have to bring. His car seat, stroller, luggage, toys to entertain him… it's a lot. I haven't really mastered how to travel with a kid and look like one of those cool put together moms I see on Instagram. I'm always an over-packer because I hate leaving my wardrobe behind. The last time I traveled home, I learned my lesson that less is more. That's why on this trip home, I'm going to try and travel light. As light as I possibly can. That's why I started planning what I was going to pack for my trip weeks ago. I'm hoping this will help me when the actual travel day comes along.
Today I want to share what's in my suitcase this December. I'm trying to keep it simple, casual, versatile and most importantly warm. Our only plans are to visit with family and we have lots of family to see.
*This post contains affiliate links, which means by clicking on and/or making a purchase from a link, I will earn a small commission for this blog. Thank you for your support!

4 shirts- For this trip I've decided to take 4 tops. I'm bringing 2 button-downs. One plaid and one chambray, because those are my 2 favorite and most worn button-downs. I'm also bringing 1 striped tunic and a solid black long t-shirt. I figured these would be good for layering under my sweaters.

1-2 pairs of jeans- I'm planning on bringing one distressed pair of jeans and one regular pair. I figure this will give me a couple options.

2 pairs of leggings- Leggings don't take up a lot of room and they are perfect to travel in. I'm bringing 2 pairs for back up.

3 sweaters- I'm packing 2 solid cardigans, 1 colored (I'm bringing olive green) and 1 neutral. I'm also bringing my new cowl neck sweater. It's super cozy and warm, which will be perfect for a Michigan Christmas.

1 dress-
I'm bringing my casual long sleeve striped dress. I bought this dress when I was pregnant with Jack and I loved styling it as a maternity dress (read about that
HERE
), but now it's just a really great staple dress to have in my wardrobe. It's easy to layer, so I figured it would be perfect if I wanted to dress it up a bit for church or something.

2 pairs of shoes- Shoes are my hardest to part with, but I've narrowed it down to just 2 pairs. I'm going with my new brown riding boots and my black booties. I figured that would give me a lot of options of ways they can be worn.

2 scarves- Scarves are a great way to accessorize and switch up your outfits. I'm bringing my leopard scarf and my grey plaid scarf.

2-4 pieces of jewelry- I'm going to pack my red bead necklace because it's the perfect way to add some Christmas colors to your outfit. I'm also going to pack my favorite bar necklace and leather earrings. I'll also probably add in an extra pair of light earrings.
I actually was able to come up with way more than 15 outfits with these clothing pieces, but since this blog post is already pretty long, I decided to keep it at 15. Did I mention I'm only going to be gone for 6 days? I should be able to find something to wear every day.