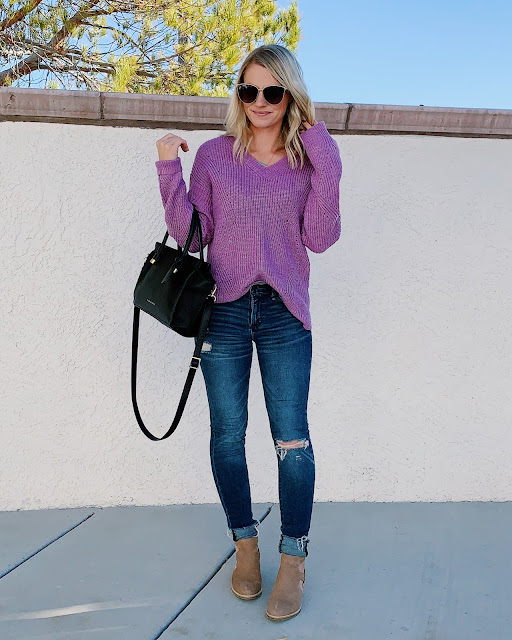 It's February now and I think most people are pretty excited about that. I never thought much of the month of February until 3 years ago when my due date was set for February. Now every year I look forward to the month because I get to celebrate my little guys' birthday. He's turning 3 this year and it's really hard for me to believe. I still refer to him as baby Jack when I'm talking to my students at school about him, but now I feel like he's too big to be called that. Now that he's 3, he is actually remembering things and knows what's going on. This makes me feel pressured to make sure his birthday is extra special, so it looks like I need to spend some time on Pinterest planning out some birthday ideas.
Anyway on to fashion. Since it's February, I'm going to try to break out of my leggings and sneakers phase that I've been going through for the last month and attempt to put together some more colorful outfits. The grey winter months need a little color. Everyone always really loves reds and pinks for Valentine's Day, but I'm really loving purple too! This lavender sweater that I'm sharing today was a Christmas gift from one of my students. I don't always like getting clothes as a gift, because I'm picky and I don't want to be rude if I don't like it, but I actually really love this sweater. It's something that I would have never picked out for myself. I probably would have bought it in oatmeal or grey. It's nice to have a bright pastel color in my closet. I figured that it would transition well into the spring and also look really nice around Easter. Scroll down to find out all the details!
*This post contains affiliate links, which means by clicking on and/or making a purchase through a link, I will make a commission for this blog. Thank you for your support!