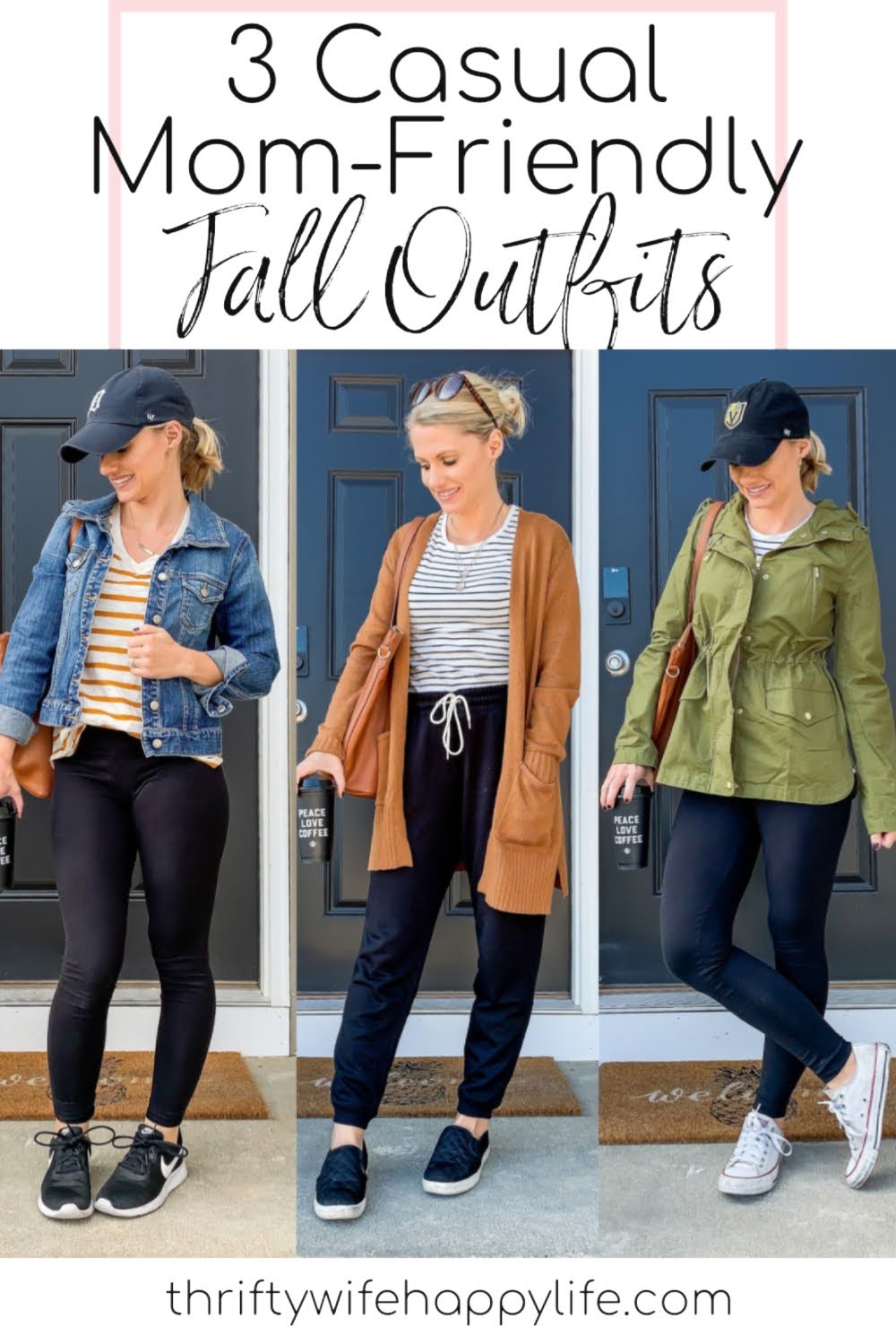 The school year is now in full swing and I feel like I am still trying to figure out this whole stay-at-home-mom thing.  I got so used to being a working mom and always being on the go, that not having a place to be in the morning has been a huge change for me.  In the past, I woke up early, showered, got dressed, and dropped off Jack on my way to work looking presentable in my work clothes.  Now that's all changed.  I prefer to get ready after I drop off Jack at school.  That means I am totally guilty of chugging my coffee, splashing some water on my face, and throwing on some workout clothes to drop Jack off at preschool. I always feel like if I look like I'm on my way to the gym it's acceptable.
The truth is, if you don't have any plans to work out for the day, you don't need to disguise yourself in workout clothes.  Today I have 3 cute and casual fall outfits that are perfect for morning drop-off, errand running, or just lounging around the house.  Just because you want to be casual for the day, doesn't mean that you need to feel frumpy or not put together.
*This post includes affiliate links, which means by clicking on and/or making a purchase through a link I will earn a small commission for this blog. Thank you for your support! 
Outfit #1
A baseball cap and denim jacket are 2 of my favorite morning drop-off accessories.  Wearing a hat is always a great way to hide your dirty hair and then the denim makes me feel more presentable.  I also love a classic pair of black tennis shoes.  They go with everything!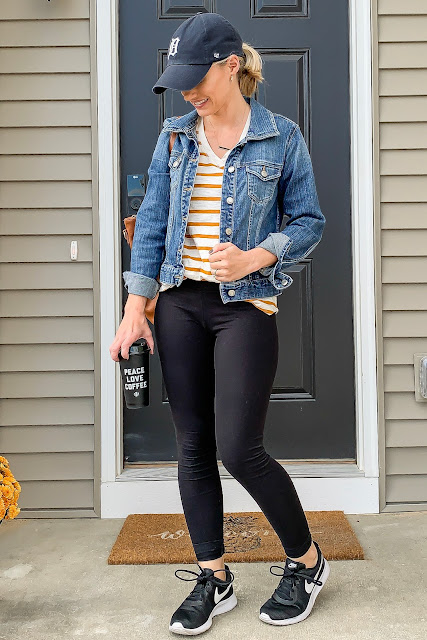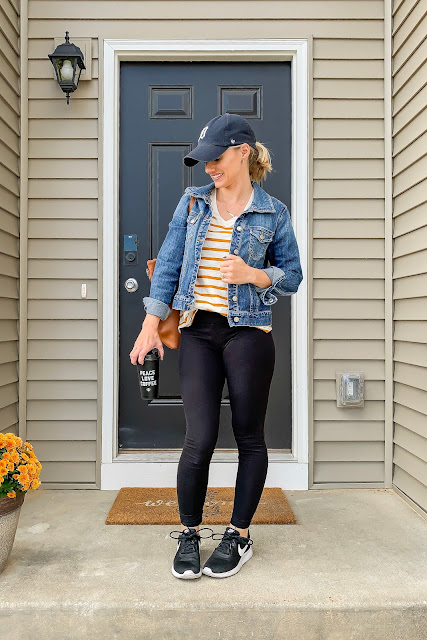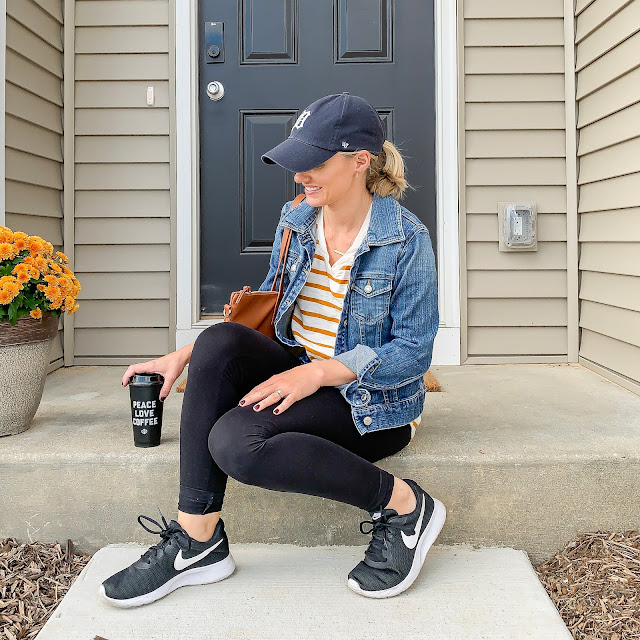 Outfit #2
I don't like to say I wear sweat pants, I wear joggers.  Joggers are super comfortable to wear around the house and when worn correctly, they can be perfectly acceptable for wearing out of the house as well.  For this look, I wore a cardigan and striped crew neck t-shirt… 2 clothing items that I don't think you can ever go wrong with.  I also wore my black slip-on sneakers.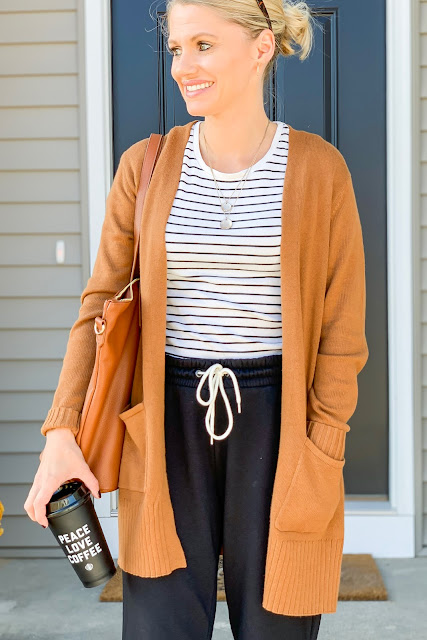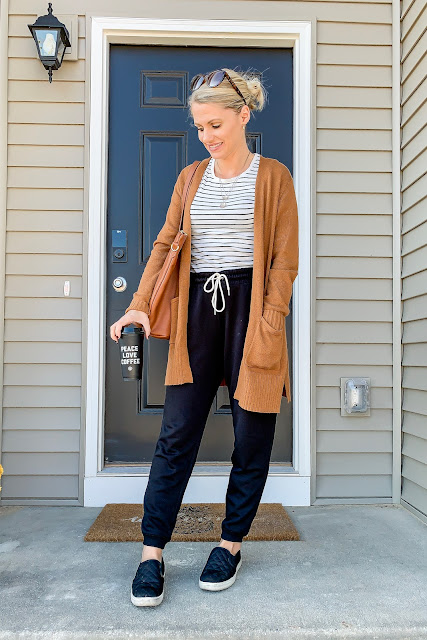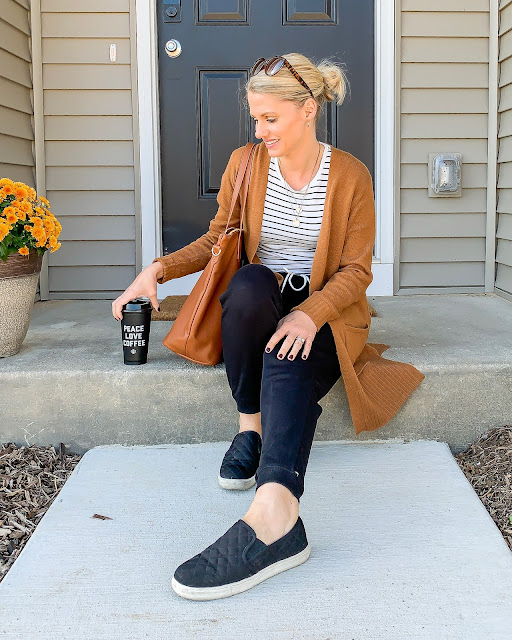 Outfit #3
Utility jackets are such a great mom-friendly wardrobe staple.  I love having a lightweight jacket to throw on over my clothes in the fall.  Another mom-friendly wardrobe staple for me is my converse chucks.  These are one of my favorite, most versatile pairs of shoes in my closet.  Mine are getting old, but I will probably wear them until they get holes in the soles, then I will buy a new pair because I love them that much!