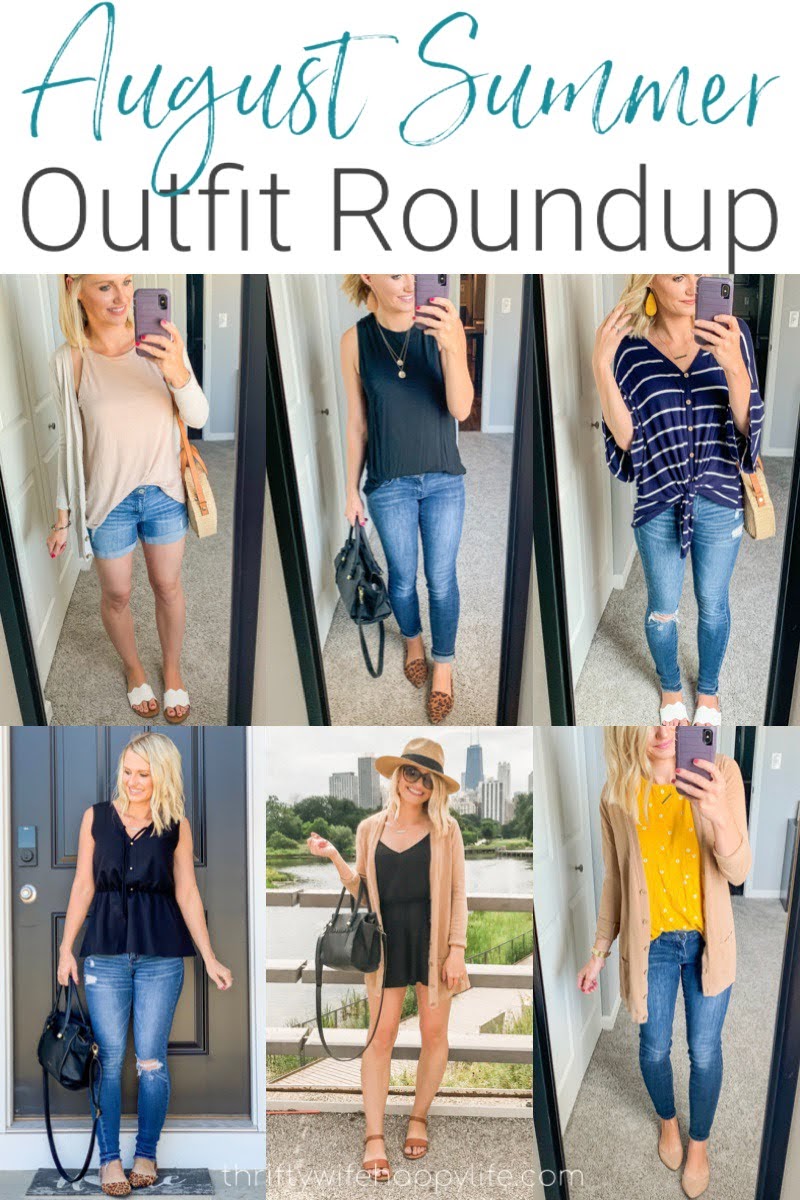 Can you believe it's September?  Where did the summer go?  At the beginning of the year, I made a promise to do a round-up post at the end of every month to share my everyday real-life outfits.  Well, between my move and adjusting to my new lifestyle, I've been bad at documenting my outfits.  Without having to wake up early and leave the house every day, I feel like my creativity in my outfits has been lacking.  I'm just trying to figure out how to keep that motivation going, even on the days I'm just hanging around the house.  I feel like sharing my daily outfits helps me motivate myself to try a little harder when getting ready.  So I will do my best to keep up with my real-life outfits.
I will get to sharing my outfits in a minute, but first I want to share that yesterday was my 6-year blog anniversary.  I shared my very first blog post on Thrifty Wife Happy Life 6 years ago (Read it
HERE
).  Back before I used Instagram before I knew how to take a decent outfit selfie before I knew anything about blogging I posted my first blog post.  I didn't even add any pictures.  To be honest, I didn't even know anyone would ever read my blog, I simply wanted to have a place where I could share my creativity with my affordable wardrobe and share some money-saving tips.  Now here I am 6 years later, doing what I love.  Blogging can be very competitive at times and lifestyle blogs come a dime a dozen, but if you have ever thought about starting a blog for yourself, I highly encourage you to step out of your comfort zone and just do it.  If you ever want any tips or advice on blogging, especially when it comes to blogging on a budget, I'd be happy to help.  I don't know a lot, but I can tell you what has helped me over the years and point you in the right direction.
With all that said, I am always trying to make improvements on TWHL.  My latest improvement is my newsletter emails.  It's something I've been wanting to do for a while to connect more with my readers, but it's such a big project for me to take on that I've been avoiding it.  My plan is to start off sending out a seasonal newsletter (4 per year) and then possibly add a few more throughout the year.  They will include life updates, recent posts, style tips, sales, recent purchases, and more.  If you aren't already subscribed you can sign up HERE!  Even if you think you are signed up, you might want to sign up again because I've made a few changes.
Now on to my outfits.  Here is my end-of-summer outfit round-up!