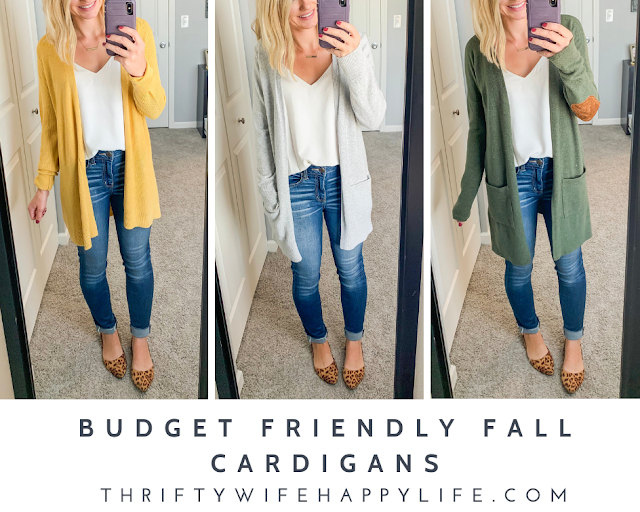 *This post contains affiliate links.  By clicking on a link and making a purchase, I will earn a commission for this blog.  Thank you for your support!
I love fall!  Who doesn't love everything fall?  The foods, the smells, the FASHION!  I love it all!  What I really love about fall clothes is that you can start to layer again!  My outfit always feels like something is missing if I'm not layering with anything.  Summer is too hot for layers and winter is too cold for just one light layer.  That's why I love the transitional seasons of spring and fall so much.  One thing in my closet that I can't ever have enough of are cardigans.  I love them!  I wear them almost every day, so they are always a well-made purchase.  That's why today I want to share some of my favorite cardigans this fall and where I like to shop for them.
I can always find a good deal on a cardigan at
H&M
.  I'm talking under $20, and that's when they are full price.  Living in the desert for the last couple of years, I collected a lot of their
loose-knit cardigans
. They are the perfect light layer to wear when it's not too cold out.
Who doesn't love a good 
Target
finds?  I have bought so many
Target
Cardigans over the years I can't count them all.  They always have good sales on them, and even at full price, they are under $30.
Old Navy
is just one of those stores that always have good styles and good sales.  I'm really loving their cardigan selection this year.  I definitely have a few of them on my fall wish list.
Here is why
PinkBlush
makes my list.  They have a unique selection of
cardigans
, they always have free shipping and they always have a sale going on.  So even though their cardigans are closer to $40, you can usually get 20% off or more.  They also have a great variety of
plus-size options
and
maternity
.
Where do you shop for cardigans?