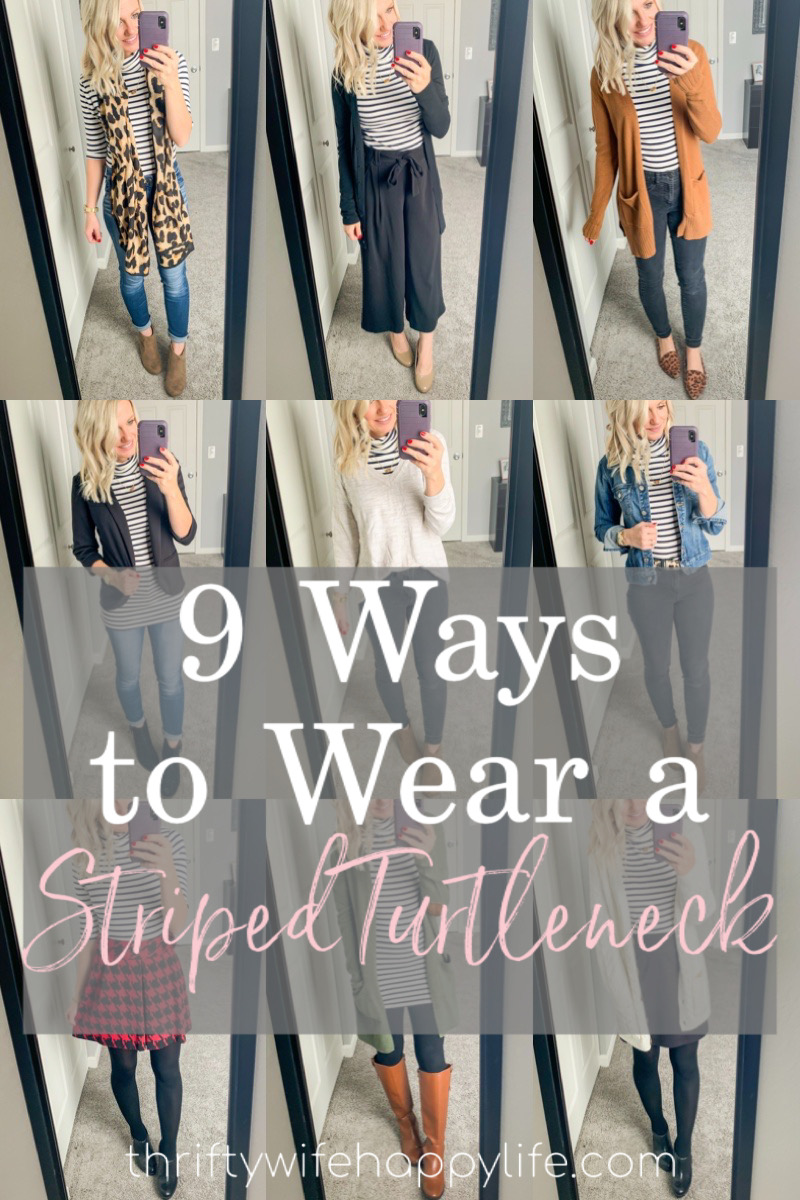 *This post contains affiliate links, which means by clicking on and/or making a purchase through a link, I will earn a commission for this blog.  Thank you for your support!

It's been a while since I've done a "how to wear" post.  The last couple of months have been pretty rough and I've just been trying to get through my first trimester of pregnancy as smoothly as possible, but blogging was definitely put on hold.  I'm slowly trying to get back into it now.  Last week I posted my 5 favorite holiday wardrobe staples (check out that post HERE) and this week I thought I'd share 9 different looks with my new thrifted striped turtleneck.
I think it's because I'm always so cold, but I've been loving turtlenecks lately.  They are great for laying under cardigans when it's really cold out.  I also love wearing them alone or with a scarf.  When I found this striped turtleneck at Goodwill for $3.99 I knew I had to have it.  Last year I passed up a really cute tunic turtleneck at Target (similar
HERE
), so I was really excited to find this one for such a great price.
Today I want to share how versatile a striped turtleneck can be, especially in the winter months.
Look # 1 Jeans +Stripes + Leopard
This has always been a favorite combination for me.  I just love to mix leopard print with stripes.  Since these are all neutral colors, I feel like these two patterns are perfect if you are new to mixing patterns.
Top || Scarf || Jeans || Shoes 
Look #2 Wide leg paper bag pants
These Zara wide leg paper bag pants were the other Goodwill purchase I made when I bought the turtleneck.  They were also $3.99.  I just love how they look with the top.
Top || Cardigan || Pants || Shoes
Look #3- Black + Tan + Leopard
For this look, I'm adding in some leopard again with my shoes.  This is another classic look for me that I would wear any day of the week.
Top || Cardigan || Jeans || Shoes
Look #4 Jeans + Blazer
I'm always a big fan of a classic black blazer.  It's a favorite wardrobe staple of mine.  I love how the turtleneck looks layered under it.  It's simple and classic.
Top || Blazer || Jeans || Shoes
Look #5 Layered with a V-neck Sweater
In the winter, I often get too cold in a v-neck sweater, so this is a great way to stay warm and still look cute.
Top || Sweater || Jeans || Shoes
Look #6 Denim + Black + Stripes + Leopard
This is another one of those go-to looks for me.  Wearing a denim jacket with black denim is always an easy way to throw together an outfit.  I even added my leopard belt, because if you can't tell it's always fun for me to add leopard to any look.
Top || Jacket || Jeans || Belt || Shoes


Look #7 Houndstooth + Stripes
More pattern mixing.  This time I paired the stripes with my red houndstooth skirt.  I feel like this would be a great holiday look.
Top || Skirt || Tights || Shoes


Look #7 Leggings + Cardigan
I can't forget the leggings outfit, because most likely this is how I'm wearing my turtleneck lately.  One of the things I love about this turtleneck is that it's long enough to wear with leggings.  I love wearing my knee-high riding boots with my leggings too.  They help keep my legs warm, plus I like the way they look.
Top || Cardigan || Leggings || Boots


Look #8 Cozy Sweater + Pencil Skirt
Pencil Skirts are just another one of my must-have wardrobe staples.  They never go out of style and I love how they look with this turtleneck.  I added a cozy sweater to this look to make it more winter-friendly.