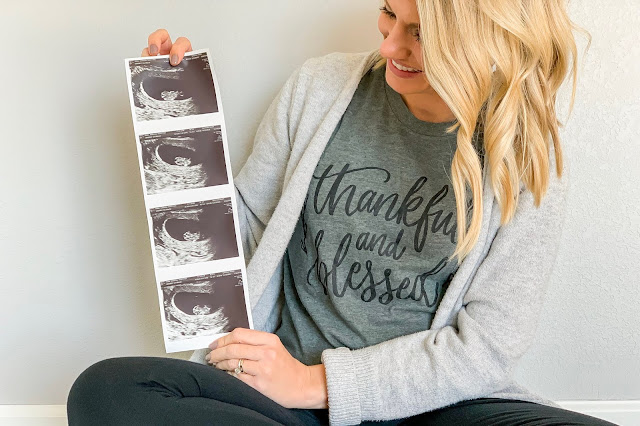 I'm so excited to share that Kevin and I are having another baby!  This is something that we've wanted for a while, but we wanted to wait for the right time to try again.  To be completely honest, I'm a little more scared this time around than I was the first time.  Jack is now 3, almost 4 and he's outgrown the baby stage.  We can go on family outings without needing a full extra bag of toys, diapers, and snacks.  We rarely use his stroller,  he talks, and did I mention he's finally potty trained?  Things have been pretty easy the last few months, especially with me home and having Jack in school.  Now we just thought we'd switch it up a little by adding a new baby.
How we found out…
I found out that I was pregnant in mid-October.  Kevin had 3 weeks off work and I had been looking forward to this all year long.  We had plans to go to a family wedding and spend the night away from Jack and we also planned a trip to Las Vegas while he was off, so I had no intention of getting pregnant before October.  I had only stopped taking my birth control for about a month, so I figured it would take some time and I would have plenty of time to prepare myself for the idea of being pregnant again.  Of course, God always has other plans when it comes to this kind of thing.  When my period was a day late in October, I thought I'd take a pregnancy test just to be safe.  My cycle is pretty regular but I was pretty confident that the test would be negative.  Sure enough, a big dark blue plus sign showed up.  I was shocked.  I'm not the type of person who jumps up and down when they see a positive pregnancy test.  Positive pregnancy tests usually scare me.  I had 2 early miscarriages before Jack, so I hated finding out so soon.  I told Kevin later that night and his reaction was much better than mine.  He was happy and calm about it which helped me feel a little better about the whole thing.
As you can imagine our trip to Las Vegas, which was our very first trip without Jack wasn't what we had planned.  We originally wanted to go on a cruise vacation, but with coordinating the flight times and cruise ship times with the limited time we were willing to spend away from Jack, we decided Vegas would be a fun easy getaway.  Our plans were to stay out late and pretend that we didn't have responsibilities.  Well, that didn't exactly happen.  My morning sickness was just starting to kick in so I spent most of the time throwing up or wanting to take a nap.
How far along are you?
I'm 12 weeks.  I really wanted to share this news a little sooner, because I hate having to keep a secret.  I feel like I'm lying.  But I decided to wait until after I had my first official doctor's appointment and got to hear the baby's heartbeat one more time before I shared our news.  I had an ultrasound at 8 weeks, which was really exciting.  There is nothing better than getting to see your baby for the first time.  I swear I don't officially believe I'm pregnant until I see the baby and hear the heartbeat.  Our families have known for a while because it's pretty hard for me to hide being pregnant.  If you know me at all, you know I would never turn down a drink, unless I'm pregnant.  When my in-laws came to visit the day after I took the pregnancy test and I didn't order a beer at my favorite brewpub, they knew something was up.  I actually felt much better about the pregnancy once I started to share our news, that's why it feels so good to share it right now.
How have you been feeling?
I can't lie, the first trimester is no fun!  I started getting nauseous and throwing up at 5 weeks every day, then at 10 weeks, nausea started to feel much better.  I couldn't get myself to throw up anymore, so that was kind of a nice relief for me.  With Jack, I was throwing up 2-4 times a day until about week 16.  I kind of just expected the same with this pregnancy.
Even though it was nice that I wasn't as sick this time around, I still haven't felt that great.  I have been very tired.  I feel like I could sleep all day.  Mentally this trimester has been really hard for me.  I haven't felt like myself, which means I haven't felt like sharing much on social media or really doing anything at all.  I've been a little lonely too.  When I was pregnant with Jack things were a little different because I was working.  I had my co-workers at work to talk to and having that support system was really nice, especially since I was far from family.  This time around I'm at home and I don't have friends and family who live close by, so it can be hard sometimes.
How is this pregnancy different from your first?
So far this pregnancy seems very different.  For one, I've had a hard time believing I'm pregnant again.  I know that sounds weird, but with Jack, it took a lot longer to get pregnant and I had 2 miscarriages, so I was expecting and fearing a similar situation.  But so far things have gone pretty smoothly.  It really is a blessing, so I just pray it continues to go this way.
Another thing that's very different this time around is my weight gain.  I'm a pretty small person, so for me to gain 6 pounds in 3 months is a lot.  I can't lie, during the first couple of months, I was eating a little bit more unhealthy than I normally do, because I was eating whatever didn't make me feel nausea.  Now I'm just trying to get it all under control before I really start growing and putting on the pounds.  I'm just trying to eat healthier and drink more water.  I also need to start figuring out a workout plan too.
Will you find out the gender?
Yes, we will definitely find out the sex of the baby at our 20-week ultrasound.  I hate surprises, so there is no way I could wait for 9 months to find out what we are having.  We aren't the gender reveal type of people, so we probably won't do a party or anything like that.  I'm sure I will find a cute way to share it on Instagram.  I personally don't care if it's a boy or a girl.  I'd love to have one of each, but if I have 2 boys I'll be just as happy.  I just want a healthy baby.
How does Jack feel about being a big brother?
Jack is excited.  I've been trying to ease him into the idea of having a little brother or sister for a while now.  At first, he didn't get it, but the more I talk about it with him and I show him pictures of him in my belly, the more he seems to be okay with the idea.  He now says that his family is "Mommy, Daddy, Jack, and the baby". I think he will be a good big brother and he will be old enough to be my little helper.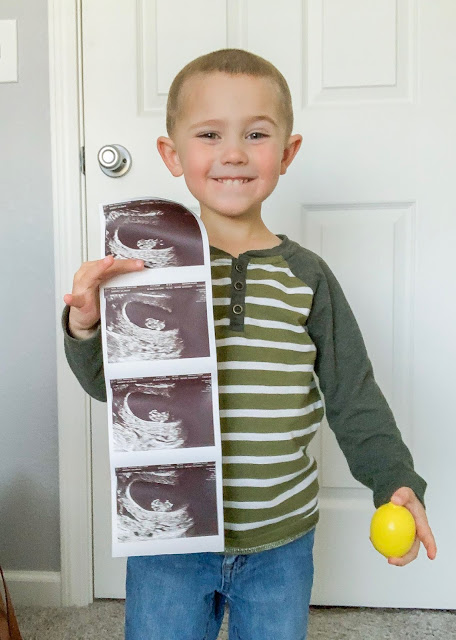 I'm excited to be able to share my pregnancy journey with all of you who follow along with me.  I'm sure I will have lots of affordable maternity outfits and pregnancy posts to share in the coming months.  Thank you for all your well wishes!  I'm looking forward to becoming a mom of 2!