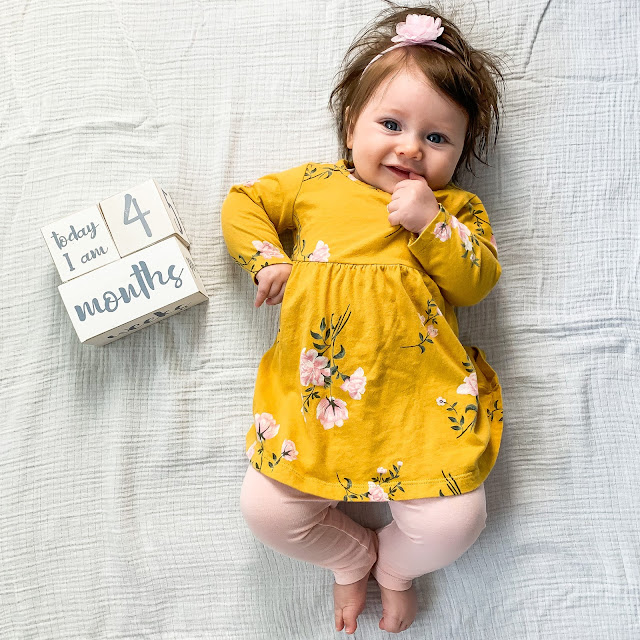 *This post contains affiliate links, which means by clicking on and/or making a purchase through a link I will earn a commission for this blog.  Thank you for your support!
Baby Update 
Anna is now 4 months and I wish I could slow down the days.  I'm just trying to take it all in.  She's rolling around everywhere and I know she is wanting to move around, but I'm hoping she will hold off long enough for us to baby proof the house.  I love her smiles.  She has the sweetest laugh and when she cries it's like she just got her feelings hurt.  I know I'm her mom, but I think she's the sweetest little girl ever. 
One thing that has been different about having a baby born during a pandemic is that she hasn't spent much time around her extended family.  I'm sad that we only live 2 hours away from all her grandparents and she's only been around them a handful of times.  That's not how I had envisioned her first few months to be, especially since one of our main reasons for moving back to Michigan was to be able to see our family more often.  But I'm getting pretty used to adapting to the disappointments in the year 2020.  I'm just hoping that things will get better and I can share my sweet girl with our family more often soon! 
I've been having a lot of fun shopping for her lately.  She didn't have many 3-6-month-old clothes, so I did a little fall shopping for her.  I didn't realize how much I would enjoy shopping for a little girl.  So far my 2 favorite places to buy her clothes are Old Navy and H&M.  I also love shopping for her at Kid to Kid.  It's my favorite kid second-hand shop in our area and I always find some really cute things for her.  I love recycling my kid's clothes.  Since I know that I am all done with having babies and now that I have a girl and a boy, each time they grow out of their clothes I take them up to Kid to Kid and sell them.  I use the money in return to buy them new clothes at the store.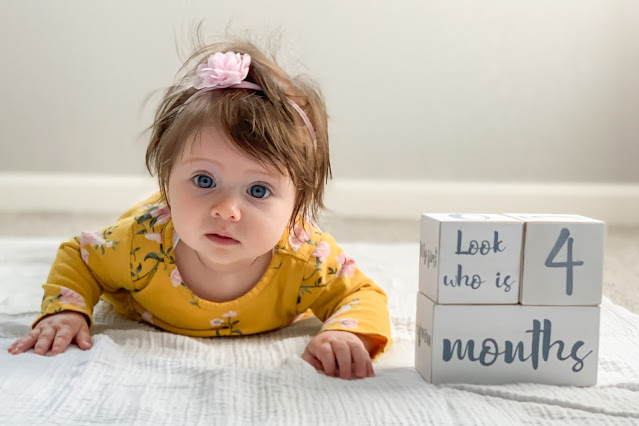 Anna seems to be creating her own daily schedule.  Having Jack in school helps me keep her on a good routine.  It's been different being home with her compared to when Jack was a baby and I was working full time.  I wasn't around to set the schedule for him, so this time around has been pretty nice for me.  I'm really enjoying being a stay-at-home-mom right now.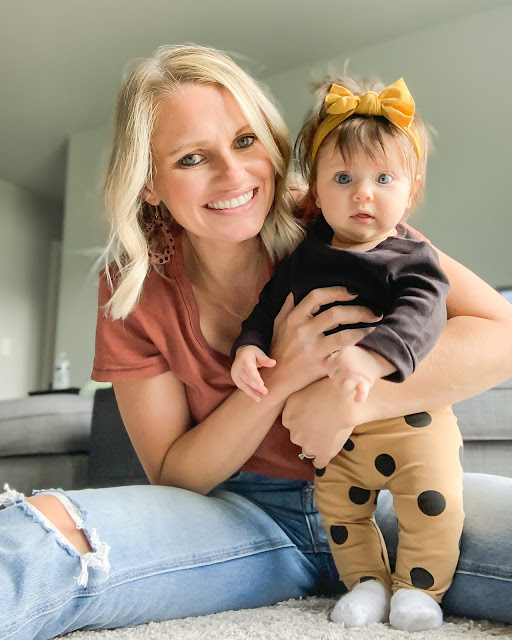 Breastfeeding 
 Breastfeeding is still going strong.  The longer I breastfeed the easier it all gets for both of us.  The only thing that I'm not a fan of at the moment is the all-you-can-eat-mommy-buffet open 24/7. Hahaha!  Anna's been wanting to nurse a lot during the night and I don't think it's because she's hungry.  She doesn't like her pacifier and I think she thinks I'm her pacifier at the moment.  I don't mind nursing her before she falls asleep, or in the middle of the night when she's hungry, but I don't like comfort nursing all night long.  I will have to work on that with her. 
I don't plan on starting her on solids until she's closer to 6 months.  My plan is to do the same thing I did with Jack and start her on food with a few purees but I will probably move on to regular finger foods shortly after.  I know that baby-led weaning is pretty popular and I'm a big fan of it, but I plan to do my own thing and just go with the flow instead of following everything by the book.  One thing that I won't be giving her very much of is store-bought baby food.  It's too expensive and it's gross.  There are some store-bought baby foods that I will buy from time to time, but for the most part, I plan to make all her baby food myself.  I'll share more about that once I start, but HERE is a post I did on baby food when Jack was a baby in case you're wondering about homemade baby purees.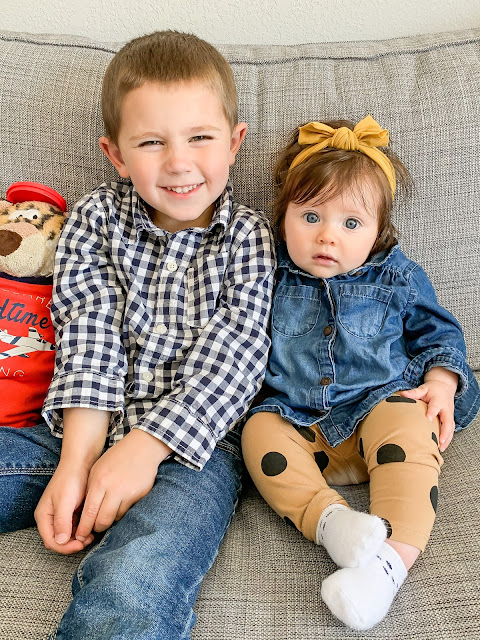 Life With 2 Kids
I'm kind of in mommy heaven right now.  Life is busy, but I love it.  It's been an adjustment, but things seem to be getting easier.  I feel like everything just takes a little more preparation on my part.  When we leave the house, I make sure everything we need is in the diaper bag.  In the evening, I take turns getting them into the bath and ready for a bed.  It's all about multi-tasking.  Jack has been entertaining himself a lot lately, which has been helpful for me.  They are just both at such fun, cute ages.  I love having a little baby to snuggle and a little 4-year old that I can have conversations with.  I'm just soaking it all in.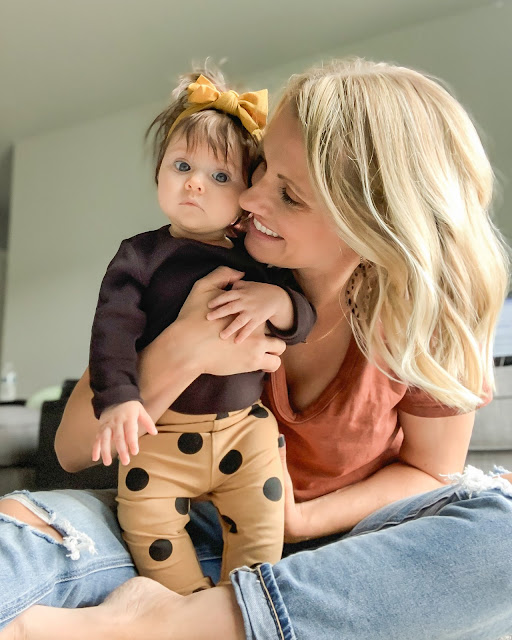 Postpartum Update
I am feeling good.  Like I said in my last update, I'm almost back to normal.  I've been slowing down with my workout routine the last couple of weeks, so I know I will need to pick that up again soon.  Even though I'm fitting into my clothes and feeling good, I feel like I've hit a plateau.  I feel like I'm going to have to work a little harder to lose the last bit of baby weight.  Even though I'm not exactly where I'd like to be yet, I'm still okay with my body.  Like I always say in my other post, I am proud of my body.  I'm proud that I carried my baby and I accept the changes that it's been through.
Katie🤍