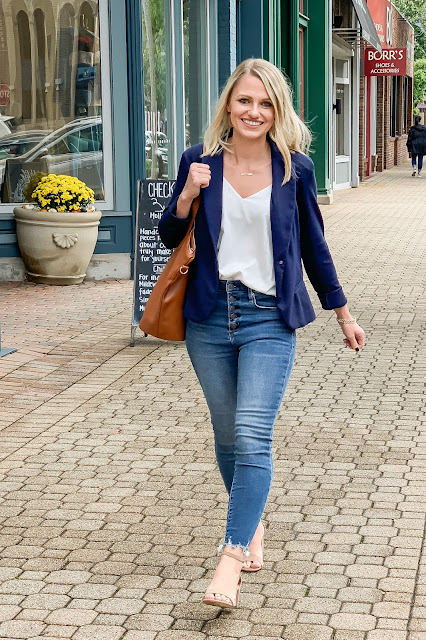 *This post contains affiliate links, which means that by clicking on and/or making a purchase through a link I will earn a commission for this blog.  Thank you for your support! 
I believe that anyone can achieve great style.  When you have style, you have confidence.  It doesn't mean that you have to have the most expensive or trendy clothes.  Style is defined as expressing yourself through what you wear.  We all can express ourselves through our clothes.  Everyone has their own personal style even if you don't think you do.  Knowing how to work with your own personal style is another thing that sometimes takes time to find.
Finding your personal style isn't always easy.  It can take years to figure out what you like, what looks good on your body, and what makes you feel good on the inside.  I personally didn't figure out my true personal style until I hit my 30's.  I use to have a hard time figuring what to wear.  I'd spend hours trying on different clothes and never finding the perfect outfit.  Now I feel like I have the opposite problem.  I have too many outfits I'd like to wear and not enough time to wear them all.
Today I'm going to share with you my own personal style journey and how I became confident in what I wore.
My journey of finding my personal style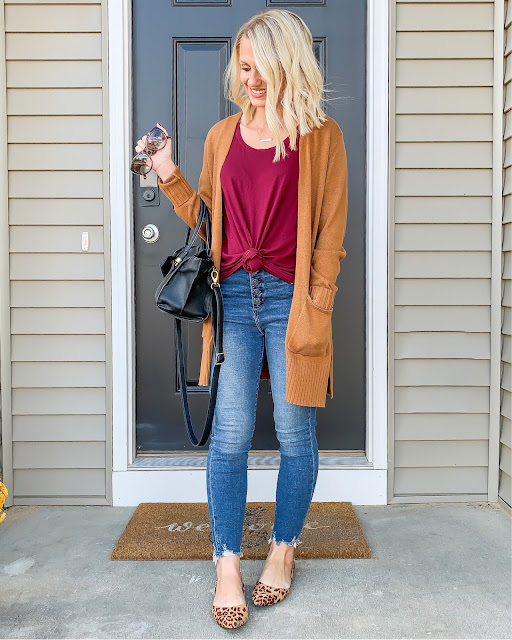 I always remember being interested in clothes when I was a little girl.  My first fashion love was a pair of red shoes my mom bought me.  I thought they looked like Dorthy's ruby slippers from the Wizard of Oz and I wouldn't take them off.  I always loved playing dress-up in my mom's old dance costumes and I remember being very interested in what women wore throughout history.  I used my imagination to create my own dresses with what I had to work with.  I just always loved putting together new outfits to pretend I was a character from my favorite books and movies.  I even remembered being more interested in Barbie clothes than having a lot of different Barbie dolls.
This is me when I was about 4 or 5-years-old.  I remember loving that it was purple and it had a big pocket that I would put candy in.  I always loved to wear jewlery and hair clips too.
As I got older I became less creative with my outfits.  Middle school and early high school were hard years for me to figure out what I actually liked because I was so influenced by my peers.  I only wanted to wear name brand clothes because that was what was cool.  It wasn't until later in high school that I started to wear clothes that I actually liked and stopped trying to fit in so much.  During my later high school years, I remember loving my platform sandals, my jean skirts, and my polyester low cut tops.  In high school, I was really unfamiliar with any designer brands.
Once I got to college I was exposed to so many new things, including new fashions.  I learned what designer handbags were and I learned that I needed a pair of stiletto heels.  My chunky heels and platform sandals weren't cutting it anymore.  Being in a sorority and living with friends always influenced what I wore.  No matter who I was hanging out with, I usually dressed similarly to them.  I went through many different styles in college, but that was the perfect time for me to really explore my sense of style.  I wore a few outfits I regret and experimented with trendy pieces.  Forever 21 and Wetseal were always my go-to stores back then.  No matter what trendy outfit I was wearing, there were always certain clothes that I always felt good in no matter what.  I always felt great wearing anything black… a dress or a top, and I always felt good in a cute pair of jeans and high heels.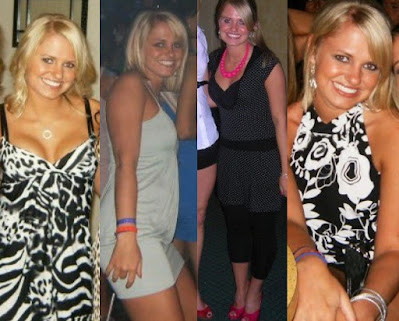 These are some of my college fashion choices that I regret. 🤣
After college shopping was pretty much nonexistent in my life.  I had graduated with a lot of student loan debt in the middle of a recession with a job that paid $10 per hour.  I was forced to make do with the clothes I wore in college.  Luckily, I had a work uniform and I'd spend a little money here and there to make some purchase to update what I had in my wardrobe.  It wasn't until after we paid off my student loans that my wardrobe started to rebuild its self.  I still didn't shop much, but I started getting inspiration from other blogs I started to read through Pinterest.  I started thrift shopping occasionally and got creative with my affordable wardrobe.  Before I knew it I started this blog Thrifty Wife Happy Life and my sense of style has been improving ever since.  I can honestly say that I feel the most confidence in my personal style right now in my 30's than I ever did in my 20's and teen years.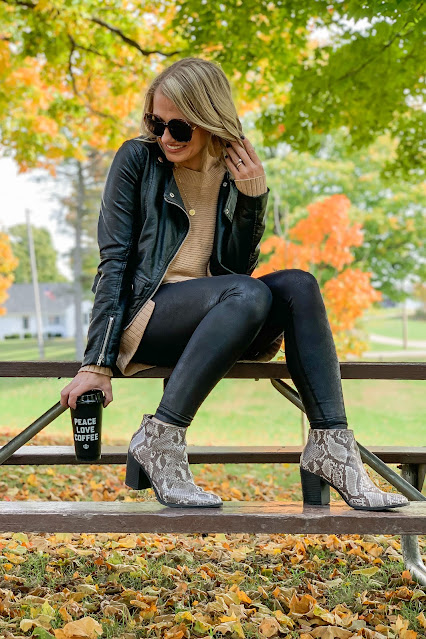 Finding inspiration for your personal style
As I said before, in my younger years my peers influenced what I wore a lot.  Even in college, my sorority sisters and I never shopped or got ready for a party alone.  We would often go out in matching outfits.  Once I stopped living with my friends, got married, and had to live with a boy (haha) I was forced to look elsewhere for style inspiration.  Social media has been a wonderful place for me to draw inspiration from.  I love finding styles I like and saving them to my boards on Pinterest.  I also get a lot of style inspiration from other bloggers that I follow on Instagram.  I like to learn what's trendy and popular, but I often try to stick with the basics.  The one thing I have learned over the years is that I'd rather have a closet full of versatile pieces that I can wear in many different ways, rather than a trendy wardrobe of clothes that only get worn once.
Tips for finding your own personal style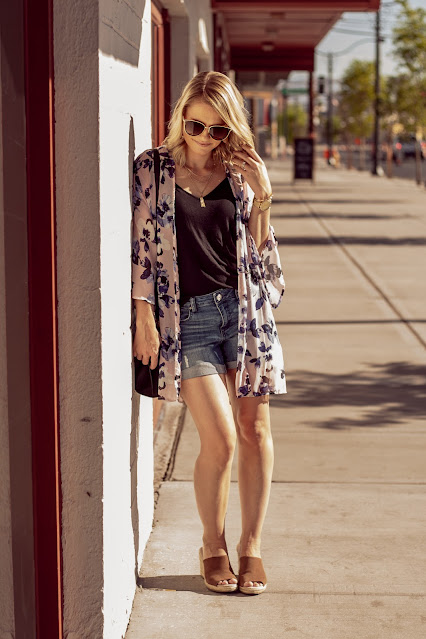 Tip 1: Work with your body
It's important that you know your body and figure out what looks good on you.  Obviously, as women, we are all built differently and our bodies change over time.  What looks good on one body type might not look right on another.  I'm short.  I'm only 5'1, so certain clothes that look good on taller people don't always fit right on me.  I recommend doing some research on your body type and try clothes that will flatter you.
Tip 2: Build a versatile wardrobe
What I mean by this is buy clothes that you can repeat in different ways.  Fill your wardrobe with layering pieces, tops, jeans, skirts, and simple dresses.  There is no need to buy a trendy piece just because it's what everyone is wearing.  Before you buy a trendy piece of clothing ask your self "How many different ways can I wear this?" If you can only think of one way, then don't buy it.
Tip 3: Don't buy things just to buy them
If you see something and it's a really great price, don't buy it unless you love it.  I love a good deal just as much as anyone, but if it's not my style, it's not for me.  I've made many impulse purchases over the years that I later regretted, mostly because it was too good of a deal to pass up.  Don't waste money on something you will regret later.  I like to keep a little shopping list on my phone of clothes and accessories that I would like to add to my wardrobe.  This helps me avoid those impulse purchases.
Tip 4: Find out what colors look best on you
I prefer to wear neutral colors.  Like I said before, I've always been comfortable wearing black.  Right now my wardrobe has a lot of browns, tans, grays, navy, and whites in it.  I do like to add in a pop of color or a print every now and again, but I try to stick to colors that look nice with my skin tone and hair color.  It's important to figure that out about yourself.
Tip 5: Be true to you
There are no rules when it comes to fashion.  You need to discover who you are and find out what makes you feel good on the inside.  You should never wear something that you don't feel comfortable in.  You also don't need to overthink your style.  So many women are struggling to find their style because they are overthinking every outfit they wear.  Keep it simple and keep it true to your personality.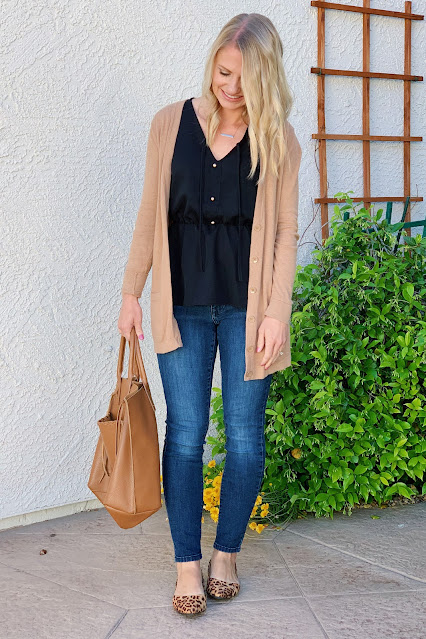 Fashion is something that will always be a part of my life.  I may not be an expert on fashion, but clothes and putting together outfits will always be apart of who I am.  My personal style is how I express myself.  It's a part of who I am.  Unlike the other passions in my life that have come and gone, fashion will always be there.  I hope that as I grow and mature I will continue to dress in a way that makes me feel confident and comfortable in my own skin.
Have you found your personal style yet?
Katie🤍