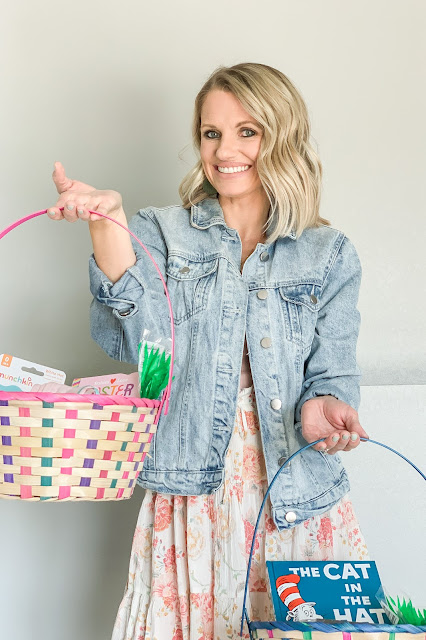 When I was a kid growing up in the '80s and '90s, my Easter basket was always filled with lots and lots of candy. We had jelly beans, chocolate eggs, Reese's peanut butter eggs, Cadbury eggs, and of course a big chocolate bunny that usually took us about a month to eat. Occasionally we would get a little gift in the basket that wasn't candy, but most years it was all about the sugar. I don't have a problem with my kids having candy (except for the baby of course), but I do try to limit it when I can. That's why when I put together my kid's Easter baskets I try to do more non-candy gifts than candy.
*This post contains affiliate links.
I like to keep my kid's Easter baskets simple and affordable.  I set a small budget for them and usually fill them with some practical items that they can use during the spring.  Here are some practical and affordable Easter basket gift ideas for your young children.
Outdoor activities
By April, we start to spend a lot of time outside, so I always like to throw in some activities we can do outside. Sidewalk chalk, balls, bubbles, and outdoor games are always fun ideas.

Bath Toys
Bath toys make a great affordable Easter gift. Jack loves the foam letters and the color tablets that change the water colors. Anna will be getting her own rubber ducky for the bath tub this year in her Easter basket.

Clothes
With the season changing, I like to add some affordable spring clothes to my kid's Easter baskets. Spring onesies for babies and a t-shirt or shorts for toddlers and older children are always nice to have. You can even do a spring pajama set either.

Accessories
Spring accessories are always fun. Sunglasses, hats, sandals, bows, head bands… just to name a few!
Target
dollar spot or
Dollar Tree
are always my go-to places to affordable kid accessories.

Planting Activities
A fun affordable Easter basket gift is a planting activity. You could do a little plant pot with some seeds and planting tools. It's affordable and educational!

Crafts
Affordable crafts are always a good Easter activity. With many of us still social distancing you might be spending a quiet Eater at home again. It's always nice to have a little activity that kids can do during the day to entertain themselves.

Books
I always put a book in my kid's Easter baskets. March is reading month, so it's always a really good time to buy books. You can find a lot of classic books go on sale right before Easter.

Here are my kid's Easter baskets this year. I typically set aside a $10- $20 budget for each. Of course I don't completely skip out on the candy. We are big on peanut butter and chocolate at our house so we always remember the Reese's treats!
What kinds of gifts do you usually put in your children's Easter baskets? Do you do candy or non-candy gifts.

Don't forget to pin the post for later!