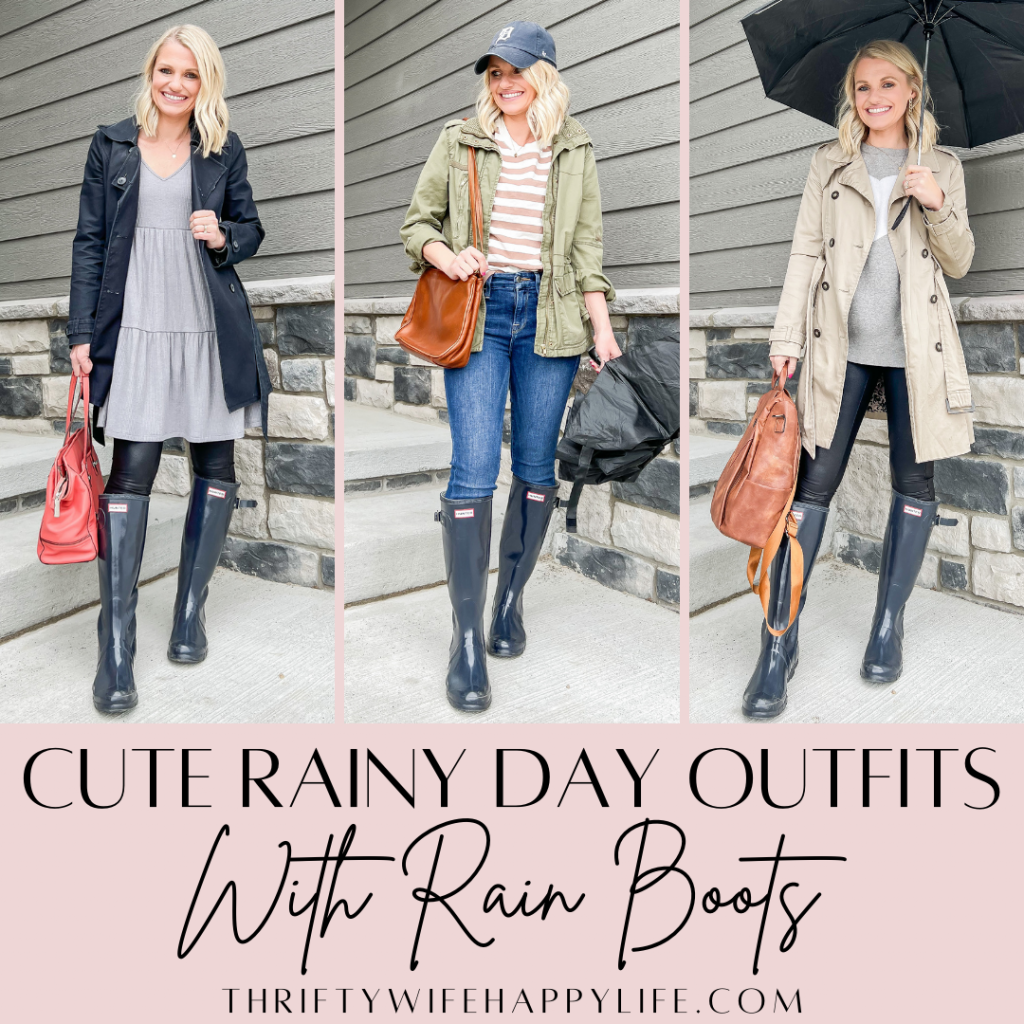 I never thought that I would ever own a pair of Hunter rainboots. I just didn't think that they fit into my wardrobe, plus they are expensive. With all the April spring showers we have been getting here in Michigan lately, I have been thinking that a cute pair of rain boots might be the perfect addition to my wardrobe.
*This post contains affiliate links!
If I can, I like to shop second-hand first when it comes to buying good wardrobe basics. If you follow me on Instagram, you may already know about my Poshmark shoe obsession. Poshmark has become my go-to shopping place for shoes because I am always able to find quality shoe brands at affordable prices. When I came across this pair of lightly worn glossy navy Hunter rain boots for only $30 I knew I had to grab them.
To be honest, I have never thought rain boots were the cutest shoe option, but after playing around with my new pair of rain boots, I have changed my mind. They are so perfect for spring, plus they keep my feet nice and dry.
Here are a few different rainy day outfits I styled with my new thrifted Hunter rain boots with.
*Most of these outfits are styled with thrifted clothes, but I did my best to link similar affordable items if you want to recreate these looks yourself!
Outfit 1: Dress + Leggings + Trench Coat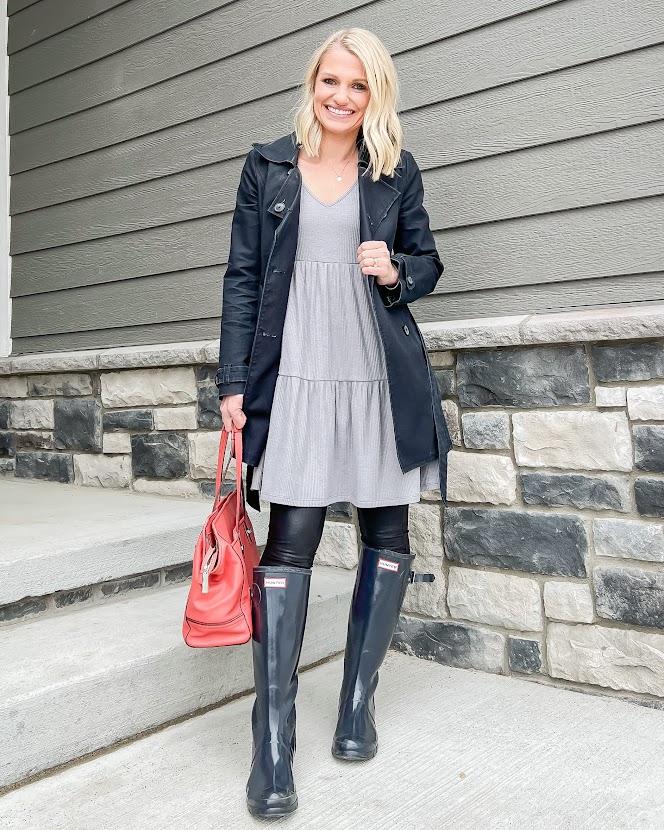 Dress (similar) || Leggings (similar) || Coat (similar) || Boots (similar) || Purse (similar)
Outfit 2: Jeans + Utility Jacket + Striped T-shirt + Baseball Cap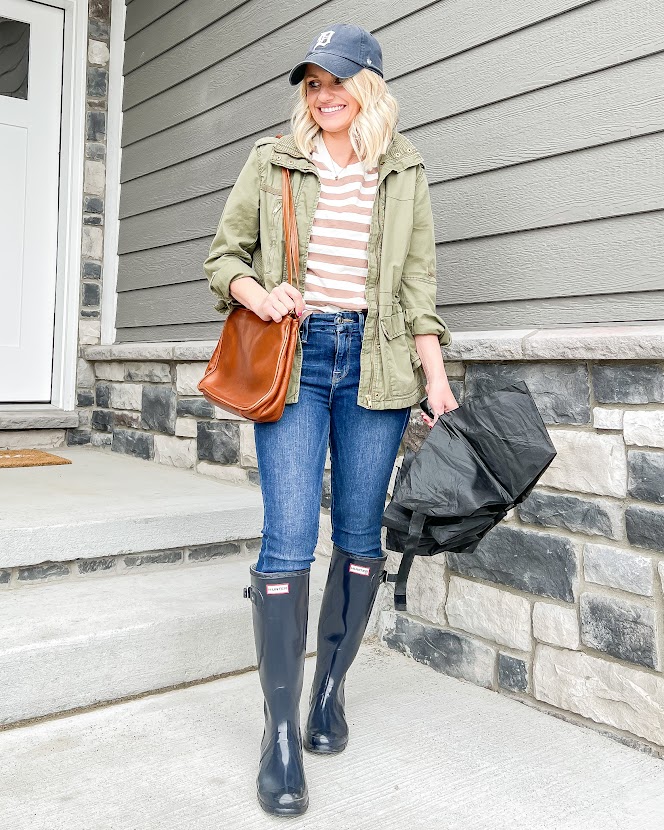 Top || Jeans (similar) || Jacket (similar) || Boots (similar) || Purse (similar)
Outfit 3: Sweater + Leggings + Khaki Trench Coat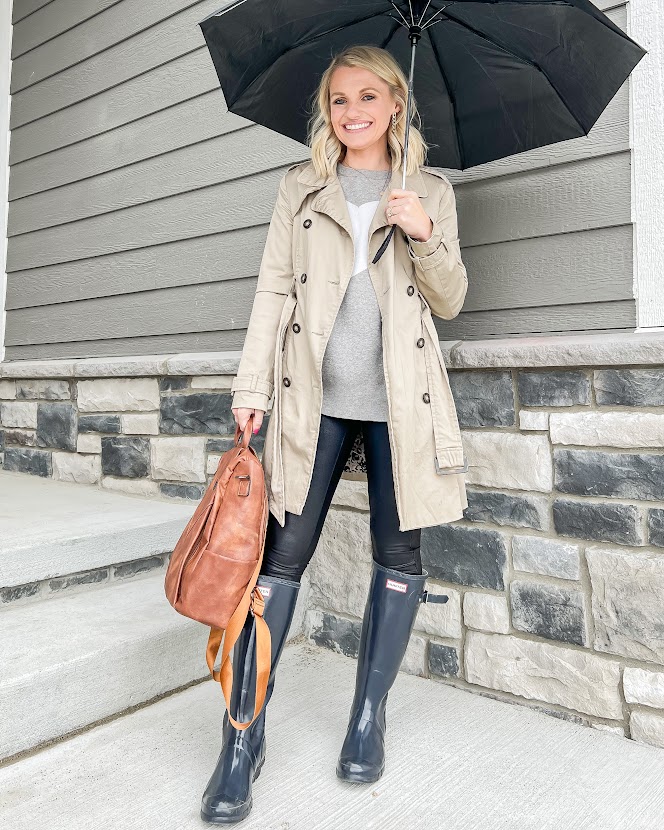 Sweater || Leggings (similar) || Coat (similar) || Boots (similar) || Purse