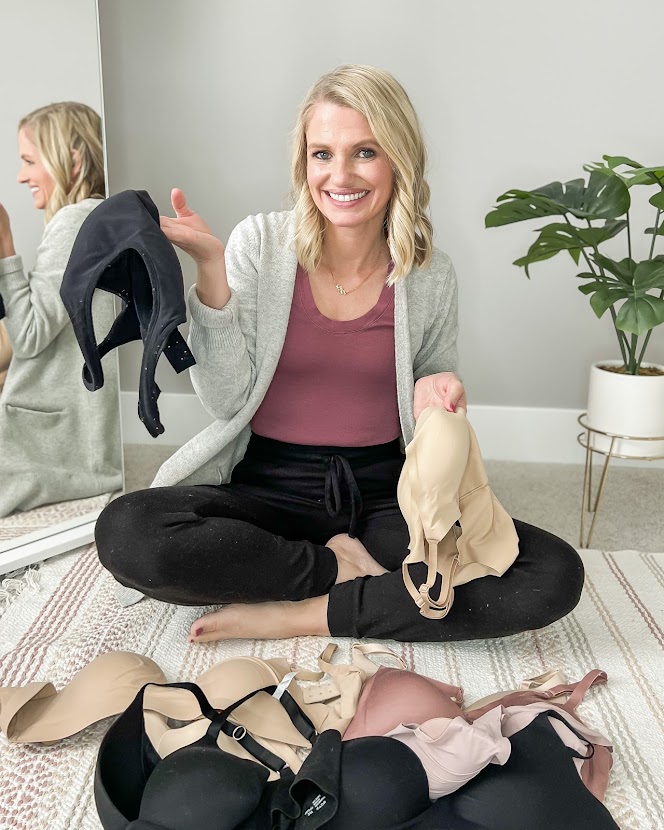 To me, one very important wardrobe staple to own is a good bra! I believe that what you wear under your outfit can completely make or break the look. If you feel uncomfortable in the wrong bra or you keep having to adjust yourself throughout the day, you're not going to love what you are wearing as much.
*This post contains affiliate links.
That's why today I want to dedicate my post to bras. The last time I shared a bra on Instagram I got a lot of comments and DM's and it sparked a lot of good conversation. I'm pretty sure that's because buying a bra can be a very frustrating process. It's as frustrating as buying the wrong color of foundation. You end up with a drawer full of colors that don't match your skin. The same thing can be true when you buy a bad bra. You have a drawer full of bras that fit wrong and you never wear them. When it comes to purchasing a bra sometimes people need some recommendations.
I have bought a lot of bras in my life and for every bra that I loved, I probably bought 5 bras I hated. When I was younger, I was all about the pushups and padding. Anything to make my boobs look bigger. I even owned a water bra at one point. After becoming a mom and breastfeeding 2 kids, I feel like my boobs have done their job and are in retirement. Now I am all about finding comfort and support.
After I stopped breastfeeding Anna, a little over a year ago, I needed to revamp my bra collection. My old bras no longer fit and I didn't want to wear nursing bras forever. That's why I went on a hunt to find comfortable bras at affordable prices. Although I believe that bras are an important item that is worthy of a splurge, I am still convinced that I can find a good quality bra under $40. That's why today I am going to share with you all the bras that I have purchased in the last year and give my honest review of each one. I realize that I won't be able to help everyone find the perfect bra because we are all different shapes and sizes, but hopefully, this post will help some of you who are in need of a new bra know where to start and what to avoid.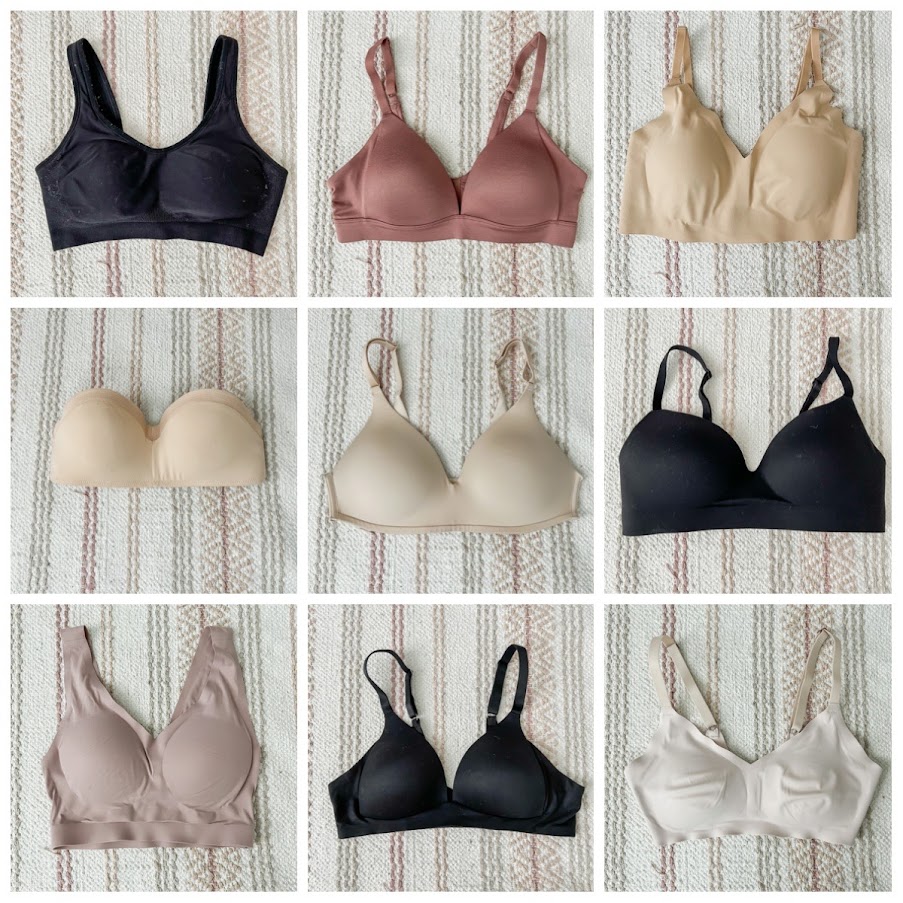 *Sizing details- I have always been a 34B, but after I finished breastfeeding Anna I went down a cup size to a 34A. I have not been measured by a professional, but I did measure myself. Our bodies are always changing so I highly recommend measuring yourself before buying a new bra to help with finding the right fit!
I was gifted this bra last year by Shapermint and I love it! It's shapewear, so it holds everything in and it's very comfortable. The only downside of this bra for me is that its full coverage and I am not able to wear it with all my tops, especially summer tank tops. However, it works great under t-shirts and sweaters. I also love that this bra comes in all sizes to fit all women!
At first sight, this bra looks perfect. It even feels good after you put it on, but after wearing it for a whole day I found this bra to be very uncomfortable. The material starts to dig in around my arms and back which made this bra a major disappointment for me.
I was excited to try this bra. I know that True & Co is a good brand and I always love when brands partner up with stores like Target to make more affordable options for people to shop for, but this bra was not what I thought it would be. The biggest problem with the bra was the material and how high it comes up under my arms. Although the design is comfortable, the cut of the bra makes it hard to wear for a full day. That's why I had to give this one a thumbs down.
I am convinced that I will never find the perfect strapless bra, but this strapless bra is pretty darn close. Although it can get uncomfortable towards the end of the day, it's the only strapless bra that I have ever been able to wear for a long period of time. It doesn't have an underwire and it has a grippy material that holds it in place. There's no need to readjust and pull it up. It's been a game-changer for me. In the past, I would avoid wearing shirts that required a strapless bra and now I don't mind them at all.
Soma bras can be expensive and that's why I always wait until I see them on sale for $25. That's when I bought this bra in the hopes that it would be my new go-to everyday bra, but unfortunately, it was a miss for me. The fit is off and it slides around too much when I wear it. In the middle, between the cups, it tends to form a big gap that I am not a fan of. I have not gotten much use out of this bra and I feel like it's been a waste of money.
I really cannot give this bra a fair review because I bought it while I was still nursing. I wasn't expecting the huge size change that I was about to experience. I would like to give it a second try in a smaller cup size, but I am hesitant because there are a few things I am not crazy about with this bra. I love how soft the material is, but the material is so soft that it slides around on me when I wear it. It also stretches out way too soon after one wear. I have heard other people say that they love this bra, which is why I bought it, but for me, I will just say this bra is okay.
I love this bra! It's so soft and so comfortable! I wear it all the time. The only downside is that it's a bralette and doesn't go under all my shirts. It's hard to wear with tanks and summer tops.
I have been reluctant to try Aerie bras because I often find that their brand is geared towards younger women, who maybe have not gone through the same type of body changes that you go through after having babies. After browsing their site I was impressed with their selection. They even have a nursing bra. I keep mentioning that my favorite bras often are hard to wear with summer tops. Well, this bra has solved that problem for me. It's comfortable and supportive and it fits under some of my favorite tank tops. It's not a razorback, but the straps go in towards the middle of your back, which I really love.
I am so happy with this bra. It also fits well under my summer tank tops. It's lightly padded and it offers me a decent amount of support and comfort. I will say that Aerie has really impressed me with its bra selection.
Now that I have done all the shopping, hopefully, I will help you save some money when it comes to buying your next bra. I know I will be taking a break from bra shopping for a while.
Let me know in the comments where your favorite bra is from!