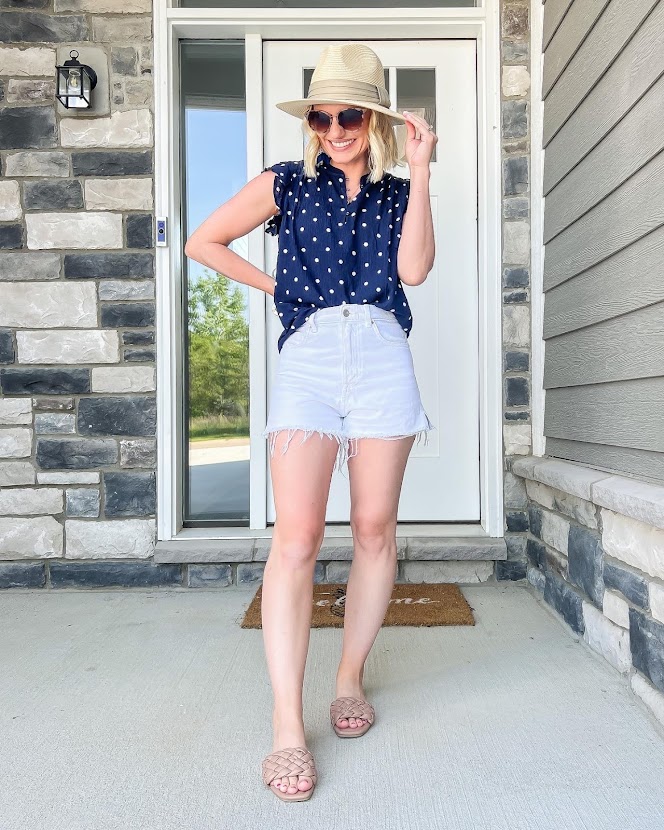 Top || Shorts || Shoes || Hat || Sunglasses (similar)
Every season I go through my closet to see what clothes I want to keep and what to get rid of. I also like to see what's missing, so I can make a wishlist of items to shop for each season. This year as I was going through my summer clothes, I realized that my wardrobe was lacking in cute summer tops to wear with shorts. I have tons of basic tank tops and t-shirts, but I needed something fun that I could wear with shorts this summer.
*This post contains affiliate links.
I sometimes struggle with finding summer shirts to wear with shorts with the trends that are currently in stores. Many of the shirts that I have tried on feel thick and stiff. They have lots of ruffles and puffy sleeves. I prefer something simple that feels soft and lightweight for summer. When my top has too many ruffles I feel like I get lost in the material. That's why I am really excited about the shirts that I found. They were just what I was looking for to make my summer shirt collection a little more fun, without getting too frilly. They are also affordable!

First is this cute polka-dot blouse from Loft. It is the perfect cute summer shirt to wear with shorts. It's the perfect length to either tuck or leave untucked. It has little ruffled sleeves that are not overly ruffled. The material is light and breathable. Plus, the navy and white make it perfect to wear for the 4th of July, but it's also a great year-round top as well!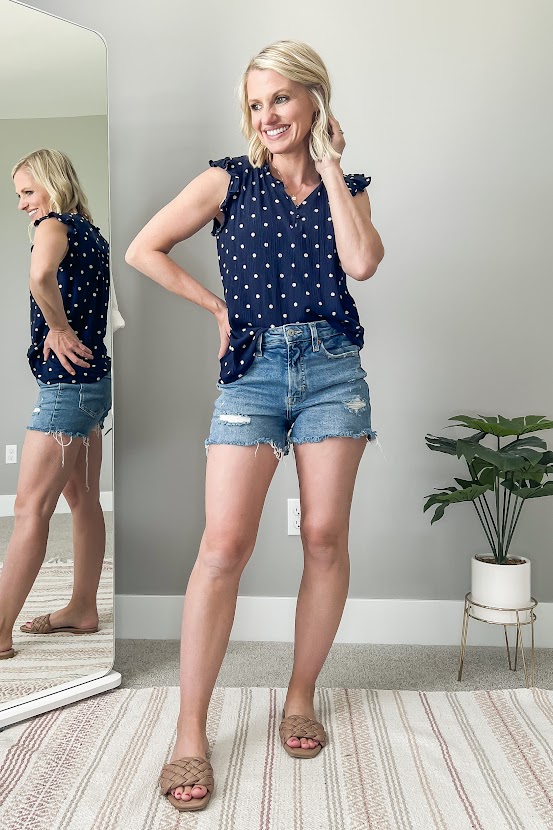 I fell in love with this flutter sleeve top from J.Crew Factory right away when I saw it. The cut of the shirt is very cute with the v-neck and flutter sleeves, but what I love best about this top is the textured polka-dot pattern. It adds a lot of detail to the top. This shirt comes in several different colors, but I am a big fan of this sage green color!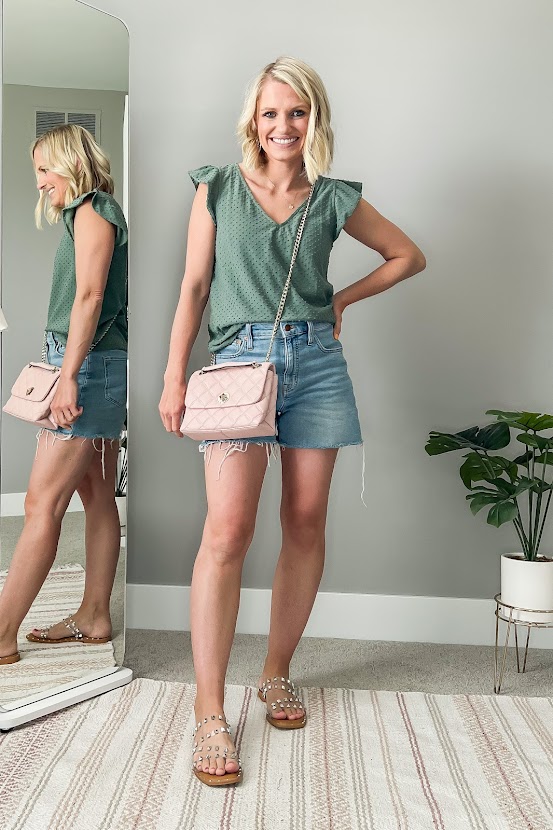 Top || Shorts (similar) || Shoes (similar) || Purse (similar)
I actually bought this metallic petal sleeve t-shirt last fall at Express and I had forgotten about it. I recently pulled it out of my closet and styled it with some shorts. I love that it's just a basic t-shirt, but the sleeves give it a little more detail than a normal t-shirt. This top comes in several different colors. I also have it in a rust color as well.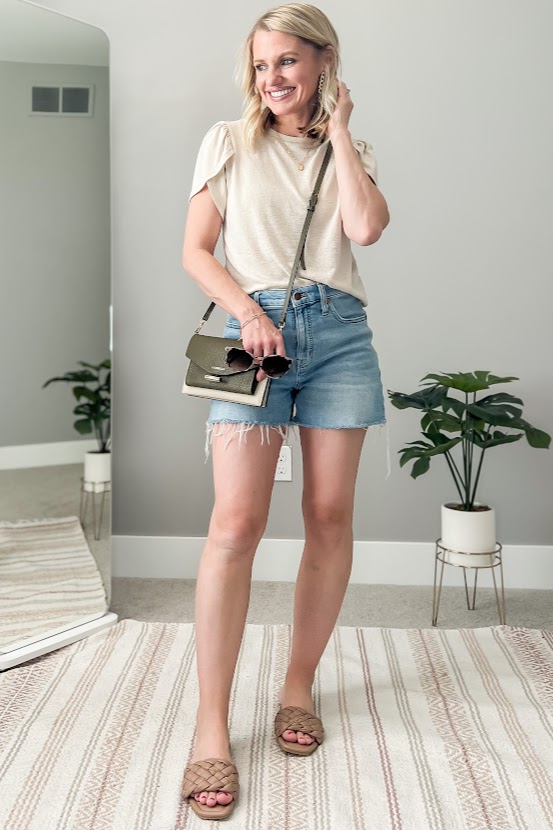 Top || Shorts (similar) || Shoes || Purse || Sunglasses (similar)
The last top I want to share today is this watermelon print peplum top from Loft. To be honest, I don't really love peplum tops on me, so I almost returned this one. But then I gave it a second chance and decided to keep it. I love the orange print with little watermelons. Fuirt prints are very trendy this summer, so I felt that it would be the perfect fun summer top to own. In the back, there is a little tie, which I like because you can adjust the top to fit your bust better if needed.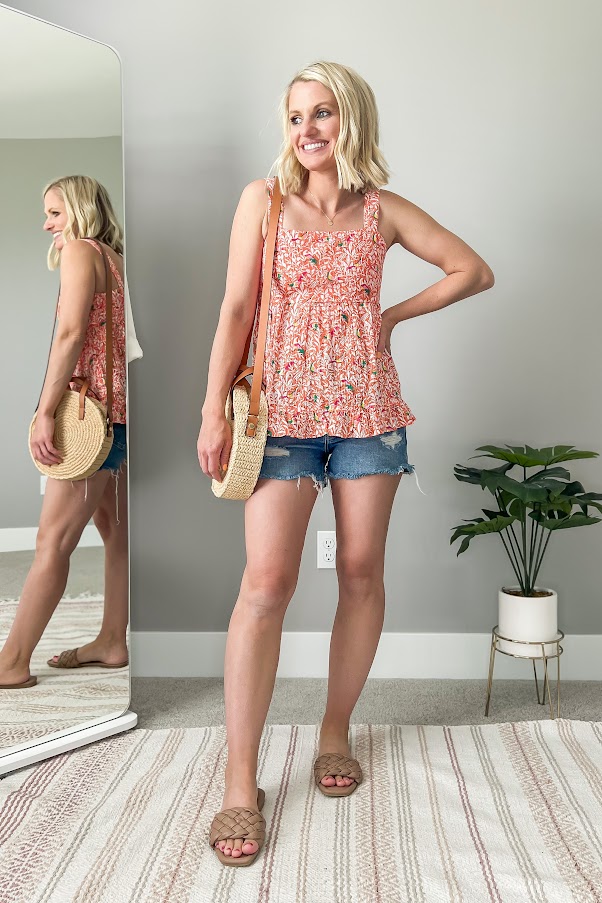 Top || Shorts || Shoes || Purse (similar)
Shop More Cute Summer Shirts!

Make sure that you tune back in to see how I style these shirts this summer in my daily outfits!