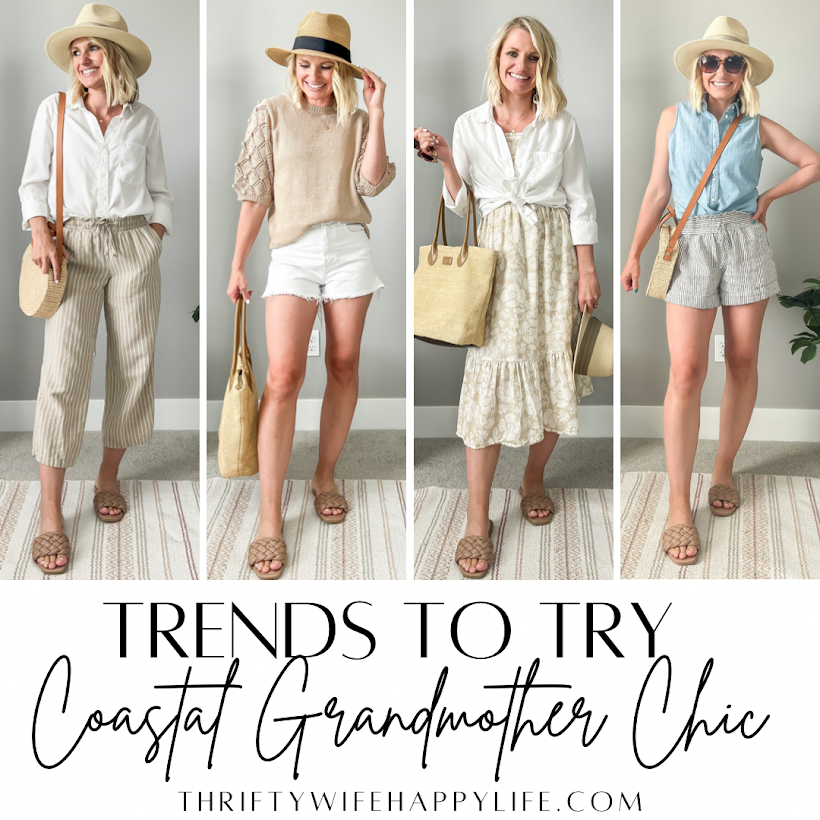 Have you heard about the "coastal grandmother trend" that has taken over the summer of 2022? It's been all over TikTok and Instagram. From coastal grandmother outfits to decor, this trend is everywhere. I am here for it! I've been playing around with some of the clothes in my closet and trying to figure out how to incorporate this trend into my summer outfits without looking too old or spending too much money. That's why today I want to tell you how you can dress coastal grandmother chic on a budget this summer!
*This post contains affiliate links.
What is coastal grandmother chic?
Basically, the coastal grandmother style stems from the clean classic style of middle age wealthy women from the East coast. Think Martha Steward or Diane Keaton in the movie Something's Gotta Give. It's clean-cut, traditional, and timeless. It's really a style that should be easy to mimic with the right pieces.
How to dress coastal grandmother chic on a budget?
If you think this trend is for you and want to try the coastal grandmother chic trend on a budget, the first place you should start is your own closet. Look for neutral colors, crisp clean button-down shirts, nautical stripes, linen materials, loose crochet knits, and straw accessories. These pieces will help you create the perfect effortless coastal grandmother look.
If you feel that your closet is lacking in these pieces there are a couple of things you can do. The first is to make a wishlist. Write down a few pieces that you think you would like to add to your wardrobe and keep an eye out for them at affordable stores you might shop at. Right now Target, Amazon, and Old Navy have a great selection of this style!
The second thing you can do is to hit up a thrift store. Thrift stores are always a great place to find unique pieces, just make sure that you don't confuse coastal grandma chic for actual grandma-style clothes. (lol) That's what I ran into on my last thrifting trip.
The last thing you can do is rade your husband's button-down collection. Men's button-down shirts can be great if you are looking for something a little more oversized. If you have a husband or boyfriend who is close in size to yourself, take a look through his shirt collection to see if anything would work. Oh and don't forget to ask him first. (haha)
How to make a coastal grandmother chic outfit feel youthful?
The one downside that I can see to this trend is that you don't want it to age you. If you are approaching 40, like myself or older, you don't want this trend to age you. That's why I like to mix mature pieces with youthful pieces to balance the style. For example, wear shorter shorts instead of knee-length shorts. Or you could choose a braided sandal over a loafer. It's really up to you and what makes you feel comfortable.
Here are some budget-friendly, youthful coastal grandmother looks that I came up with!
Linen pants + Button-down + Straw accessories
For this first look, I wore my cropped linen pants from Amazon and paired them with a white button-down shirt. For shoes, I went with my braided sandals from Target. I accessories with a straw purse and straw hat!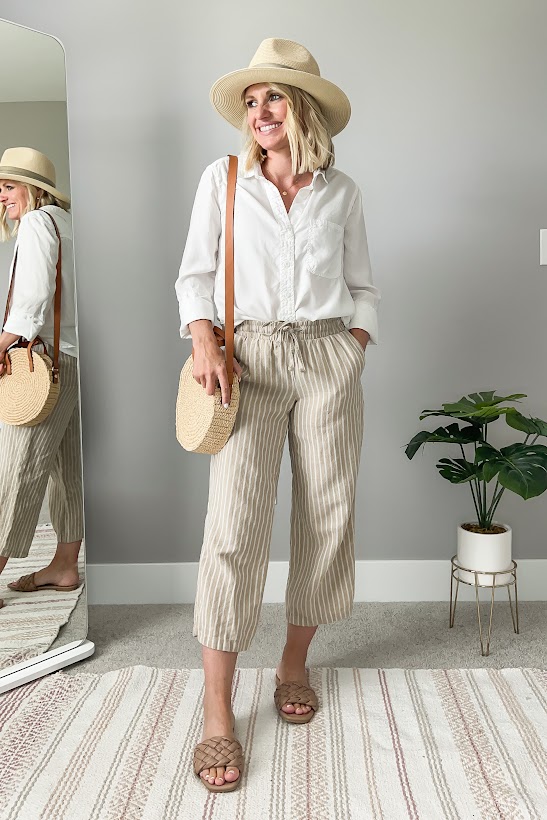 Button-down (similar) || Pants || Shoes || Purse (similar) || Hat
Crochet knit top + White shorts + Straw accessories
This second look features a neutral-colored crochet knit top. Knit tops are a great way to add some textures to your look. I love the sleeve details on this top. I paired it with my white thrifted shorts, braided sandals, and some straw accessories.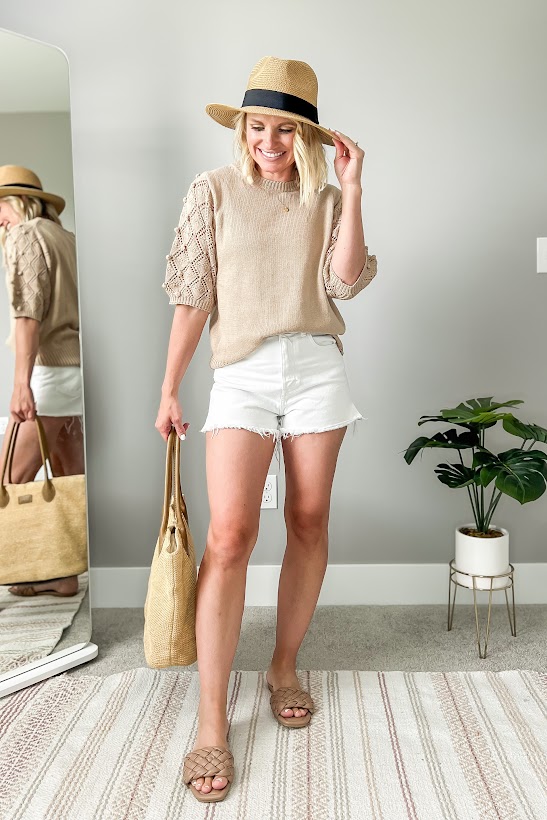 Sweater || Shorts (similar) || Shoes || Purse || Hat
Khaki midi dress + White button-down + Straw accessories
This midi dress from Gap Factory has a floral print, giving it beachy/coastal vibes. I knotted my white button-down over it and accessories again with a straw tote and hat.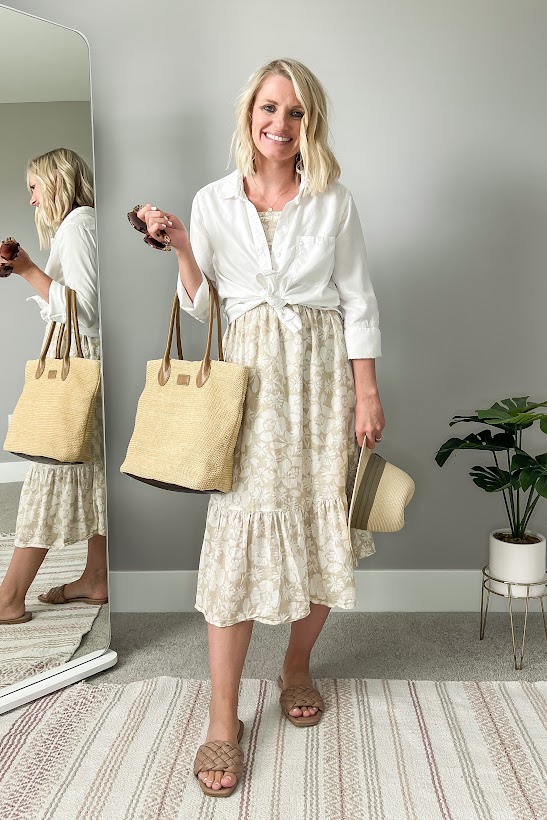 Dress || Button-down (similar) || Shoes || Hat || Purse
Chambray shirt + Linen shorts + Straw accessories
For my last look, I pulled a little color in with my blue chambray button-down. These pull-on linen shorts from Target have been a go-to of mine this summer! I love how it all flows together!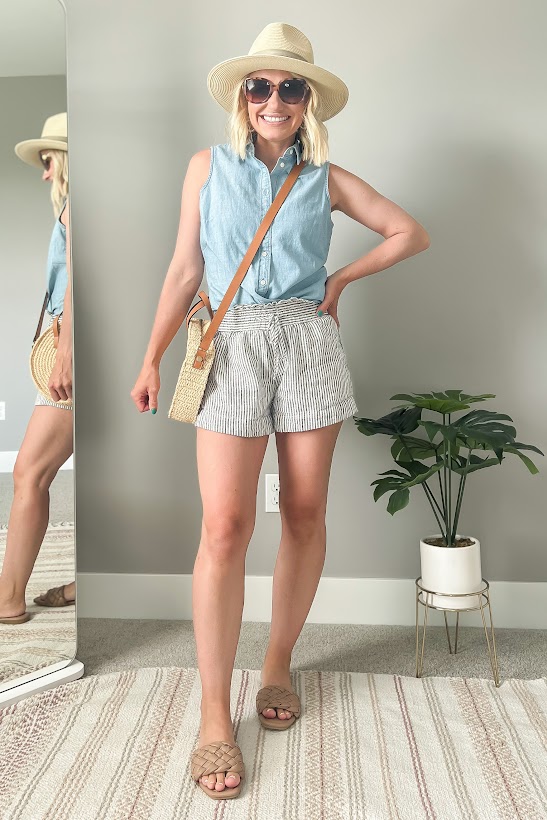 Top || Shorts || Shoes || Purse (similar) || Hat
After seeing these 4 looks do you think that you can pull off a coastal grandmother chic look with the clothes in your closet!! Let me know in the comments if you have tried this trend? If you need some ideas for other trends to try this summer check out my posts HERE and HERE to get some other inspiration for your summer wardrobe!
Shop coastal grandma chic clothes