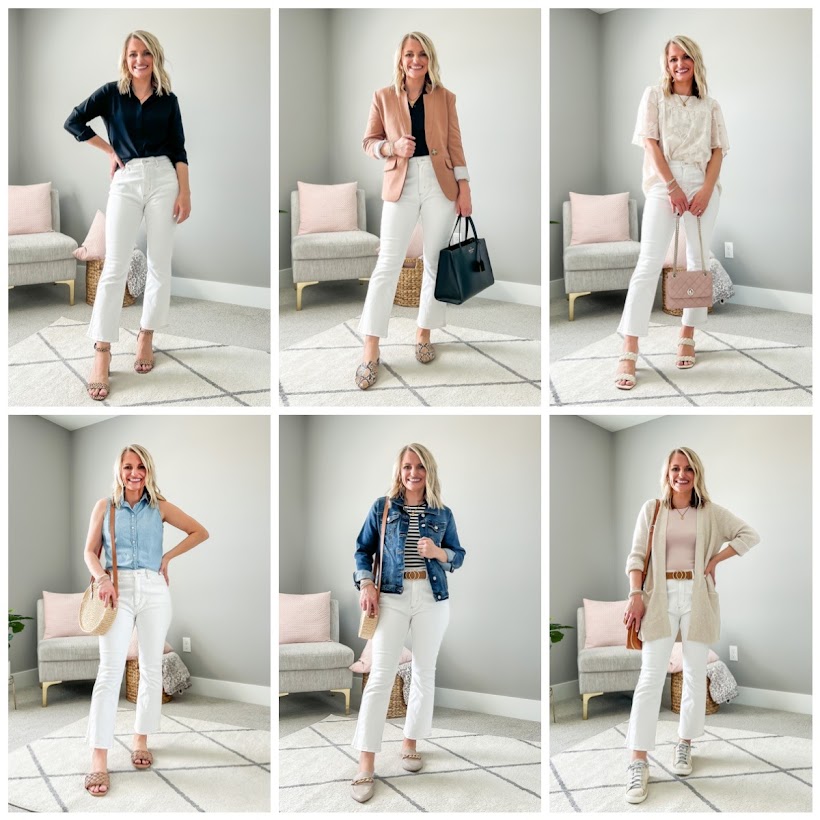 It has been a few weeks since I last posted on the blog, but I am glad to be back this week! I have been feeling a little overwhelmed lately with trying to keep up with my weekly blog post, so I decided to take that pressure off myself and take a step back from the blog. The only problem is that it's hard for me to stay away from the blog, especially when I find something so good like my new white cropped flare pants from Loft. I just have to blog about it!
*This post contains affiliate links.
I love white pants in the spring, so this year I was on the hunt for a pair of non-skinny white jeans. These white cropped kick flare pants from Loft were exactly what I was looking for! You really can't go wrong with white jeans in spring! Although I still love my white skinny jeans, it's nice to switch up my style from time to time.
What shoes to wear with cropped flare pants?
Any time I share a style of pants that aren't skinny jeans, I always get questions about what types of shoes to wear. First of all, I have to say that we shouldn't be overthinking our pant/shoe combinations. The best way to figure out what style of shoes to wear with your pants is to just try the combo. There are no rules because every pair of pants is a little different. You can't rule out a pair of shoes with a certain style of pants because you never know what will work.
For this post, I made sure to include a variety of different spring shoe options with this pair of cropped kick-flare jeans. I also wanted to include outfits for different occasions. These pants work great for work, weekends, or even mom life.
Sizing reference: I'm 5″1 and 115 lbs. I am wearing a size 26/petite length. I also tried the 25/petite, which fit, but I decided to go with the bigger size for comfort!
Black Top + White Jeans + Leopard Block Heels
I am loving satin button-downs right now. They aren't stiff like other button-downs, so I find them easier to wear. I always feel that you can't go wrong with a black-and-white combo. To make the outfit a little more fun I added a print on my shoes.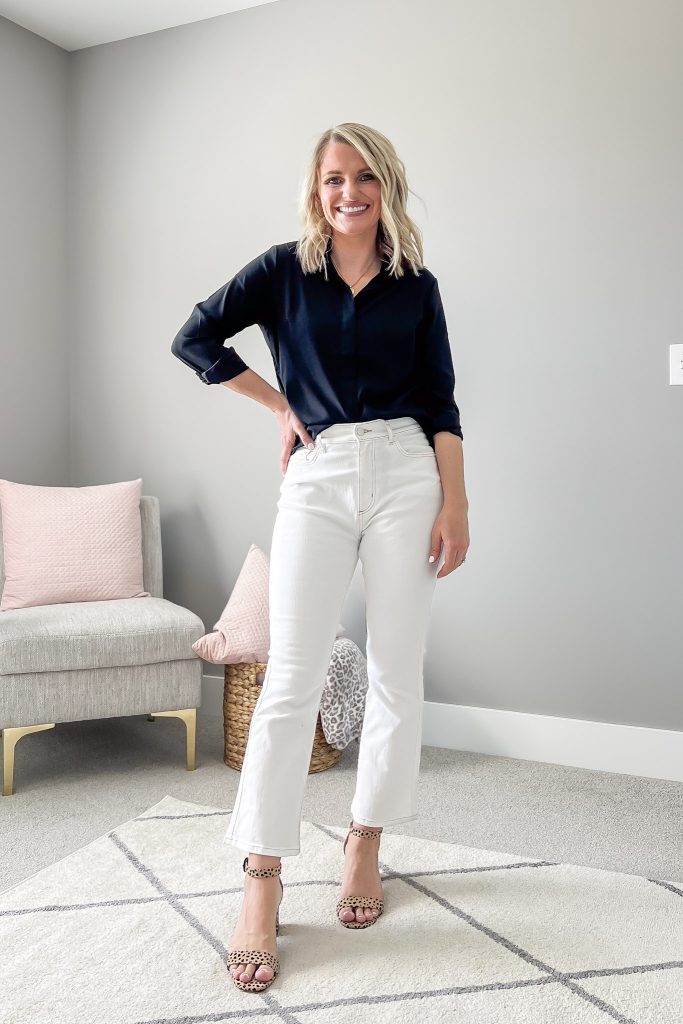 Shirt || Pants || Shoes || Necklace
Tan Blazer + White Jeans + Snakeskin Mules
Blazers are always a favorite layering piece of mine. You can add one to any outfit to give it a polished and professional feel. I love the tan and black combination. For shoes, I went with a print again with my thrifted Steve Madden Snakeskin Mules. This would make for a great office outfit.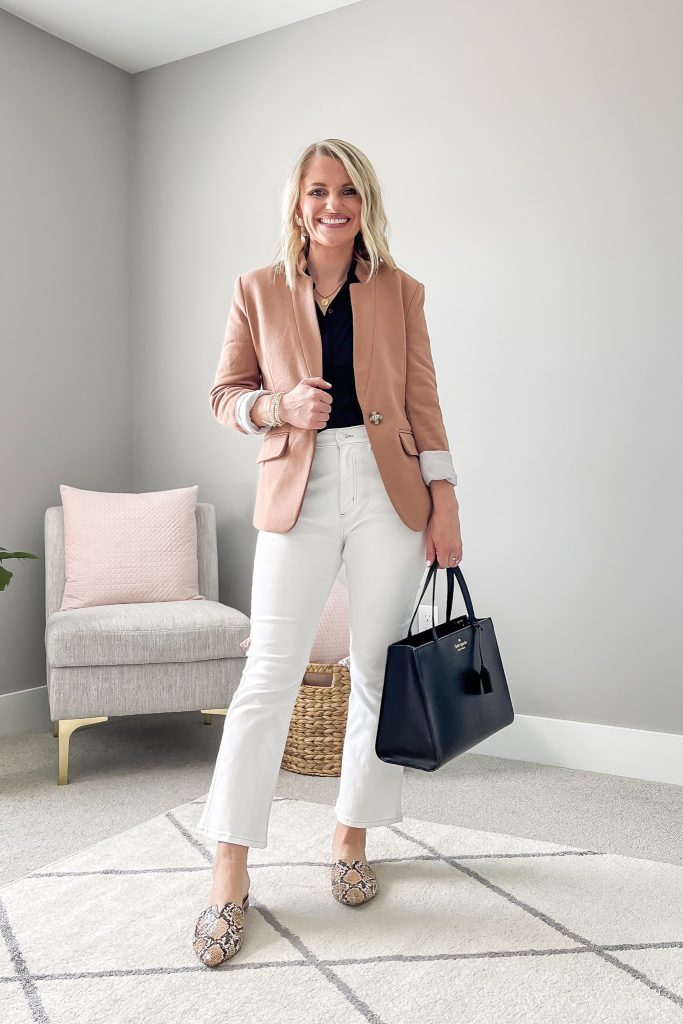 Shirt || Blazer || Pants || Purse (similar) || Shoes (similar) || Bracelet || Necklace
Lace Blouse + White Jeans + Braided Sandals
I typically don't wear very light colors together, but I really love this off-white lace blouse paired with the white jeans. It's such a pretty spring look. For shoes, I am wearing my braided sandals. I added a little color with my thrifted pale pink Kate Spade purse.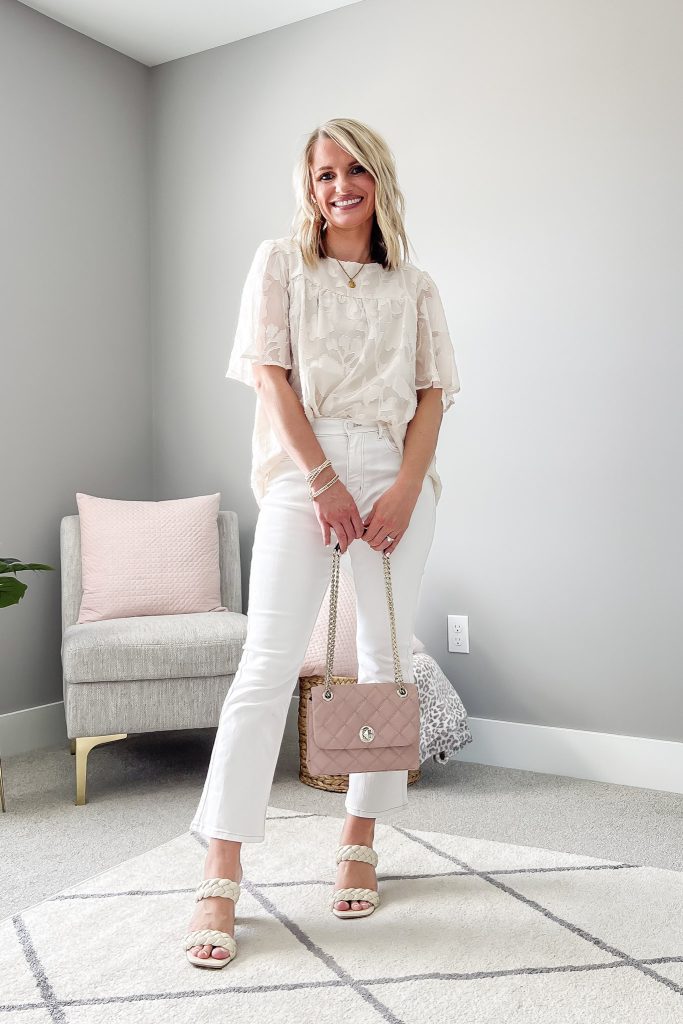 Blouse || Pants || Purse (similar) || Shoes || Bracelett || Necklace
Chambray Blouse + White Jeans + Slide Sandals
I love chambray tops with white jeans. It's such a crisp clean look for spring. I also love to bring in straw accessories this time of the year. This look is kind of giving me a coastal grandmother feel. (Read my post "How to Dress Coastal Grandma Chic on a Budget" HERE!)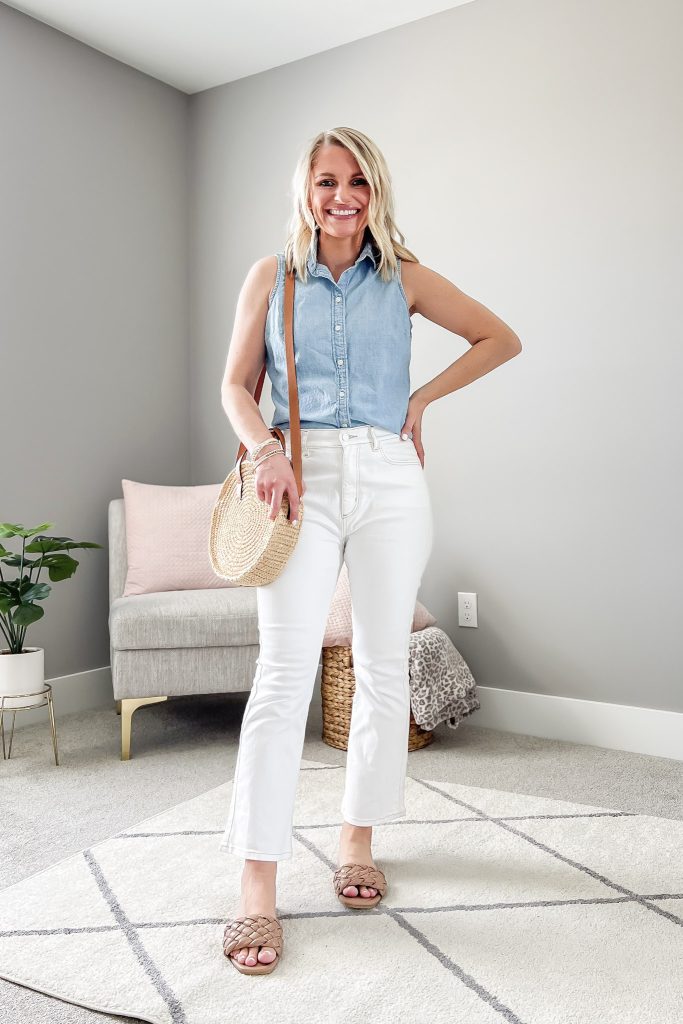 Chambray Shirt || Pants || Sandals || Purse (similar) || Bracelet
Denim Jacket + Stripes + White Jeans
I love wearing navy stripes with white jeans. Typically I would wear a blazer with this look, but I opted for a dark denim jacket to keep the outfit casual. I chose my slip-on mules because I love the buckle detail, but loafers or flats would have worked as well for this look.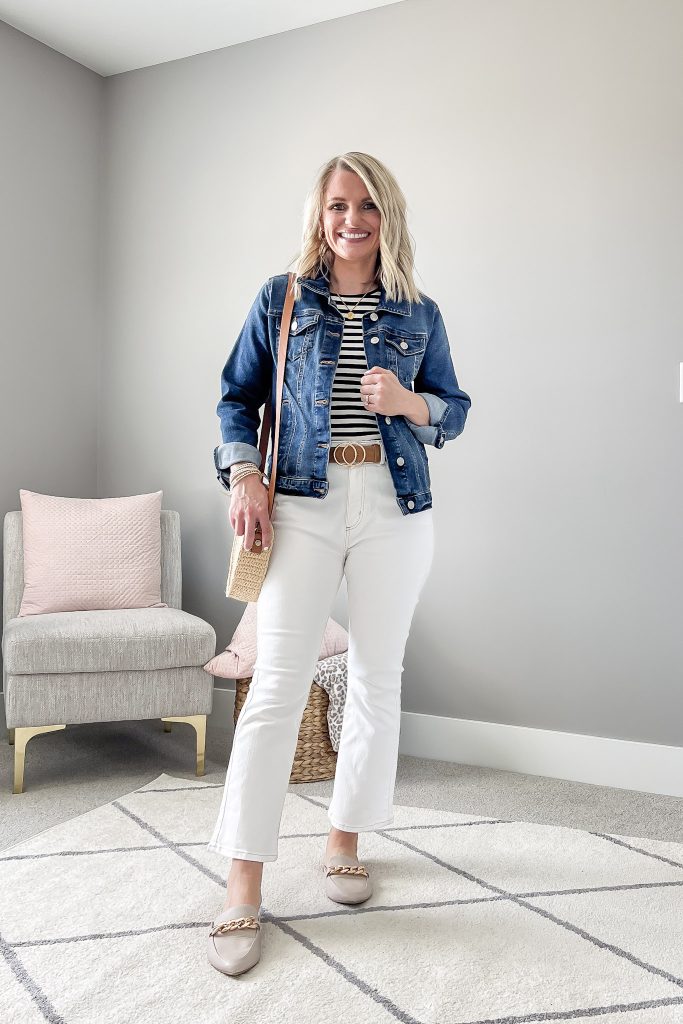 Shirt || Jacket || Pants || Shoes (similar) || Belt || Purse (similar) || Braclett || Necklace
Bodysuit + Cardigan + White Jeans
I always love a cute mom-friendly outfit. Pairing these white jeans with a pair of comfortable sneakers is the perfect way to dress down these pants. The tan and the pale pink keep the outfit light and neutral for spring. When it comes to pairing belts with outfits, I feel it out. Some outfits feel complete with a belt and others are fine without. For this outfit, I felt that the belt made the look feel whole.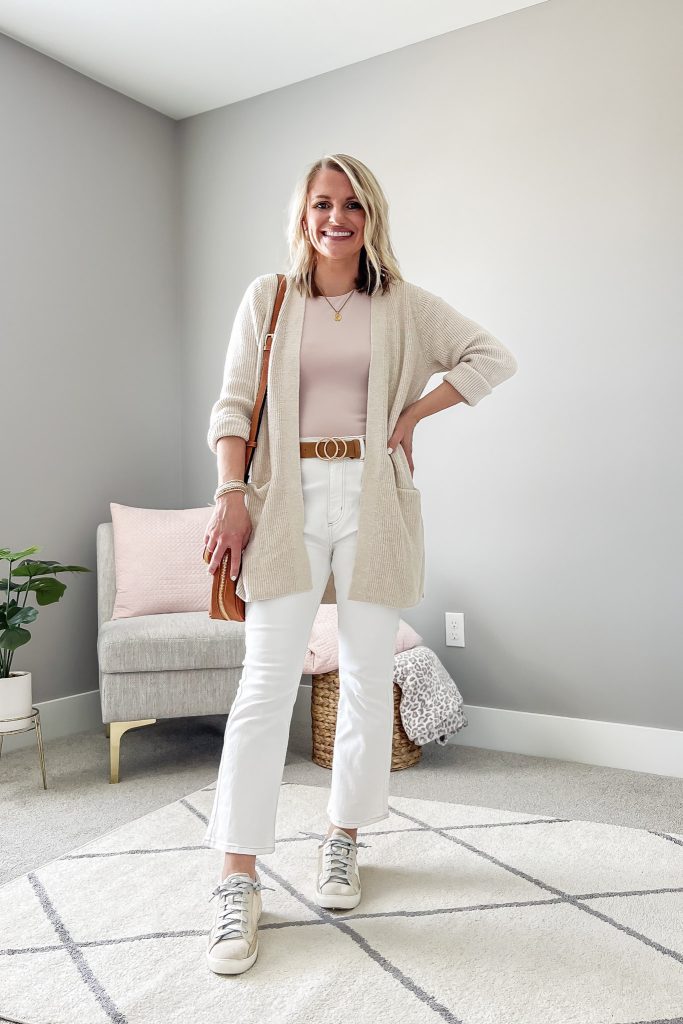 Bodysuit || Cardigan || Pants || Belt || Shoes || Purse (similar) || Braclett || Necklace