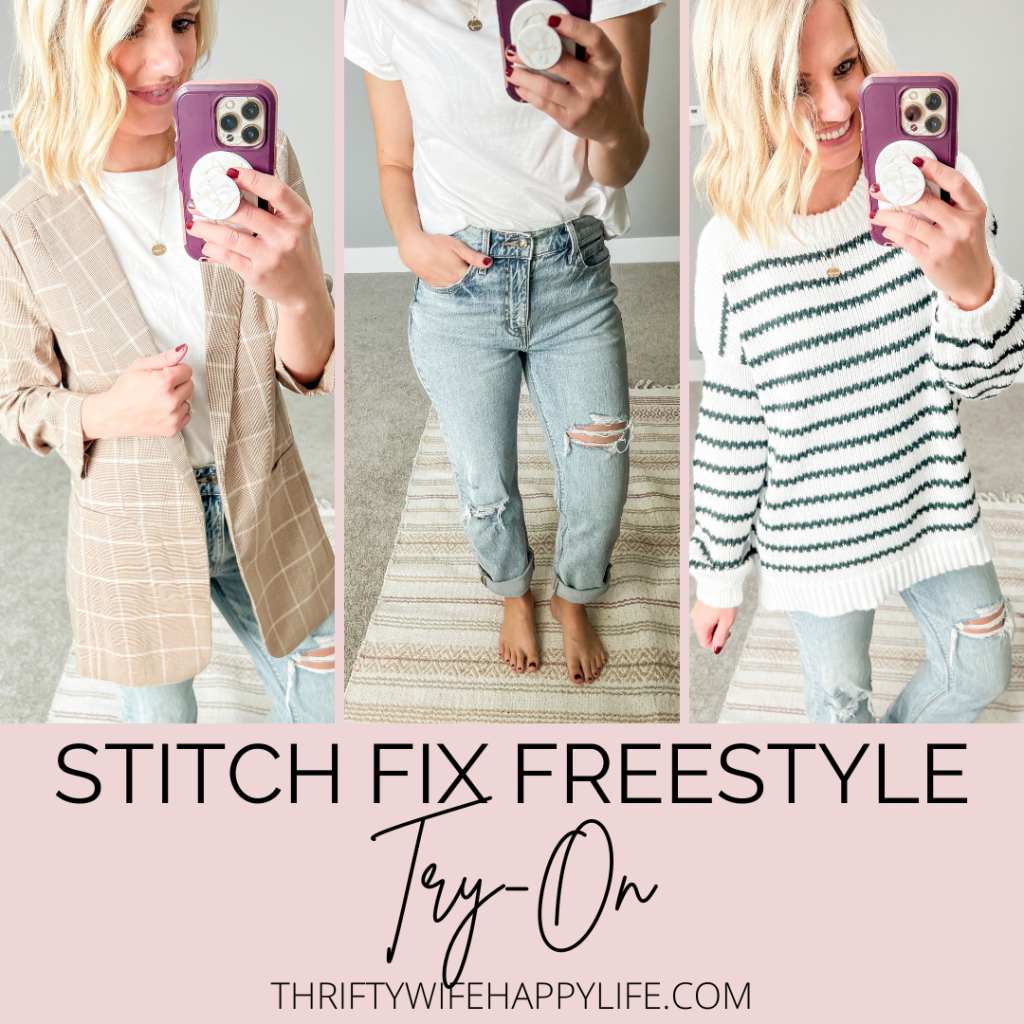 In my style journey over the last decade, one thing that I have learned is that building a wardrobe on a budget is all about creating a closet full of versatile clothes that you love. It's about quality over quantity. The more clothes that you love and can wear in different ways, the less you will want to shop. This is why I have been loving Stitch Fix! It's the perfect way to add those quality versatile pieces to your wardrobe that you will want to wear year after year. Today I want to share my latest Stitch Fix Freestyle order.
*This post contains affiliate links. Thank you to Stitch Fix for kindly gifting me these pieces to share with you today!
What is Stitch Fix?
I'm sure that most of you are already familiar with Stitch Fix, but if you aren't, Stitch Fix is a personalized styling service that offers you a unique shopping experience with the help of their professional stylist. There are 2 ways that you can shop Stitch Fix.
Stitch Fix
The first way is to get a Fix, also known as the Stitch Fix Styling service. This is when a professional stylist hand-picks pieces for you based on the style survey that you fill out when you join. You keep what you love, and send back what you don't love. Your stylist then uses your feedback to make better selections the next time you do a Fix. It's $20 to join, which that is credited towards your first purchase and there is no subscription needed.
This styling service is perfect for people who don't love to shop or find themselves too busy to pick out their own clothes. If you still want to dress cute and stylish, but you just want someone to tell you what to wear, then this service is for you. This service is offered for women, men, kids, plus sizes, and maternity!
Stitch Fix Freestyle
The second way that you can shop Stitch Fix is through Stitch Fix Freestyle. Stitch Fix Freestyle allows you as the shopper to have more control over your shopping experience, however, they still help narrow down and customize your selections. They break down the clothes and accessories into easy-to-search categories and what I love the most is that they only show you pieces that are in your size! This means no more falling in love with a piece and then getting disappointed that it's out of stock in your size. It's like shopping at your own personalized boutique!
This service is perfect if you are someone like myself, who enjoys shopping and picking out clothes, but just wants an easier online shopping experience. For me, it's important that I am able to find petite sizes in my pants and so I'm happy that my Stitch Fix Freestyle shop offers a great selection of petite styles.
Stitch Fix Freestyle Try On
My latest Stitch Fix Freestyle order did not disappoint. I was able to select 3 wardrobe staples that I absolutely love. This is my second time using Stitch Fix and just like the time before, I was so impressed by the quality and the fit of everything I ordered. Here is what I found!
These jeans are exactly my style at the moment. I love the wash of the denim and the fit. They have a slight distressing in the front which gives them a very casual look that I love. They are so comfortable and the quality is excellent! I am wearing a size 2 in a petite length. They are full-length jeans, with I prefer cropped, but they can easily be rolled to get the cropped look.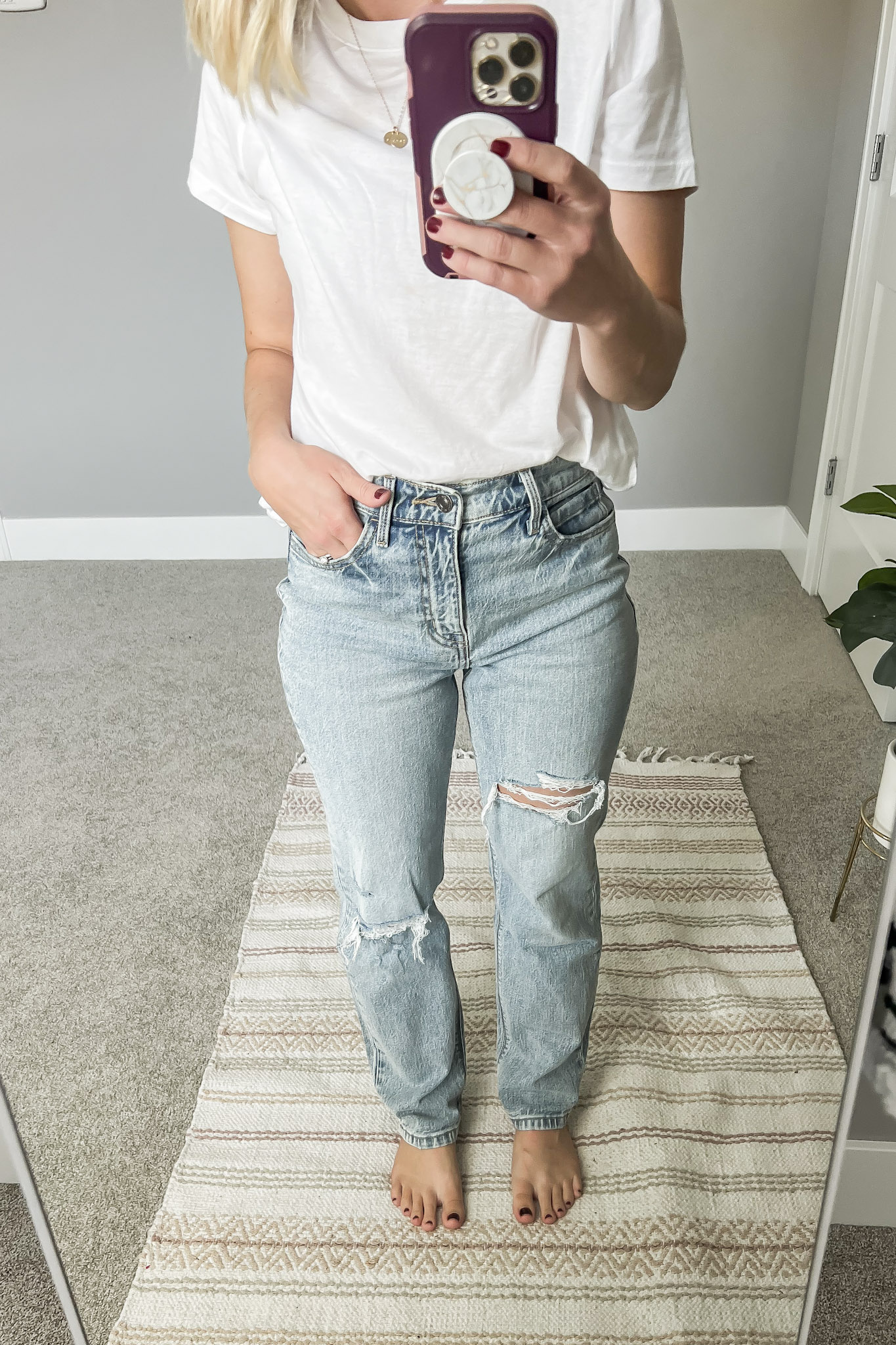 You may remember that a tan plaid blazer was on my winter wishlist. That's why when I saw this blazer I had to get it. I love the scrunched sleeves and the satin lining is so nice. It's more of a lightweight blazer, so it's easy to layer over sweaters in the winter, but you could also use it in the warmer months as well. I'm wearing a size small and the fit is perfect.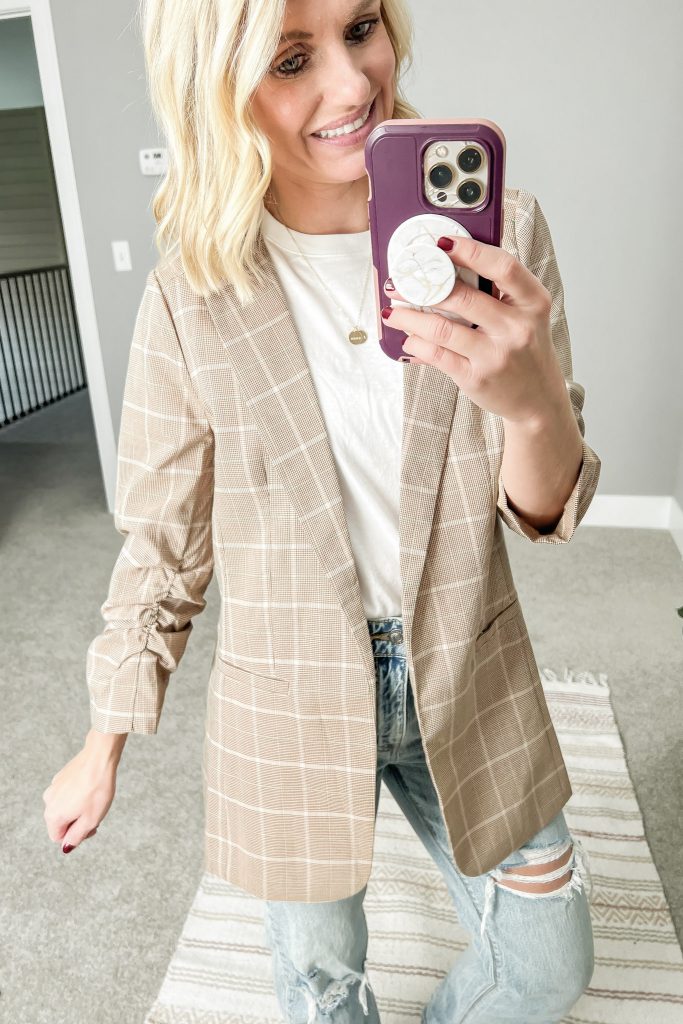 You can never go wrong with stripes and I am loving this sweater. It's so soft and comfortable. Heading into the cold winter months I know I am going to get a lot of use out of this sweater. I love the length of it. You could pair it with jeans, leggings, or even a skirt. I am wearing a small.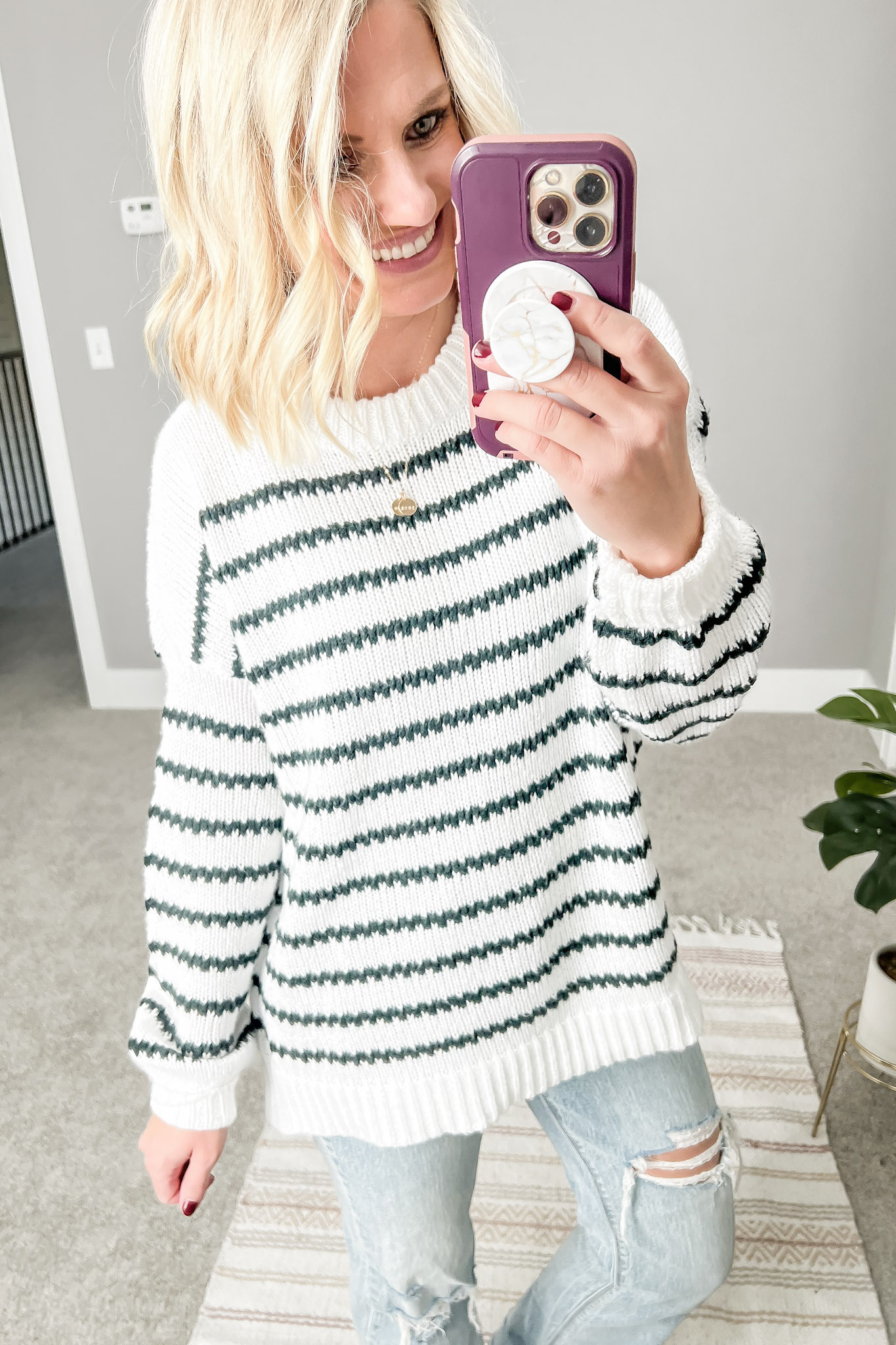 As we head into the holiday season this is the perfect time to find some quality wardrobe pieces to add to your closet. Whether you want to get a personalized Fix or do some online shopping on Stitch Fix Freestyle, there are thousands of styles to choose from. Plus, shipping and returns are always free at Stitch Fix! Click HERE to get $20 off of your first FIX!