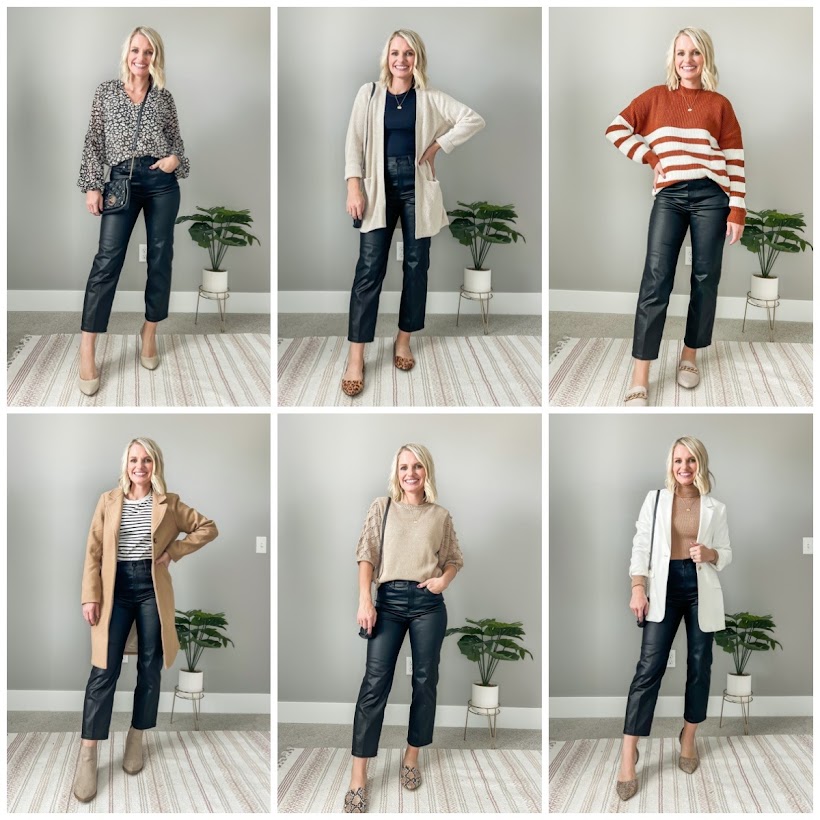 One trend that I am loving this fall is coated black jeans! What I love about these jeans is that they have a shiny finish, giving them the same appearance as leather pants. But the most significant difference is that they are more comfortable and affordable than leather. You may remember that these jeans were on my winter wishlist this year, and I finally decided to buy a pair.
*This post contains affiliate links.
About my coated black jeans
I found this pair of coated black jeans at Express. Like most of the jeans I have bought at Express in the past, these jeans did not disappoint. I am wearing the high-waisted straight-leg ankle jean in my usual size 2 short length. These jeans are also available in a variety of styles, like skinny, wide-leg, and even joggers, so there is really a style for everyone. Here are some ways that you can incorporate coated jeans into your wardrobe this fall!
How to wear coated black jeans
Blouse + Heels
This is the perfect way to dress up your coated black jeans. Wearing a statement blouse with some heels turns this into the perfect night out outfit.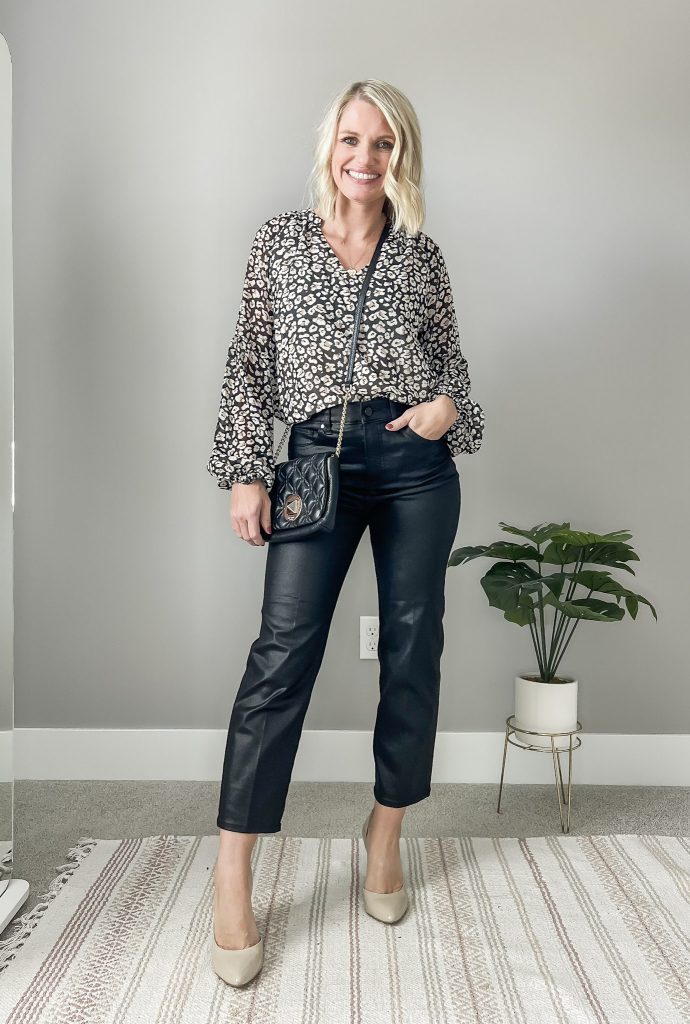 Blouse || Pants || Purse (similar) || Shoes (similar)
Cardigan + Leopard flats
I like to keep things casual, so I felt that a carigan with a pop of leopard shoes would be the perfect way to stay true to my style. This would make a great outfit to wear if you're a teacher!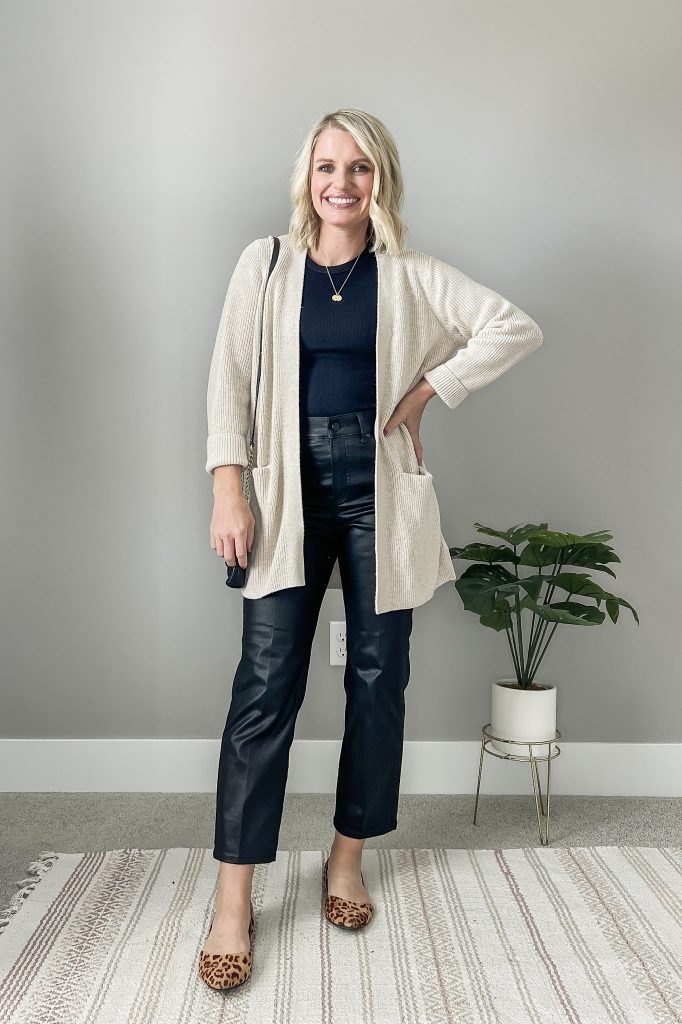 Cardigan || Top || Pants || Shoes (similar)
Sweater + Mules
This orange striped sweater is the perfect fall color! I feel that this is another great outfit to wear to work as a teacher or even wear to the office on Halloween!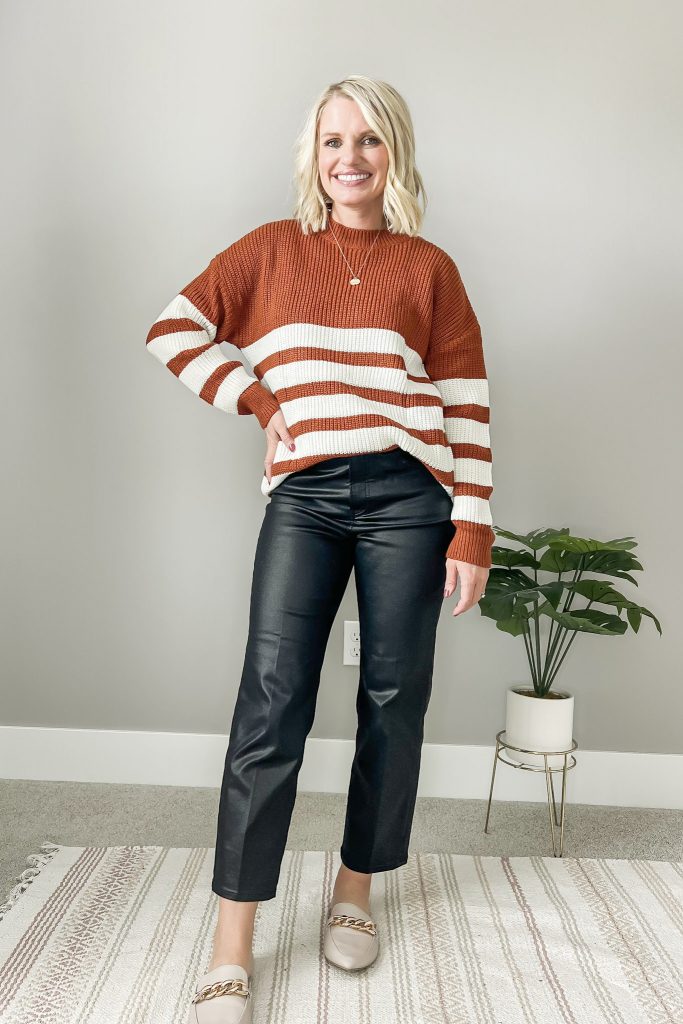 Striped shirt + Wool Dad coat
You can't go wrong with a classic striped shirt. When you add in a classic wool dad coat it's even better!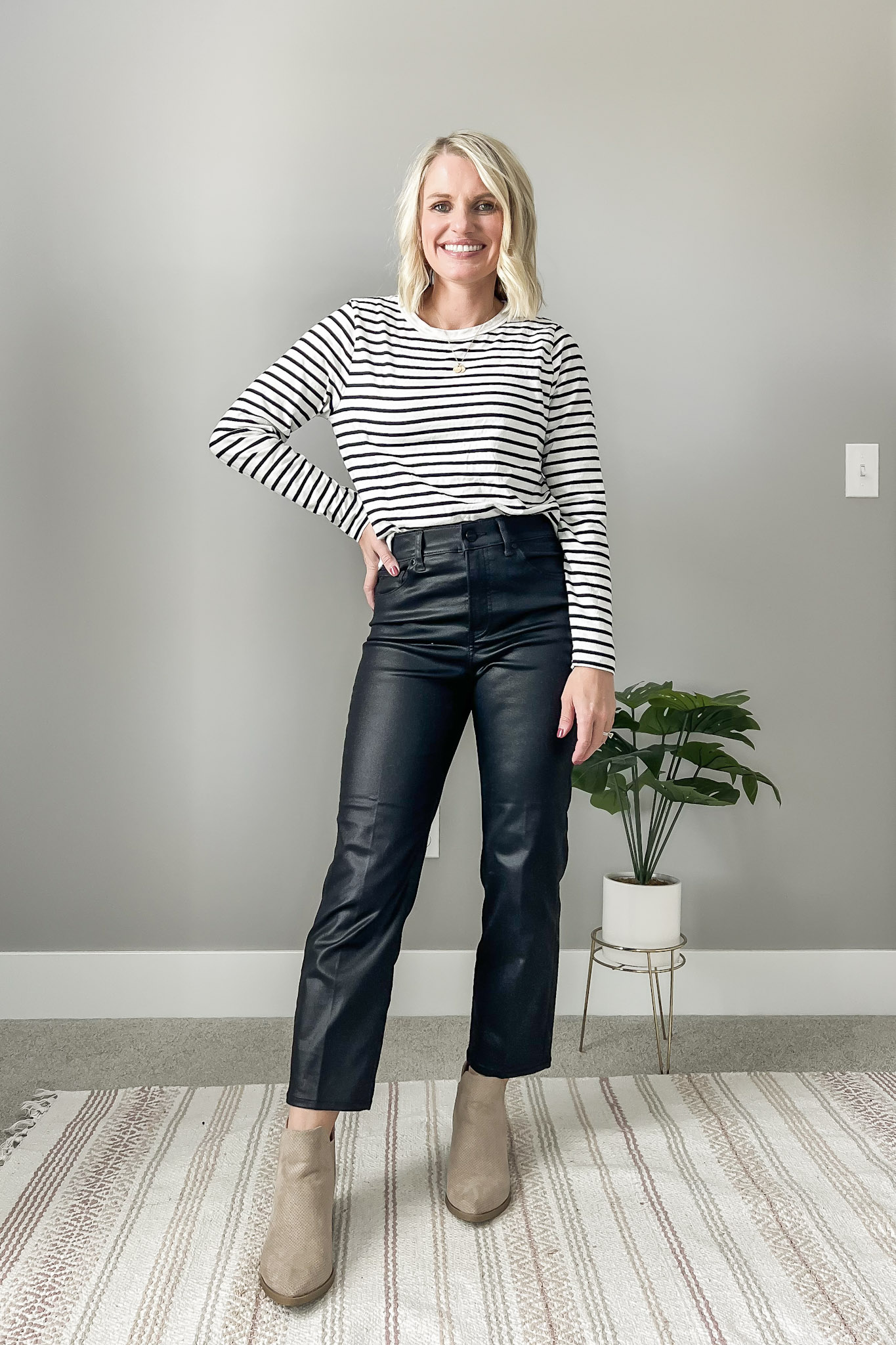 Shirt || Pants || Coat || Booties (similar, similar)
Short sleeve sweater + Snakeskin mules
I always feel that this short sleeve sweater is perfect to pair with any jeans, but the coated black jeans do add a lot to the look.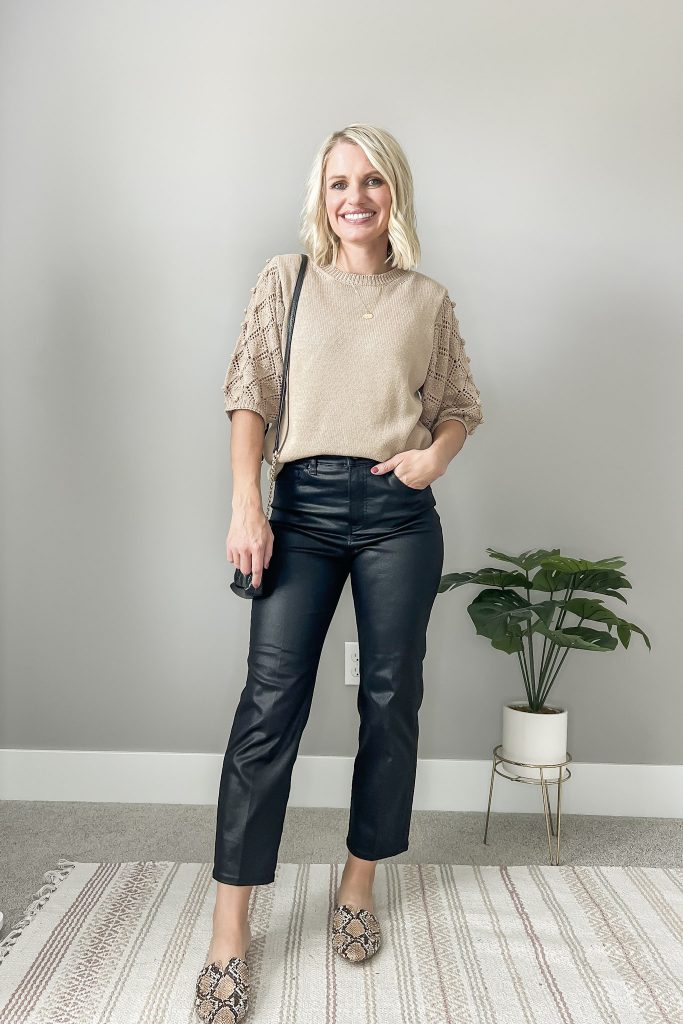 Sweater || Pants || Shoes (similar)
Turtleneck + Blazer + Leopard heels
I love the look of a fitted turtleneck! Adding a blazer over it gives it a professional vibe that would be perfect to wear to the office!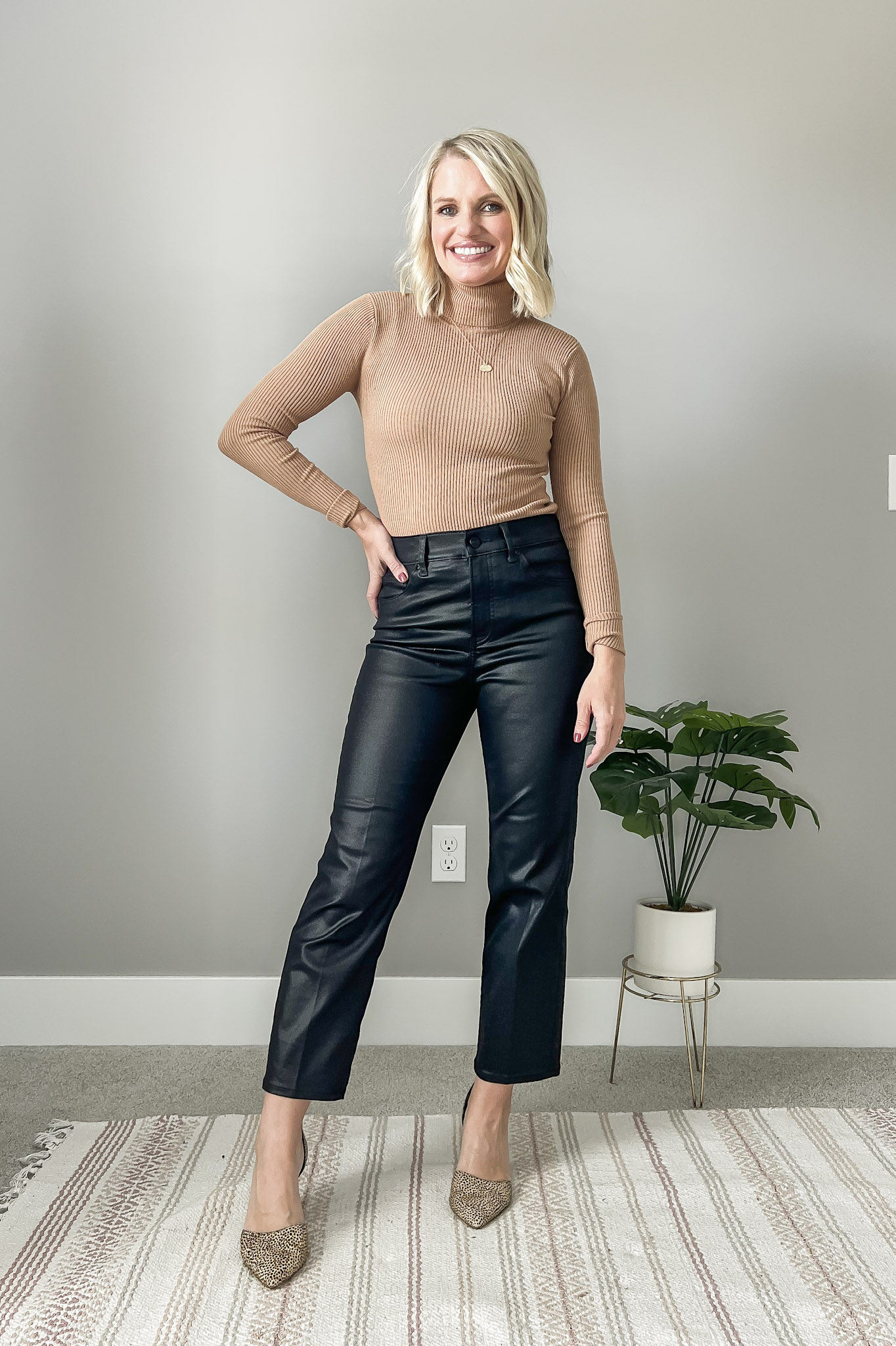 Turtleneck || Blazer || Pants || Shoes