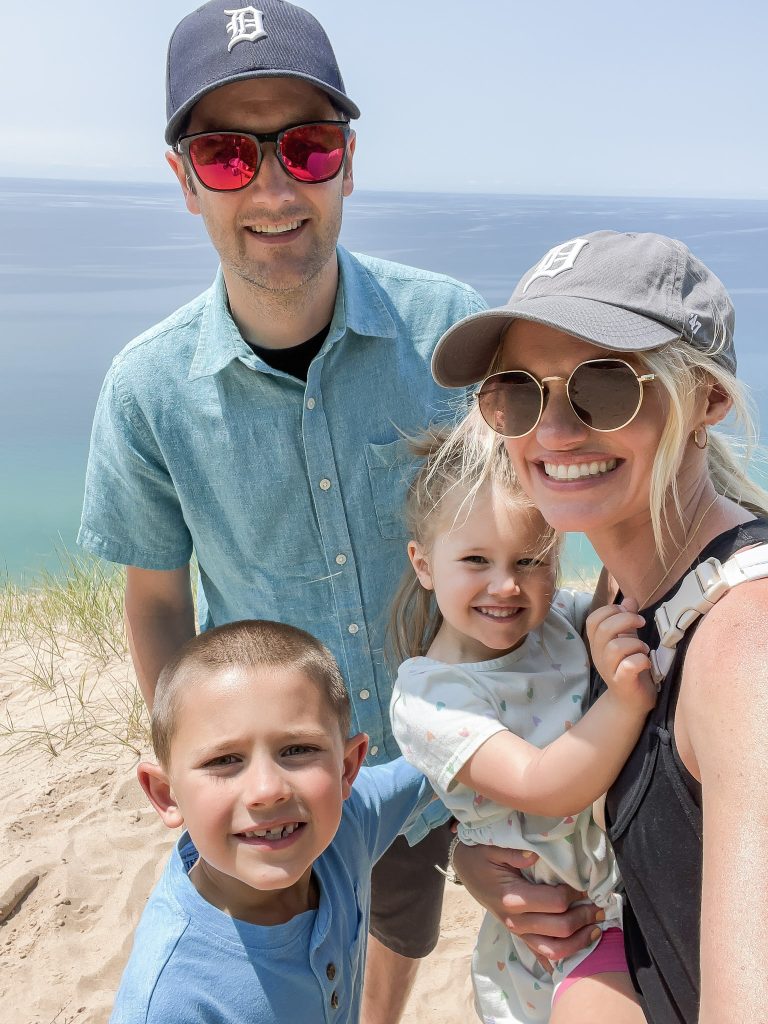 I just returned from a fun family vacation in northern Michigan. As always, I'm excited to provide a recap of my trip here on the blog, and of course, one of my favorite things to share is the outfits I wore throughout the vacation.
This post contains affiliate links!
Vacation in Northern Michigan
Having grown up in metro Detroit, I have fond memories of spending countless summer vacations up north with my family. This place holds a special significance for both me and Kevin, so you can imagine our excitement when we planned our kids' first-ever vacation to northern Michigan!
Our 7-year-old, Jack, has a deep fascination with maps and a special love for Michigan, particularly anything related to Lake Michigan. When we lived in Grand Rapids, we frequently visited beach towns like Holland, South Haven, and Saugatuck, and Jack absolutely adored the sandy beaches there. Our week-long vacation in South Haven last year set high expectations for our recent trip up north.
For this adventure, we planned a 5-day getaway. Kevin's aunt graciously offered us her condo in Harbor Springs, situated on the beautiful shores of Little Traverse Bay. It was the perfect base for most of our week, and we were fortunate to have Kevin's parents join us, providing an extra pair of hands to help with the kids. I enjoyed their company and appreciated their help!
Day 1: Travel Day + Beach Day
We began our trip with a 3-and-a-half-hour drive to Harbor Springs. Once we arrived, the kids were eager to hit the beach right away. We spent time searching for Petoskey stones and enjoying the sandy shores. Kevin and Jack attempted a kayak adventure, but the waves were too big, so they had to return to the shore. The rest of the evening was spent in relaxation mode as the kids discovered and played with the vintage 1990s toys found at the condo.
What I wore…
For our car ride, I opted for this comfy jumpsuit from Amazon over my Target tank top. Once we got settled in I changed into my favorite beach romper and my bathing suit. This suit is old, but it's one of my favorite lake bathing suits. I like to save my newer bathing suits for the pool and use my older suits at the beach, especially if I am playing in the sand a lot with the kids.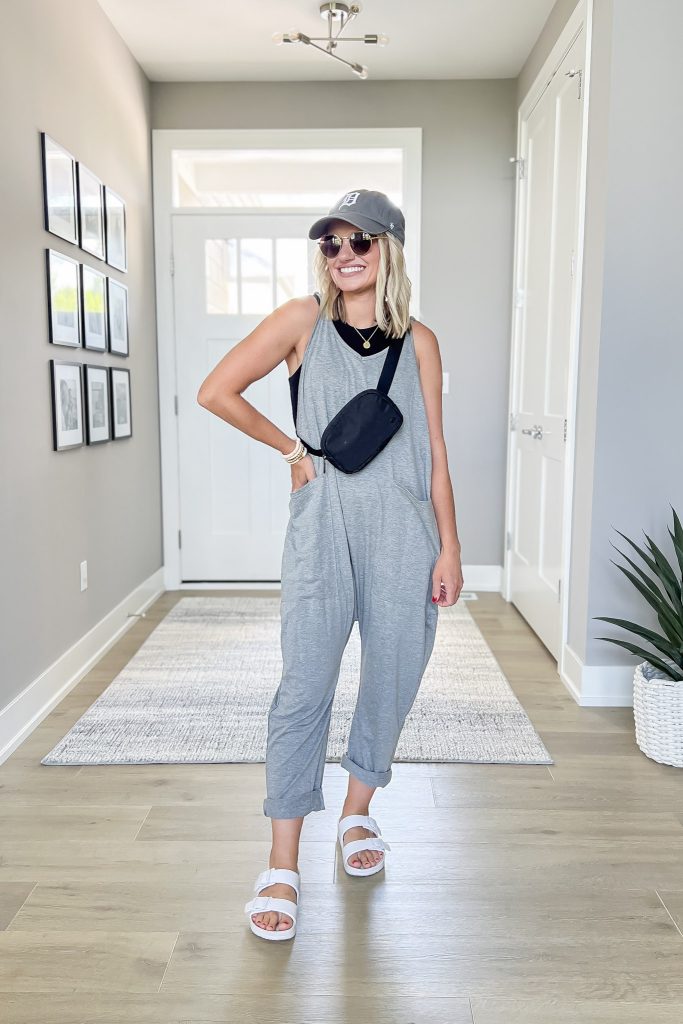 Outfit 1 details HERE || Outfit 2 details HERE

Day 2: Mackinac Island
Mackinac Island holds a special place in my heart as one of my favorite destinations in the state. It's located in the Mackinac Straits between Lake Michigan and Lake Huron. The island prohibits motorized vehicles, making walking, biking, or taking a horse-drawn carriage the only means of transportation.
My favorite way to explore the island is by bike. We rented bikes from Island House Bike Rental. We found that they had the best prices and the location was conveniently outside of the busy part of town, making it easy to get our bikes situated. I had a single seven-speed cruiser with a bicycle burly attached to the back, while Kevin and Jack had similar setups. Jack rode along with Kevin on a tag-along attachment, which was perfect for his occasional distractions. This made our bike ride much more enjoyable knowing that we didn't need to help direct him.
Before setting off on our bike ride, we ate a delicious lunch at the Great Turtle Brewery. On our way back to the ferry, we couldn't resist stopping at Kilwins for some ice cream and fudge. This day was the highlight of the trip because we knew our limits with the kids and everything we did was very family-friendly! I think we all had a great time!
What I wore…
Dressing for an active day trip is always a little tricky. I knew I needed a layer for the morning and comfortable shoes. I went with my favorite Liverpool denim jacket and my Nike white tennis shoes (similar). My green Loft shorts were a great choice for bike riding and I paired that with my white polka dot shirt.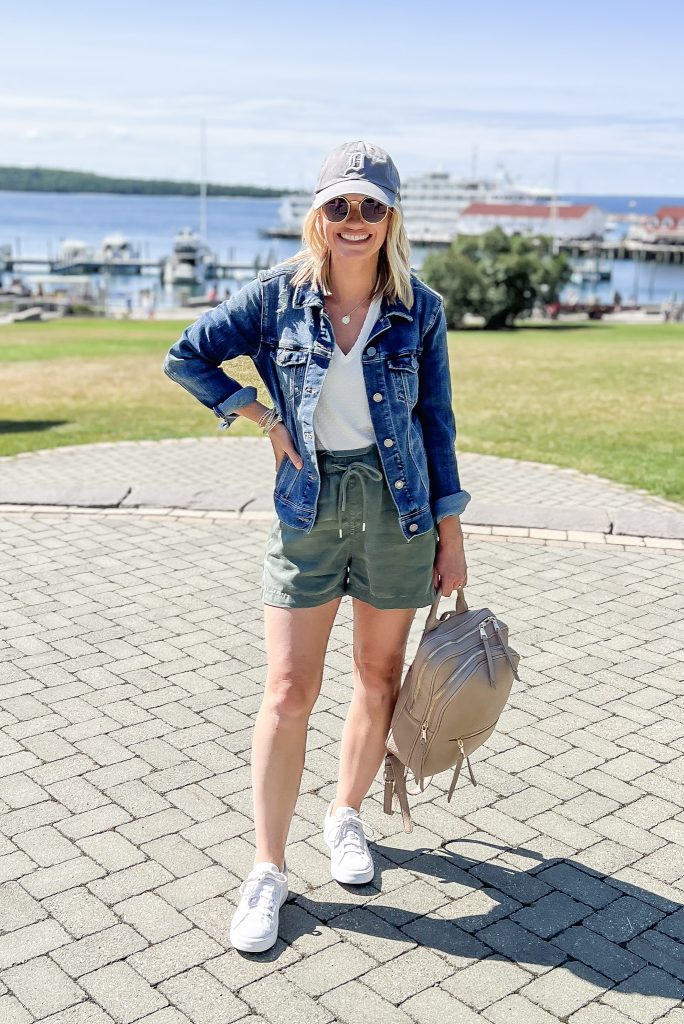 Outfit details HERE!

Day 3- Harbor Springs to Cross Village
On the third day of the trip, the weather wasn't particularly sunny, so we decided to take a little drive up the coast. We started the morning at the condo and let the kids play at the beach. Then after lunch, we headed out to Pond Hill Farm which is a cafe, winery, brewery, and market all in one that also has lots of activities for the kids! They have a petting farm, playground, and lots of games. We appreciated that we could enjoy a drink while the kids had fun playing!
After Pond Hill, we drove along the Tunnel of Trees, a scenic road that runs along Lake Michigan. It's known to be especially stunning during the fall, so we hope to return someday to witness the colorful foliage. Our drive led us to Cross Village, where we enjoyed a memorable dinner at Legs Inn, one of Michigan's iconic restaurants. They specialize in Polish cuisine but also offer American options, including locally caught whitefish.
What I wore…
I started the morning out with some jeans but changed into shorts before we left for our drive. The tricky part about packing for a place like this is trying to be prepared for all types of weather. Jeans are a must, but you can't forget your shorts too!
Outfit 1 details HERE || Outfit 2 details HERE

Day 4: Glen Arbor and Sleeping Bear Dunes
On the last day of the trip, we set out on our own and did a little road trip to Sleeping Bear Dunes National Lakeshore Park. Kevin and I were there 11 years ago with his whole family. We loved it so much, that we knew we wanted to show the dunes to our kids. It is an amazing place. Every time I go I am in complete awe.
Before the dunes, we stopped off in Glen Arbor and let the kids play at a playground before heading over to the Cherry Republic for some cherry beer and cherry ice cream! That area is known for its cherries, so I always love indulging in anything with cherries while I'm visiting.
After a quick stop at the beach, we ended up in Manistee at the Little Rivers Resort. The last night was a little rough because we didn't have a plan set. The kids were tired from our busy day and week, so it was nice to find a resort with 3 different pools and affordable food options to set up camp for the night. The next morning we ate breakfast, swam a little more then headed home.
What I wore…
I started the morning out with some comfy athleisure clothes for the drive, but once we got to the dunes I knew I would not be comfortable in sand and leggings. I threw my Amazon romper over my bra tank top for the rest of the day, which I didn't get a good picture of because my 3-year-old still needs to master the art of taking my outfit pictures for me.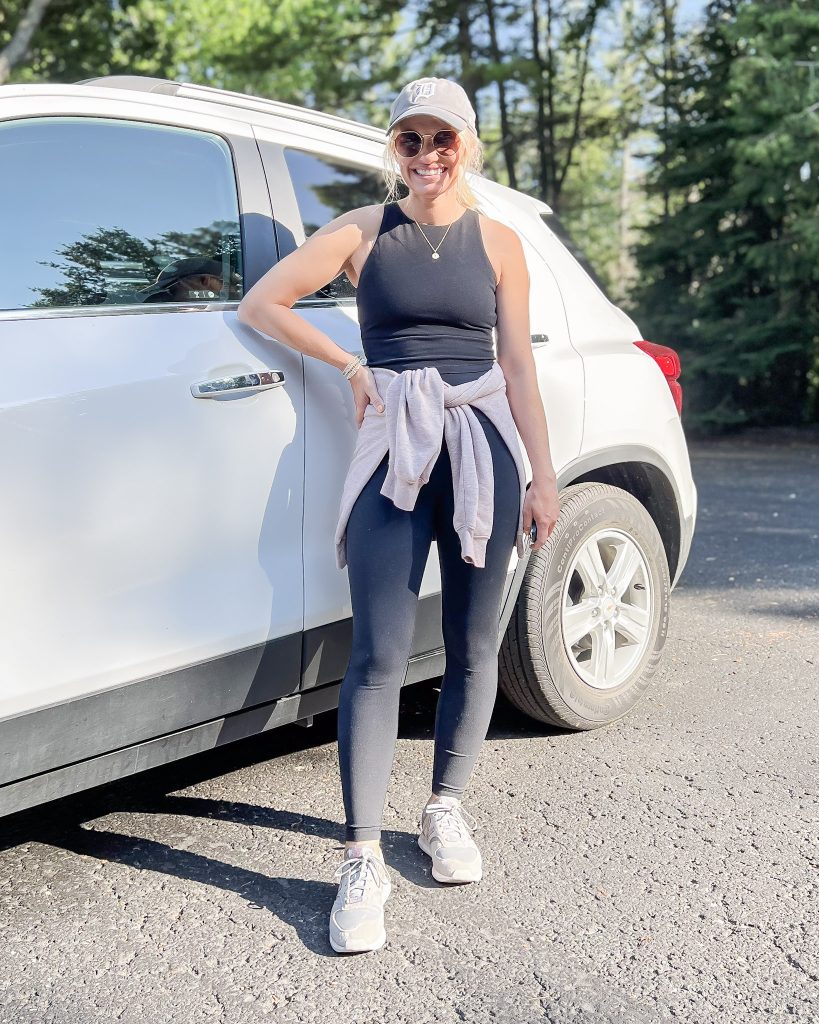 Outfit 1 details HERE || Outfit 2 details HERE

Overall, It was a great trip! I look forward to spending many more family vacations in northern Michigan! This week we will be heading south for one more summer vacation, so look for that recap post soon!