This winter has been brutal. The dark days, extremely cold temperatures and endless snow cover have definitely gotten to me. It seems to be the same every year about this time, but this year has been harder than others. This weekend I made a decision that I needed to make a change in order to get me out of my winter funk. In the past, my first thought would have been to go have a fun weekend out. Take a trip, head downtown for a nice dinner or perhaps go on a shopping trip. Well, that's not how I think anymore. I know that spending money won't make me feel any better about my life. I knew that there were simple actions I could take to get rid of my winter woes.
Saturday morning I woke up to a strange yellow color in my living room. I thought to myself, did I leave a light on last night? Then, I realized that it wasn't a lamp I left on, it was the sun shining into my living room through the blinds. This immediately put a smile on my face. You really don't realize how much you appreciate sunny days until you go 2 months with only having a handful of them.
With the sun shining, my first thought was to go for a walk. I love my walks when it's nice out. Then I took a closer look out the window and saw that all the sidewalks were covered with about a foot of snow. So, I quickly scratched that idea. Instead, I decided to do a quick 20-minute workout in the comfort of my own home. I know it's not much, but it's better than nothing. It actually felt great to work out my dormant muscles.
After my quick work out, I showered and took my time getting ready for the day. I curled my hair, which always puts me in a good mood. For my makeup, I followed a tutorial from one of my favorite beauty blogs,
Maskcara
. Sometimes the only thing I need to get me feeling my best is as simple as putting a little more afford into my makeup and hair routine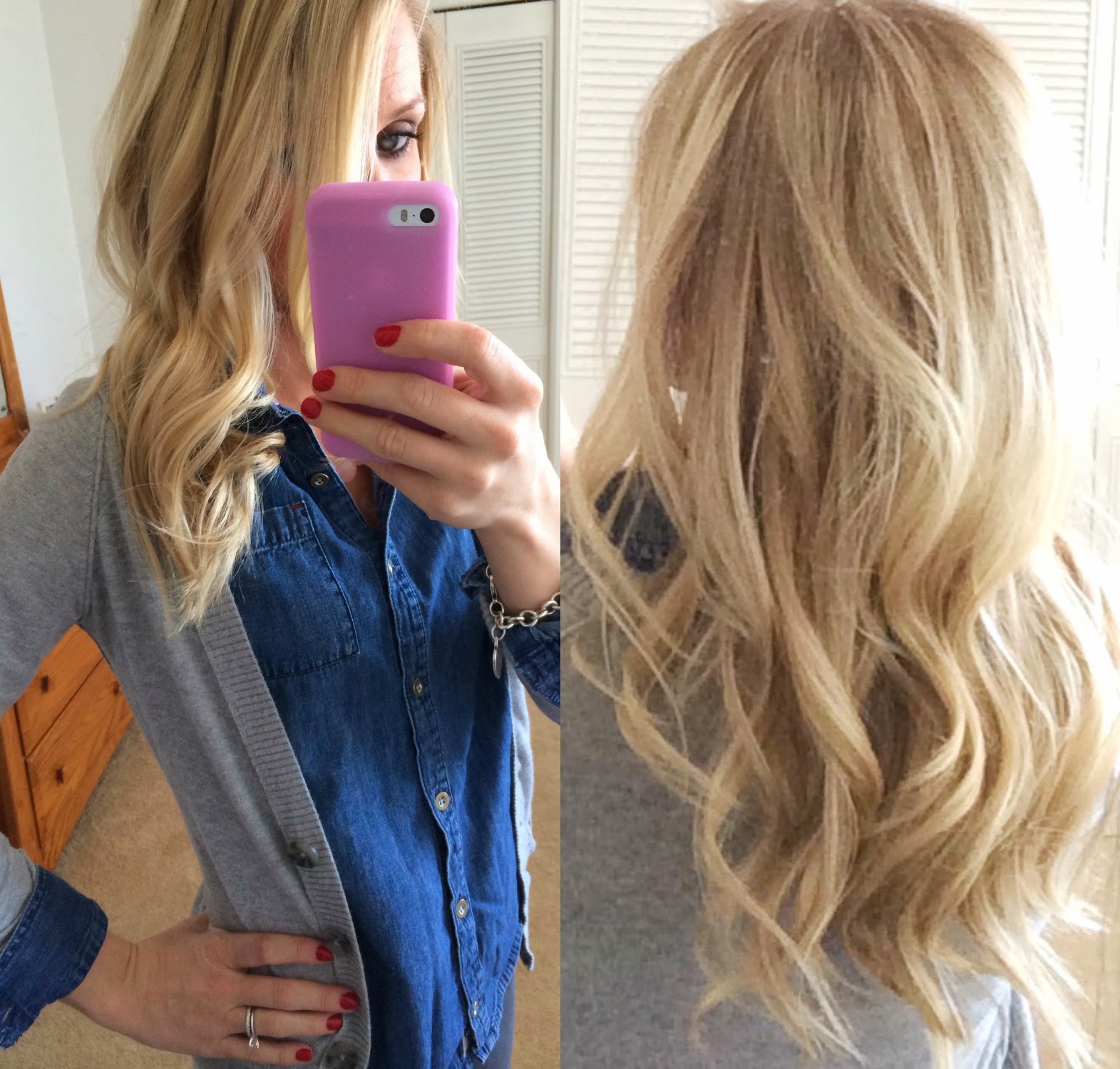 I love putting together outfits, so what better way to get me into a good mood than a new outfit? The only thing is I didn't go shopping for this new outfit. I looked through my closet to see what I could find. For me, my clothes are my toys. When I was a little girl, I loved to play dress up. I had a closet filled with my mom's old dance costumes and prom dresses. I would do my best with the clothes I had to make myself look like Scarlett from Gone with the Wind or Amy from Little Women. Now that I'm an adult, I'm still playing dress-up with my clothes, the only difference is now I can wear them out in public. I ended up coming up with this new look below. I've been seeing jean shirts everywhere. I'm always looking for ways to wear mine. Here is what I came up with.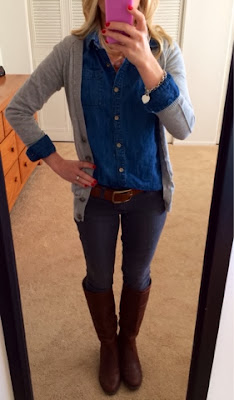 Jean Shirt- Targer
Grey Sweater- Target
Pink necklace- Target
Grey jeggings- Old Navy
Brown boots- Target
Brown belt- Old Navy
Another thing that always puts me in a good mood is a fresh coat of paint on my nails and a polish on my wedding rings. I try to clean my rings at least once a week. I just use a simple jewelry cleaner I bought at the drug store. It takes no more than 30 seconds and it makes my rings sparkle like new. My rings always put a smile on my face when I look at them. Not only are they my favorite piece of jewelry, but they remind me of how blessed my life has been and how fortunate I am to have a man like mine. I know that sounds cheesy, but it's true.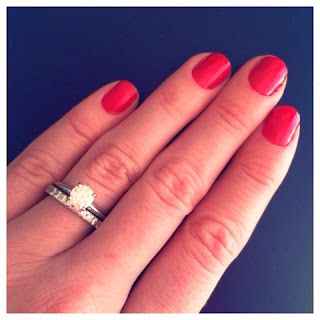 It's still cold outside, and I know there is still a good 4 to 6 long weeks left to winter, but at least I'm thinking with a positive attitude. I don't feel as down as I was feeling in the weeks prior. Now, as I sit here and watch the sunset, I look at the clock and realize that it's 6:30 and the sun is still in the sky. The days are getting longer. I am confident that my week will go a lot smoother than they have been in the weeks before. Spring will be here soon, and until then I will stay positive with a smile on my face and a cute outfit of course.