I've been meaning to post my outfit that I wore a few weeks ago to my baby shower, but I just haven't had a chance. I figured I'd do a throwback post about it today.
Just like any special occasion, I started searching for a dress for my shower way in advance. I looked at a lot of different maternity dresses online, I shopped around at a few stores and I basically struck out. I knew I wanted something blue, since I'm having a boy, and I also wanted something that would show off my baby bump. I ended up settling on a simple black maternity dress from Target. I ordered it online, but when it came in the mail, I realized just how big maternity clothes are. My 26-week bump barely filled out the x-small maternity dress. I decided to re-evaluate and take a closer look in my closet to see if I had any dresses that would work. I remembered this navy blue dress that I bought almost 4 years ago for my sister-in-law's wedding. I remembered that I always really liked this dress, plus I found it for such a great price at TJ Maxx. I think it was only $19.99 when I bought it. Anyway, the dress worked out great. The material is nice and stretchy, and I was super comfortable in it all day. I accessories it with a tan sweater and nude pumps.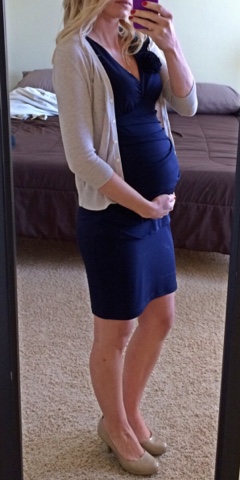 Dress- TJ Maxx
Sweater- Old Navy
Shoes- Target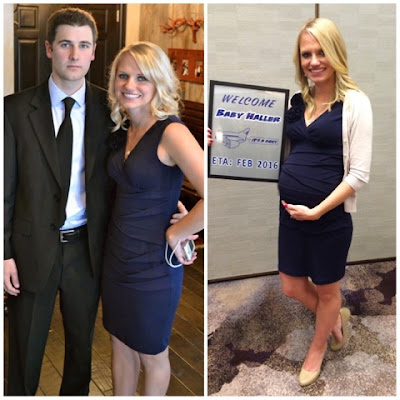 Left: My husband and I at his sister's wedding, not pregnant. Right: Me at my baby shower, 26 weeks pregnant.
When it comes to planning an outfit for any special occasion, my best advice is to not overthink it and look to see what you already have in your closet before you spend money on something new. You can always accessorize differently and make it a whole new look!