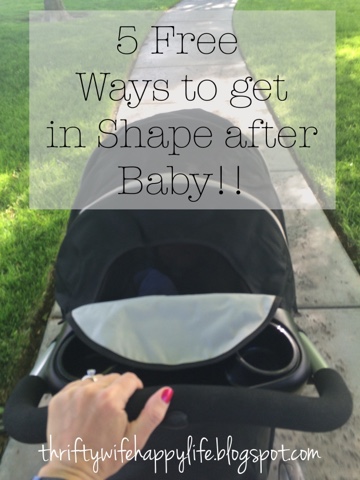 For most women, one of the hardest parts of having a new baby is getting their pre-baby body back. It's not easy. Every women's body is affected differently by pregnancy. For me, my weight gain during my pregnancy was all in my belly. I remember when my baby bump first started to show, I could feel all my muscles in my abdomen stretching. There is no doubt that my baby really did a number on my abs. On top of the stretching of my abdominal muscles, having a c-section didn't help much.
Don't get me wrong, I'm not ashamed of my new mom body. I'm actually very proud of it. I grew a human in me for 9 months and I think that's something to be proud of, but like most women, I'd like to lose the mom pouch as it's called.
I've always been a very petite person and it never took me much to stay in shape, but things change after you have a baby. I think it's important to set realistic goals for yourself. Remember that you just carried a 6 plus pound human in you. It takes 9 months to grow a baby, so it will take time to shed that baby weight. Don't expect it to happen overnight. My goal is to flatten out my belly and get some of my ab muscles back that I used to have.
So how can new moms lose that baby weight and get back to their old pre-baby body? For me, I don't spend money on gym memberships or expensive classes. I feel like there are plenty of ways to work out on your own. Here are some ways that I'm working out for free.
Walk/Run- I'm not a runner, but I do love to go on walks. I feel like there is no easier way to workout for free than walking or running. All you need are a pair of tennis shoes and you're ready to go. It's the perfect workout for new moms because you can include your baby. Jack loves his weekend walks with me.
Baby Exercises-
I love finding ways to include my baby into my workouts. When I'm not at work, I like to spend every moment I can with Jack, that's why including him into my workouts is a great way for us to spend time together. I feel like there is a big movement with baby workouts right now, so it's easy to find exercise ideas. Here are a few great baby exercises that I've been trying out, here and here.
Workout Videos- If you're like me, you might have a few workout DVD's laying around your house. I like to use them to get a full-body workout from my living room. I have a few Jillian Michaels videos that always give me a great workout. I also like to use YouTube to search for new workouts. There are tons of great workouts on YouTube and it's free.
Pinterest- Using Pinterest as a resource for workouts is a great idea! One thing for me when it comes to working out is that I feel like I have a lack of time to fit it into my day. That's why I love finding quick workout plans that are easy and effective. I've been doing a lot of pinning of postpartum workouts you can check out on my Pinterest page (here).
Workout Apps- There is literally an app for everything. There are lots of different apps out there that will help you diet and help you get on a fitness plan. I've always used Map My Run to track the distance I go on my walks and it will also tell you how many calories you burned. Since I'm focusing on my core, I recently downloaded an app called Abs & Core Sworkit. It is basically like having your own personal trainer. If you're looking to count your calories, my favorite app for that is My Fitness Pal. Find an app that works for you and use it. The great thing is that most apps are free, so you can try one out and if you don't like it, just delete it and find another.
Those are my free ways I'm getting in shape after baby. How did you do it?