A couple months ago, I found this cute pair of Hollister jeans at the Goodwill. They were in great condition and had the perfect amount of stretch to them. They were so comfortable that I knew they would be perfect to wear for work. The only problem with them was that they were way too long.
I'm only 5'1, so I've always struggled with jeans being too long. I normally just cuff my jeans at the bottom, but these jeans were too long for that. I never pay to hem my clothes and I definitely can't hem pants myself, so I decided that I would just cut them. It's an extremely simple way that you can shorten the length of your jeans and since the distressed look is very in style right now, it won't look weird to have it frayed at the bottom.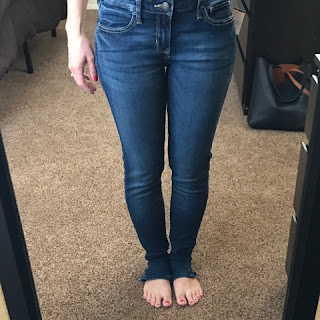 Before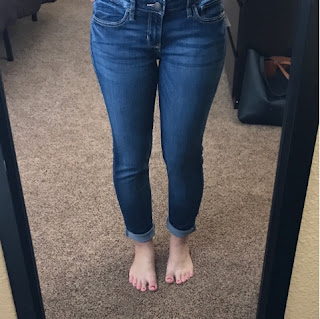 After
I was very pleased with how my jeans turned out. It's such an easy solution to a short girl's problem. Below is one way that I styled my jeans recently.