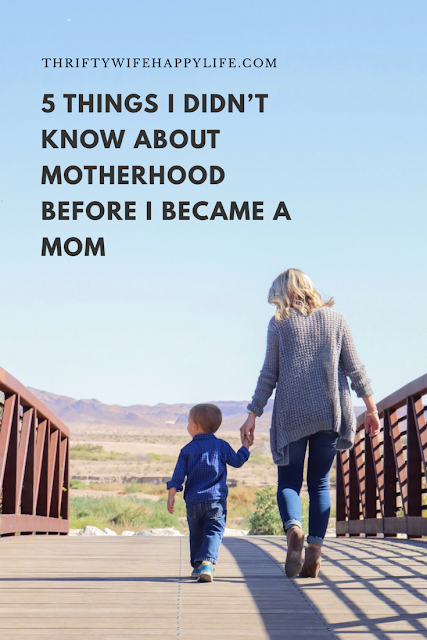 It's hard to believe that in a few short months, I will have a 3-year-old. Time is flying by. I absolutely love being a mom. Jack is my pride and joy. He makes me so happy, but it's not always easy being a mom. When I look back on my pre-baby life, it seemed so easy. I sometimes question what I did with myself back then. Today I want to talk about what I didn't know about motherhood before I became a mom. It seems like everyone tells you things about what it's like, but you never really know what it's like until you live it for yourself. Here are the things that I didn't know about.
1.) The lack of personal time I would have- I can count on one hand how many times I've been alone in my house since Jack was born. It's very hard to fit in me-time. Painting my nails after Jack goes to bed on a Friday night or sneaking in an episode of Very Cavallari is about all the me-time I get these days. I knew that becoming a mom would make me busy, but I think I imagined having a little more time for myself. I guess I imagined that I would have a child who would sleep and I wouldn't be so tired all the time.
2.) How much I miss my husband- I see my husband every day, but I miss him. Jack demands a lot of my attention and sometimes I miss having one on one time with my husband. We do not have the luxury of having family close by as babysitters, so we don't get to go on date nights every weekend like some people do. Occasionally, when we both have the day off work and Jack's school is open, we will take him into school and we will go out and have a date day together. Those days are the best, but we haven't done it since last winter. I look back on my pregnancy and I cherish all those outings we went on together because I didn't realize then just how much our relationship would change when we became parents.
3.) The mom guilt- I didn't know anything about this thing they call "mom guilt", but it's a real thing. I feel guilty all the time. I feel guilty that I work, guilty that I live far away from our family, guilty that I don't pack Jack a lunch for school… I could think of a ton of things that I feel guilty about. It's something that doesn't go away, but you can manage it. All you can do is do what's best for your family and tell yourself it's okay.
4.) How hard it is to balance work and motherhood- Working is my greatest challenge as a mom. I feel like I was a better teacher before I was a mom. I don't know how other people work full time and have more than 1 or 2 children. I give them a lot of credit because it is not easy. If work is such a hardship for me, then why do I still work? That's something I get asked from people. My answer is because I'm working for our future. Most of my paychecks go into our retirement accounts. The more you save when you are young, the more money you will have in retirement. Basically, I work now, because I don't want Jack to have to pay for any of his education, I don't want Jack to ever have to struggle to pay off student loans like I did. My husband is going to be upgrading to captain early next year and the topic of quitting my job has been coming up a lot. I do plan to stop working one day, but as of right now it just doesn't make sense to lose my income. Plus, we would need to pay for preschool for Jack anyway and he loves going to school. I would hate to take him away from his social life right now. Right now, I'm making the most of my working days and if I'm a bad cook and my house is always messy because of it, it's okay because I'm a working mom.
5.) The amount of joy and pride a child brings-
After saying all that above, I have to say that being Jack's mom is my greatest title. I am so proud of that little guy. I love watching him grow and learn. He's talking so much more lately and has his own little personality. He brings both my husband and I so much joy. Yes, I miss our life before kids, but I know that once Jack is grown, I will look back at this period of my life and miss it the most.


*This post contains affiliate links, which means by making a purchase through a link, I will earn a commission for this blog. Thank you for your support!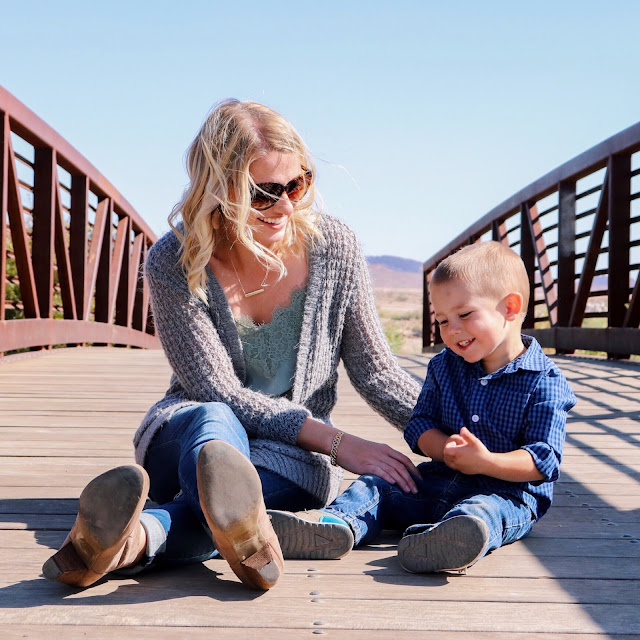 PHOTO CREDIT: Chasity Jean Photography
Shop my closet