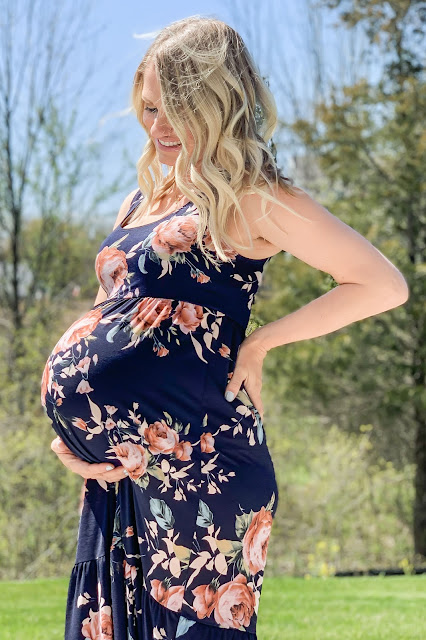 Unless I get an unexpected boost of energy between now and the time the baby is born, this is probably going to be my last baby bump update post.  It's hard to believe, but super exciting at the same time. Even though it seems like I still have some time before this baby arrives, I know that 4 weeks are going to fly by.  I still have so many things to do and absolutely no motivation to get it all done.  Even though this pregnancy has been much different than I ever could have expected, I'm still trying to make the most of it and soak it all in.  It's getting much harder though as the weeks go by.  I am just so excited to meet my little girl and I can't wait to hold her in my arms.
*This post contains affiliate links which means by clicking on a link and/or making a purchase, I will earn a commission for this blog.  Thank you for your support!
How I'm feeling
Physically, I'm feeling exhausted and uncomfortable.  Sleeping at night has been really difficult, which makes getting through the day hard.  Mentally, things have been rough.  I'm not going to lie, things are not easy for me right now.  I'm really struggling to just get through the rest of this pregnancy, but on top of it all, it makes things even harder having to go through this pandemic.  I have good days and bad days and sometimes my mood changes by the minute.  My emotions have been all over the place.  I'm already a very sensitive person, but being pregnant gives me no control.  All I can do is take it day by day.  I accept things for what they are and I try to appreciate the positive things in my life.  The only sure thing in my life at the moment is that this little girl is coming one way or another.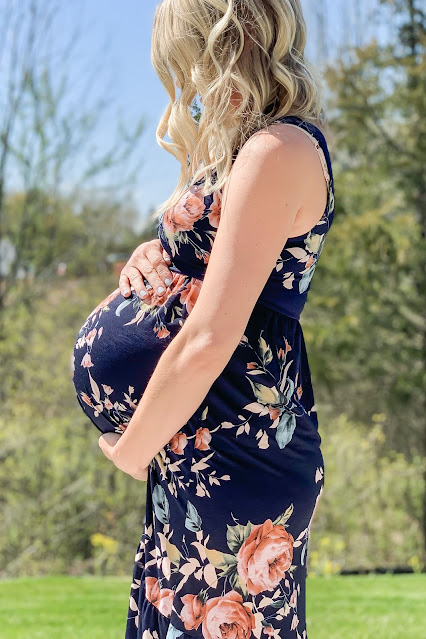 About the Bump
My bump is huge!! I'm definitely bigger than I was the day I gave birth to Jack.  This little lady is sticking straight out.  Some days I think if I get any bigger I might break.  People always tell me that I'm all belly, but I'm not sure if that's such a good thing or not.  I'm only 5'1, so I don't have anywhere else for the baby to go but out.  I am still feeling a lot of movement in there.  She is stretching, kicking, punching, and hiccupping a lot.  Even though sometimes the movements add to my discomfort, I still love feeling them.  It just reminds me that she's there and I'm never alone.
Preparing for baby girl
I'm happy to say that we finally decided on a name.  It's taken us this entire quarantine to pick out a name that we both liked, but we finally settled on one.  We've shared the name with our family, but I'm not going to be telling too many people.  I feel that you can always change your mind at the last minute, so I won't be ordering anything with her name on it or making a name announcement until after she's born.
As for everything else there is to do to prepare, I've been really lacking any kind of motivation.  When I was pregnant with Jack I spent every weekend going through his room and making sure all of his clothes and diapers were organized.  This time around all my baby clothes in a pile of boxes in the corner of the baby's room.  I still need to go through and wash clothes, clean out and organize her closet, bring in all the baby gear from the garage and clean it up.  Plus we are still waiting on the dresser to get here.  I'm trying not to stress too much about it though because I know the first few months she will be sleeping in our room anyway.
I am a little nervous about being on our own this time around.  When Jack was born I had so much help and my entire maternity leave was spent with a different family member visiting each week.  It was so nice and everyone was so helpful.  It really helped me keep my spirits.  This time there will be no visitors.  No family to share the excitement of a new baby with.  No one to help cook meals or help me watch over Jack. Sure I will have Kevin, but he's not always the hands-on husband you need when you have a new baby.  It's definitely going to be a challenge for me, but I know I will get through it.
What I've been wearing
The Michigan spring weather has been very frustrating to me and my wardrobe right now.  We've only had a handful of warm sunny days, so most of my days have been spent in leggings… still.  But whenever we do have a nice day, I try to wear one of my dresses.  I look forward to my doctor's appointments because it gives me the opportunity to wear jeans.  I always find the third trimester the hardest trimester to dress for.  I've been doing my best with what I have, but I am so excited to start wearing my normal clothes again soon.  I'm ready to move on to postpartum outfits.
Here are some of my 3rd-trimester outfits.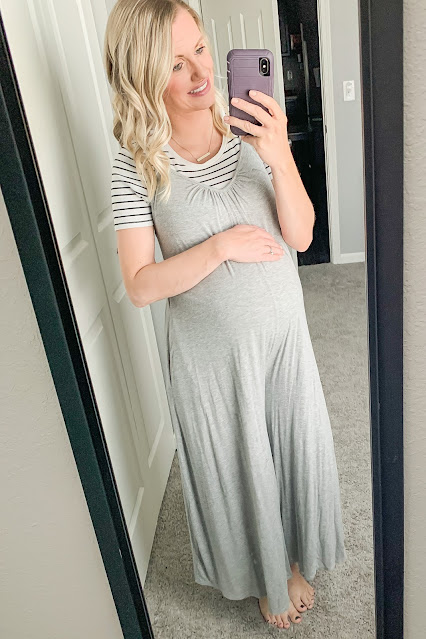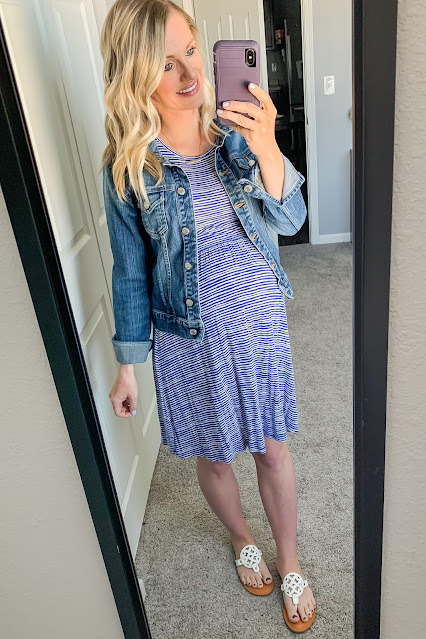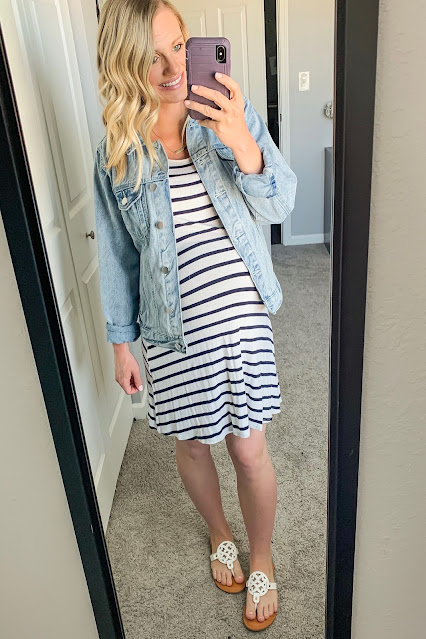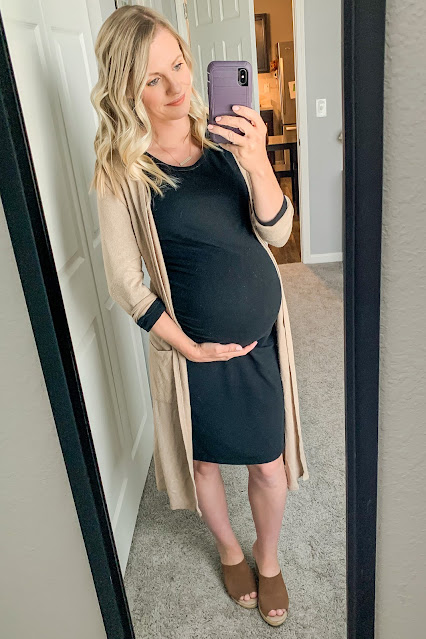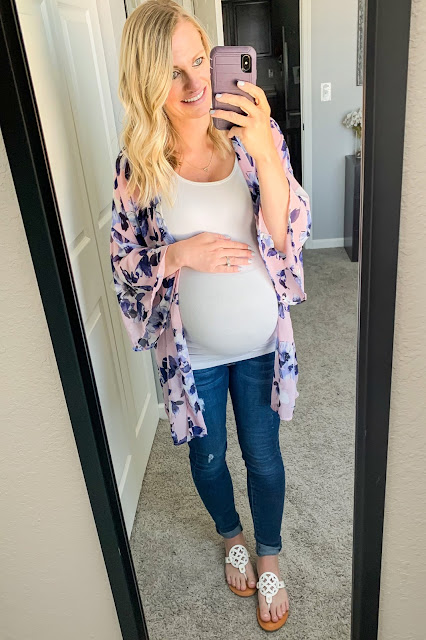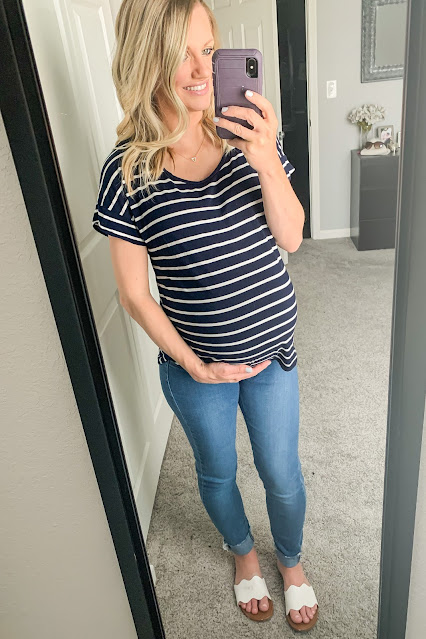 Katie🤍
Like the Post?  Be sure to pin it!!