I'm so excited about today's blog post because it's one I've been wanting to share for a long time. As you know I am all about making the most out of your wardrobe, so when it comes to creating a Halloween costume you should look no further than what's inside your own closet! That's why in today's post I have come up with 6 easy DIY Halloween costumes that you can put together with the clothes from your own closet!
*This post contains affiliate links. Links last updated on 8/2/2022.
I have always enjoyed putting together Halloween costumes. Throughout my life, I have found that my most memorable Halloween costumes were always the ones that I created on my own rather than the ones I bought at a costume store. I find that it's always more fun to get creative with your Halloween costumes and it also saves you a lot of money. You would be surprised by how many DIY Halloween costumes you could come up with in normal clothes from your closet.
Related post:
6 EASY DIY HALLOWEEN COSTUMES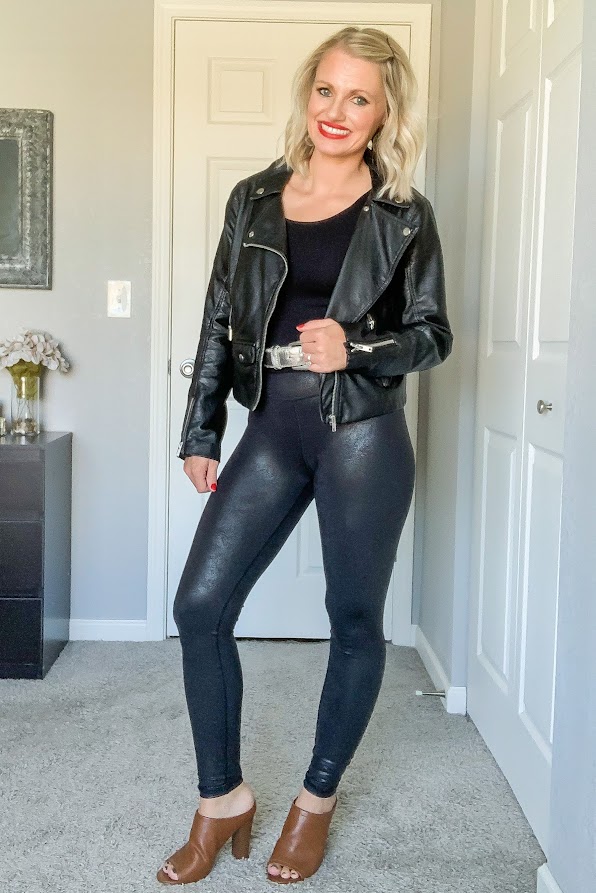 1.) Sandy from Grease
I can't tell you how many times my friends and I belted out Summer Lovin' while hanging out together when I was younger. Grease always brings back such good memories for me. That's why I knew I could go for a Sandy costume. If you have a pair of faux leather leggings and a moto jacket in your closet then this look is the perfect costume for you. Just accessorize with some fun heels and red lipstick!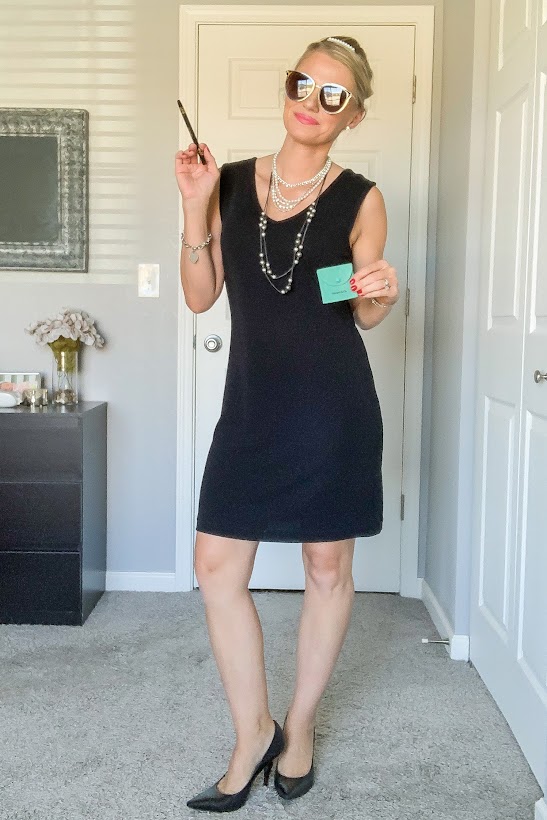 2.) Audrey Hepburn Breakfast at Tiffany's
I love Audrey Hepburn's classic look in Breakfast at Tiffany's. It's so easy to pull off too. All you need is a black dress and some accessories. I pulled out all my rhinestone and pearl necklaces from my jewelry box, including my Tiffany's bracelet. I don't have a tiara, but the rhinestone comb that I wore at my wedding works for a great hair piece. Oversize sunglasses and a cigarette holder (a.k.a. my eyeliner) also make for fun accessories. Gloves would help complete the costume!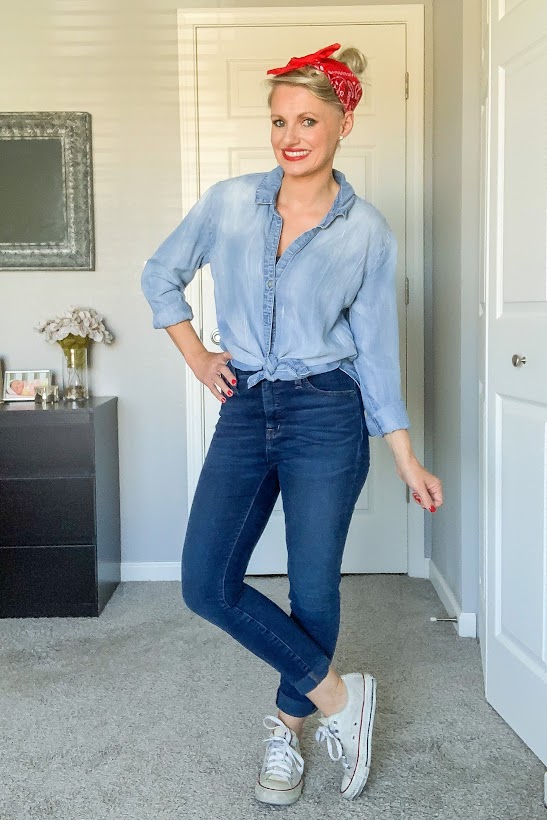 3.) Rosie the Riveter
I love the iconic image of Rosie the Riveter. She is a symbol of girl power and an easy costume for anyone to pull off. I just wore my chambray shirt with some jeans and tennis shoes. The best part of the costume is the hair and makeup. I put my hair in a ponytail but left the front part out. I then curled it and just bobby pinned it down and added my red bandana. For makeup, I added some eyeliner and red lips. You have to go with red lips for the 1940's makeup look.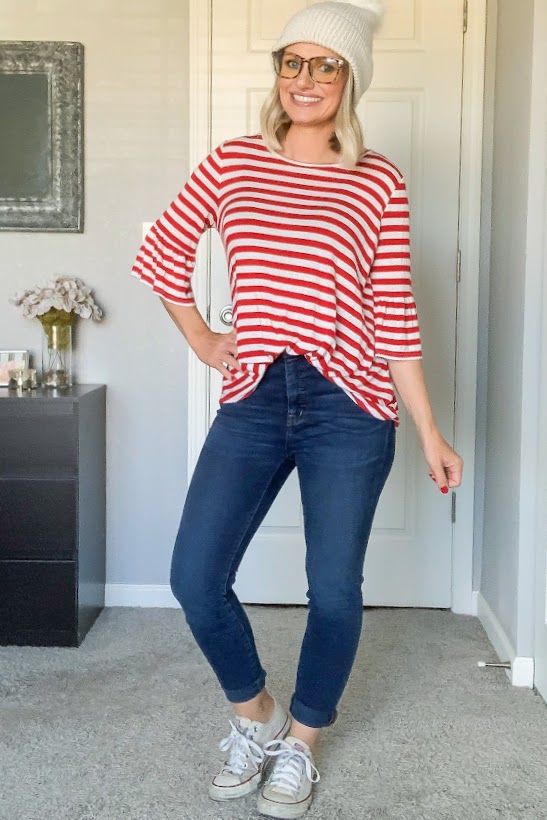 4.) Where's Waldo
This costume is so easy I only wish I would have thought of it when I was still teaching preschool. It's the perfect teacher's Halloween costume or favorite character day costume. I just wore my red and white striped shirt with jeans and tennis shoes, then added a benni hat and glasses.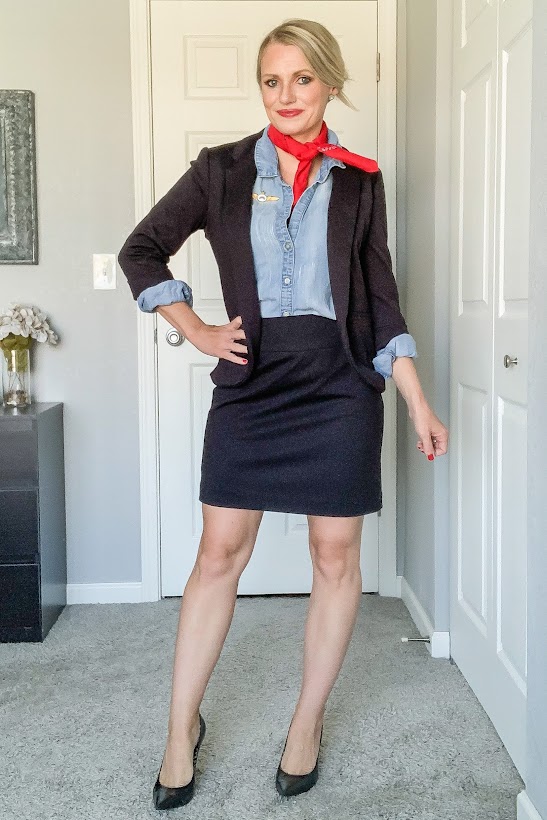 5.) Flight attendant
Of course, I needed to put together a flight attendant costume. I am married to a pilot after all. All you need for this costume is a black or navy pencil skirt and blazer. I accessorized with my husband's old wings from work (the kid wings work just fine too!) and my red bandana. You can always add a suitcase to the costume or drink tray as a prop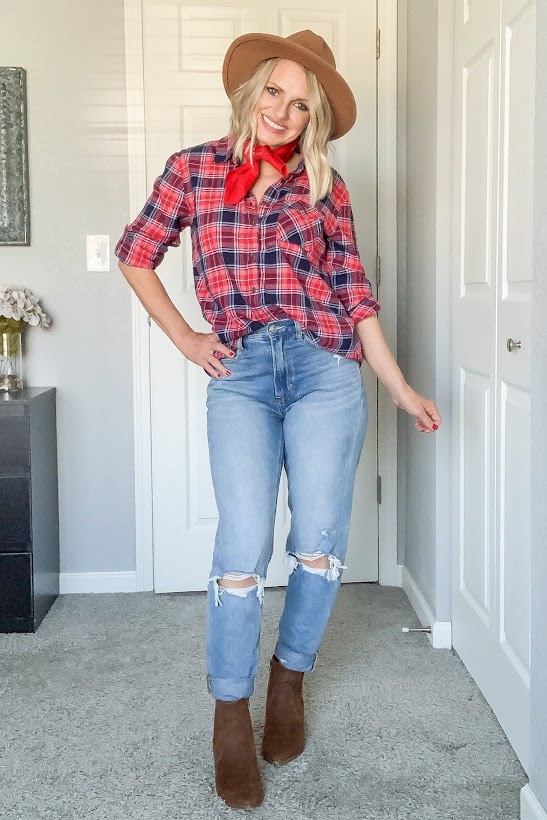 6.) Scarecrow/Farmer
A scarecrow or farmer is an easy Halloween costume to wear. If you have a plaid shirt in your closet you can pull it off. For accessories, I added a fall hat, my red bandanna, and my brown booties. I find this costume to be another good teacher Halloween costume for the classroom.

Those are my easy DIY Halloween costumes and guess what? They didn't cost any money!! What Halloween costumes can you create with your wardrobe?