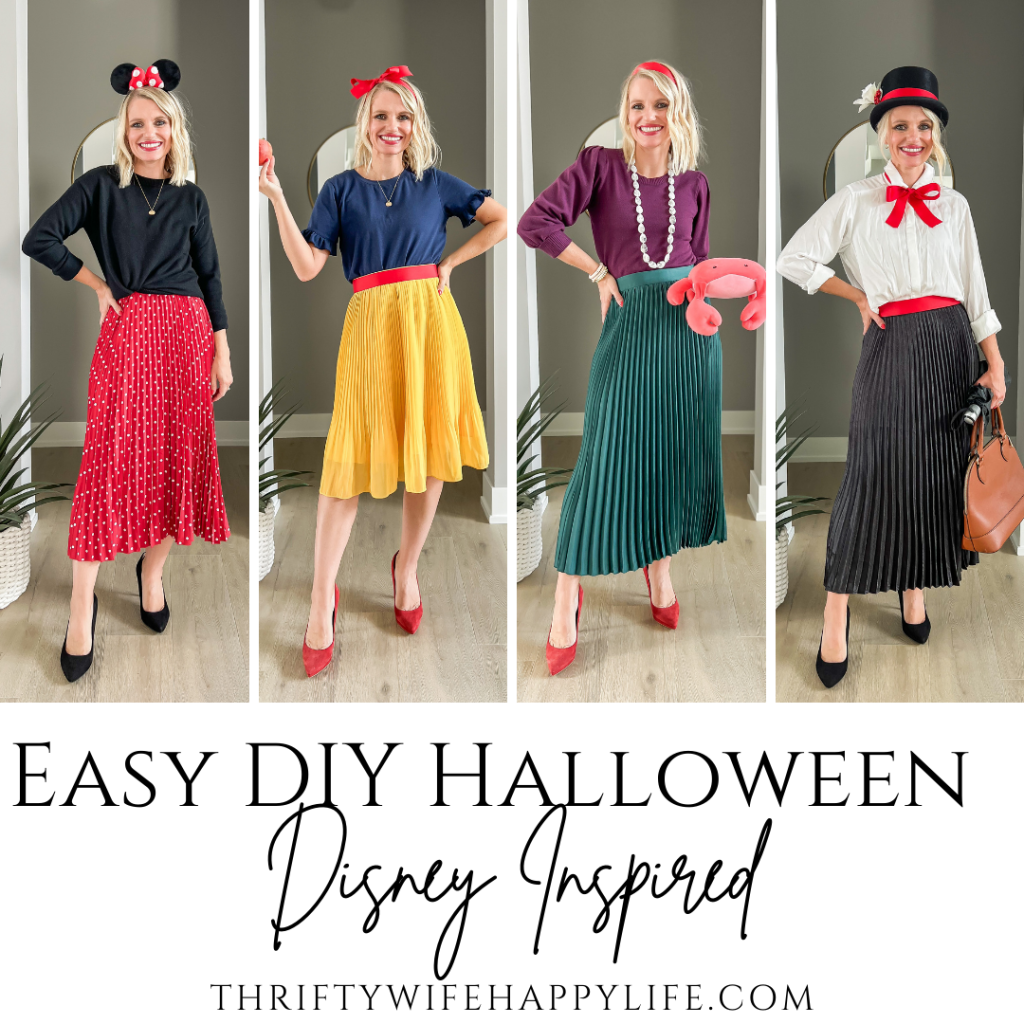 When it comes to Halloween costumes, I find DIY Halloween costumes to be the most creative and fun! They always leave a lasting memory. While I have shared easy DIY Halloween costume posts before on the blog, this year I wanted to share 4 Disney-inspired easy DIY mom Halloween costumes that you can put together with the clothes from your closet!
*This post contains affiliate links.
As a mom, I always enjoy getting into the Halloween spirit with my kids by dressing up. Whether I am dressing up to volunteer at their classroom party or just dressing up to take them trick or treating, I always have fun with it. I'm not one to splurge on a costume that can only be worn once, which is why I usually look to my closet for inspiration for costume ideas.
This year, I drew inspiration from my pleated skirt collection. Not only are pleated skirts one of my favorite wardrobe staples, but they serve as a great foundation for creative costume ideas! As I looked through my skirts, I couldn't help but notice that every concept that I came up with revolved around a Disney character. That is why I have a Disney-themed DIY mom Halloween lineup.
These Disney costumes are not only perfect for moms; They also make for great choices for teachers on Halloween or character day. Plus, because they're Disney-themed you can even get some Disney-bound outfit ideas as well! Here is what I put together!
4 Disney-Inspired DIY Mom Halloween Costumes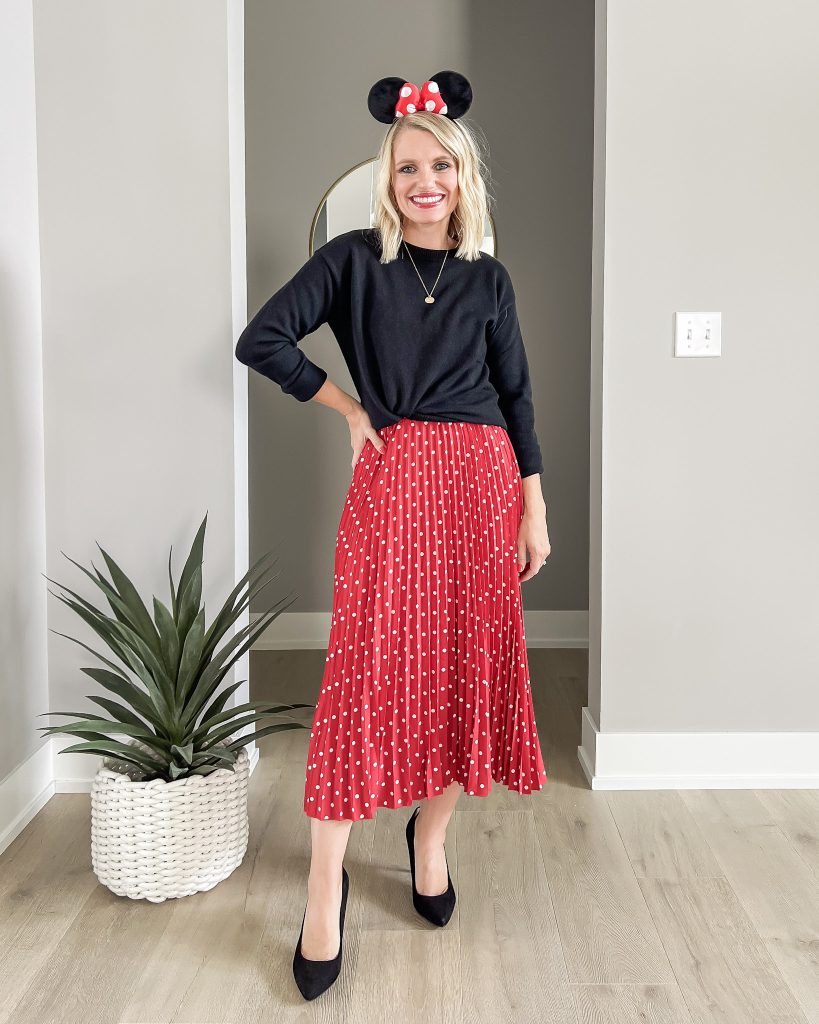 Sweater || Skirt (similar) || Shoes (similar) || Minnie Ears

1.) Minnie Mouse
When I saw this red polka dot skirt (similar) at TJ Maxx I knew I had to grab it for a Minnie Mouse Halloween costume! Not to mention, it's also a super cute pleated skirt that I will also wear when it's not Halloween. I paired the skirt with a black crew neck sweater, but really any black top will do. To complete the look I bought some Minnie ears at Walmart. After teaching preschool for 10 years I had a nice little collection of ears going, but I was missing Minnie Mouse.
If I wanted to step up this Minnie Mouse costume, I would always wear some yellow flats or pumps as shoes with some black tights and opt for some white gloves. I'm happy with what I have here and my kids are so excited for me to wear it this year!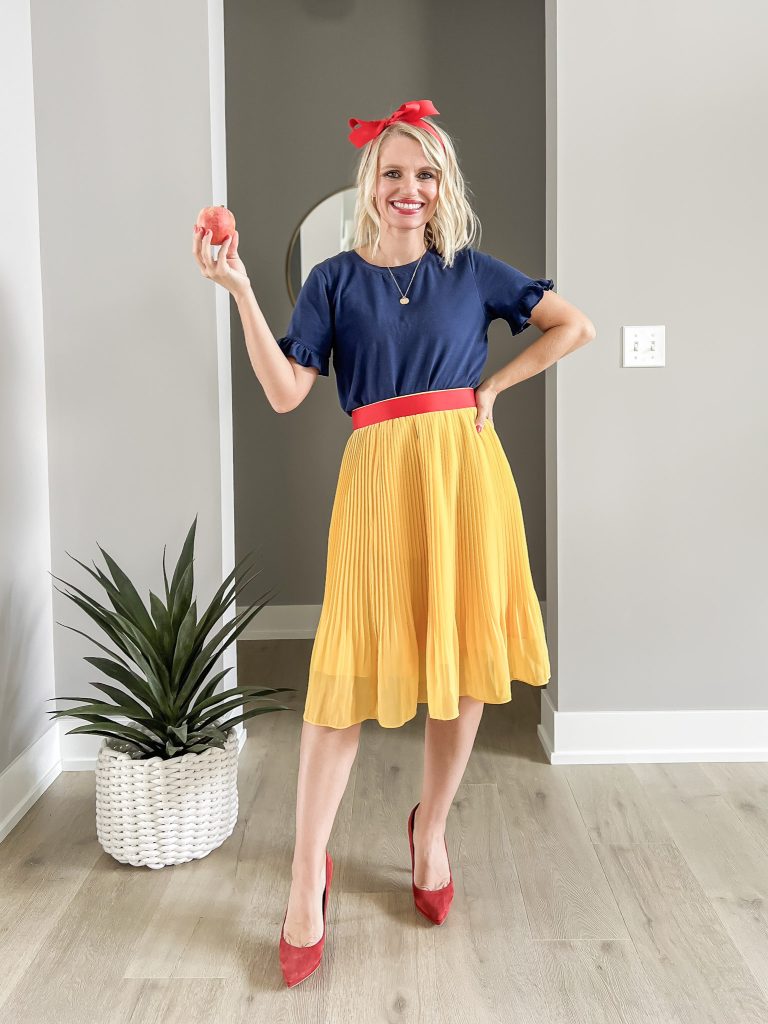 Shirt || Skirt (similar) || Shoes (similar)

2.) Snow White
If you were following me on Instagram last year, you may have seen my Snow White DIY costume reel. The post went viral! People loved how it all came together, so I recreated the same look this year!
I started with my thrifted yellow pleated skirt (similar). I added a navy flutter sleeve top and accessorized with red shoes and ribbon. You could always add a black wig if you wanted to step up this costume. I've also seen people layer a top over a white button-down shirt. I think this is such a cute and fun costume to wear!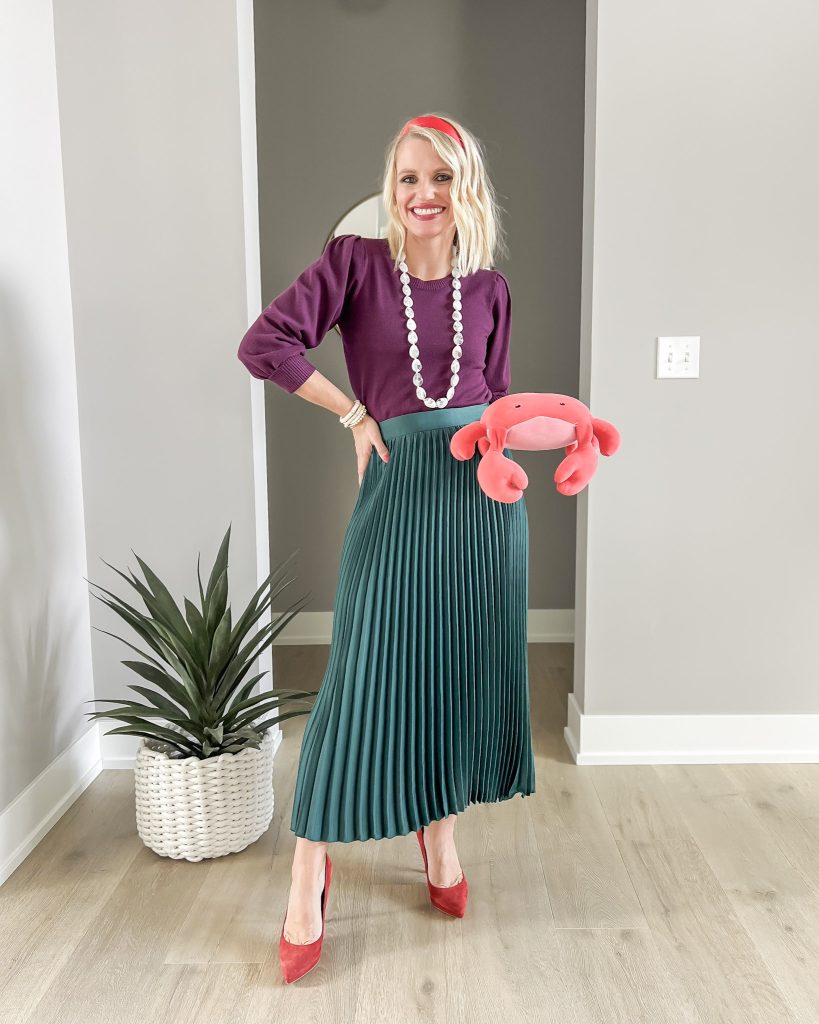 Sweater || Skirt (similar) || Shoes (similar)

3.) The Little Mermaid
I never would have thought to put together an Ariel costume with a pleated skirt, but I saw a friend of mine Leslie from One Life and Style share this costume last year and I had to try it! My green satin skirt (similar) was the perfect pleated skirt mermaid fin. I paired it with a purple sweater (similar) and a necklace that I thought looked like shells. I accessorized with a red ribbon since I don't have long red hair. And in case people still can't tell it's The Little Mermaid, I took Jack's crabby stuffed animal as my Sabashian crab.
If you wanted to level up this costume, you could always buy a red wig. The thing that I enjoy most about these DIY costumes is that they are practical and easy to wear. If you need to go run an errand on your lunch break you won't feel like you are in full costume. This is why I don't necessarily think you need the wig, but they do help make the costumes a little more recognizable.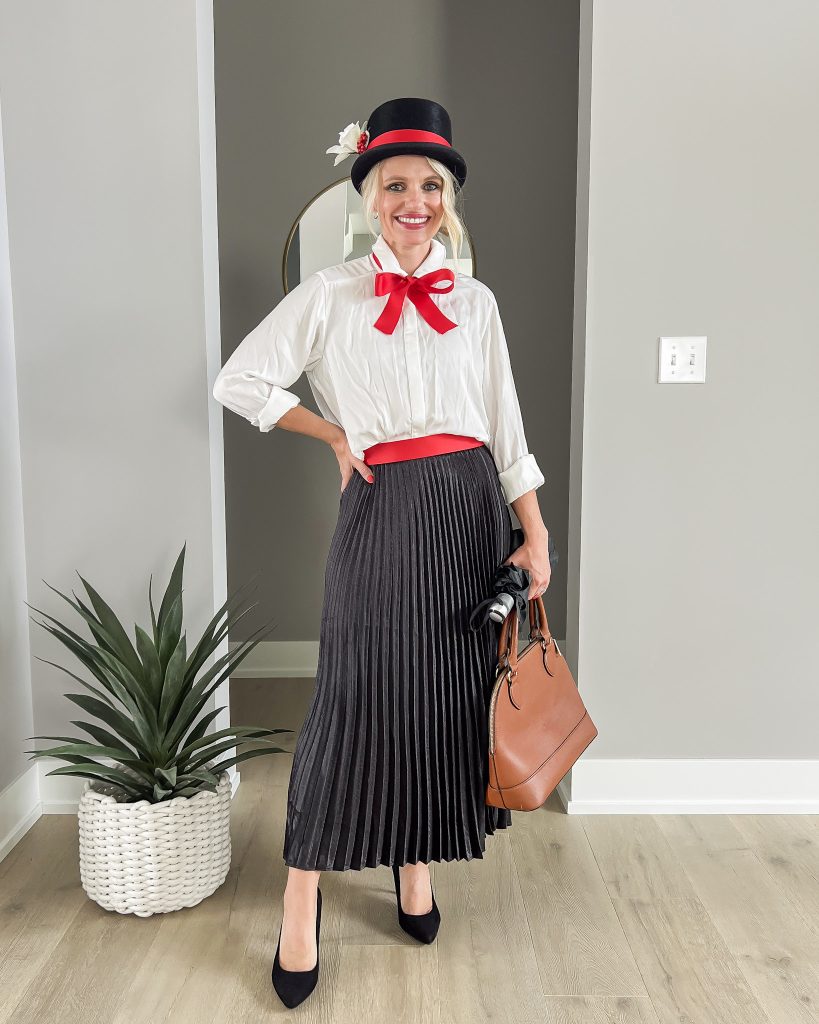 Shirt (similar) || Skirt (similar) || Shoes (similar) || Hat (similar)

4.) Mary Poppins
In 2012, Lauren Conrad posted her Mary Poppins costume on her blog and I have been dreaming of recreating that costume ever since. I just needed a hat, and I ended up finding a top hat at my local Goodwill store that I thought would work. I hot glued red ribbon around the hat and added some flowers I found in a box of decorations in my basement, including a piece of my Christmas garland.
For my skirt, I went with a black satin pleated skirt (similar). I paired it with a white satin button-down shirt. I used the red ribbon as a belt and my tie. For some extra accessories, I have my black umbrella and my thrifted dome purse.
I hope these costumes can give you some ideas! Let me know in the comments if you try them out yourself!! Happy Halloween!!
Don't forget to pin the post!!