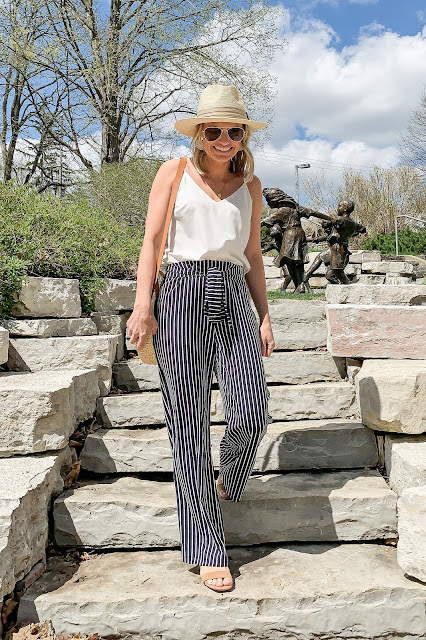 I don't know about you, but this last year has put me into an outfit rut.  I am so stuck in my comfy lounge wear clothes that it's hard sometimes for me to switch it up and actually wear real clothes.  I love creating outfits and sharing them on the blog, but when the time comes to actually put together an outfit to go somewhere in, I just can't decided. I always end up wearing the same thing which is usually something really comfortable.  Now that the weather is getting warmer and we are actually leaving the house more, I am trying to wear more of my clothes and get creative with my outfits again.  It's time to leave my comfy clothes behind and step up my outfits.
When I saw these Nautical Navy Striped Paper Bag Pants (code: THRIFTYWIFEHAPPYLIFE for 15% off) from Hometown Haven Boutique, I thought that they would be the perfect pair of pants to ease my way out of my lounge wear and into a more stylish pant.  The great thing about these pants is that they are so comfortable, I feel like I'm still wearing my sweatpants when I wear them.  If I was still working, these would be a go to pair of pants.  Even without needing a work wardrobe I can still find plenty of places that I could wear these comfy flowy pants to. 
For today's look I styled these paper bag pants as a casual spring look complete with some of my favorite spring accessories.  Scroll down to get all the details!
*This post contains affiliate links.