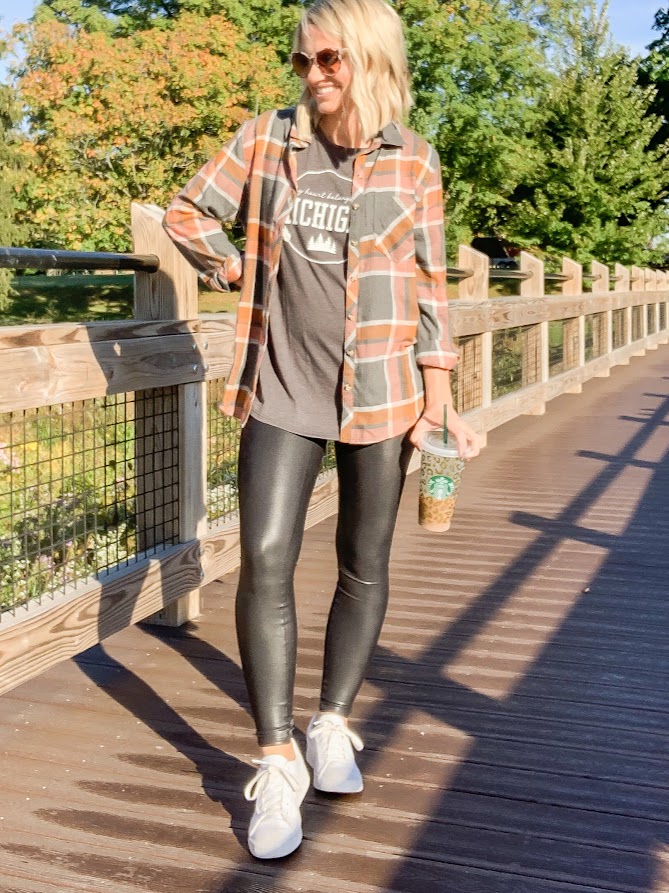 The Nordstrom Anniversary Sale Preview is here! I am sure that if you follow any style blogger on Instagram you have already heard the news. I have always struggled with how to cover this sale. At times it can seem overdone, especially when it's July and your entire Instagram feed is covered in sweaters and booties. But I've always loved following along with this sale. Not only do I shop it from time to time, but I also use it to build my fall wish list. Today I will tell you how you can save big by shopping through the sale, but I will also tell you how you can use this sale as your shopping guide for fall even if you don't feel like buying anything in the actual sale.
*This post contains affiliate links.
What is the Nordstrom Anniversary Sale?
For those of you who may not be familiar, the Nordstrom Anniversary sale is a once-a-year sale that allows you to shop new arrivals for the upcoming season at a discounted price. The sale is set up to reward loyal Norstrom customers who spend the most money throughout the year. It opens up to the highest tear on July 6, then opens to the public on July 15. Below are the dates.
Preview (everyone)- June 29- July 14
Icon Early Access- July 6-14
Ambassador Early Access- July 7-14
Influencer Early Access- July 9-14
Anniversary Sale (everyone)- July 15-31
Why I Cover the Nordstrom Anniversary Sale
I know that many of my followers don't shop at Nordstrom often. Some might even feel a little put out by the way that Nordstrom makes this sale exclusive and doesn't allow non-cardholders to shop until the very end. I will tell you right now that I do not have a Nordstrom credit card, so I do not get to shop the sale until it opens up to the public on July 15th. I will not encourage you to open up a credit card to shop the sale early either. Personally, I don't mind waiting until the end of this sale to shop it. It gives me time to really plan out any purchases I want to make.
I have heard the argument from people that everything gets sold out by the time the sale opens up to the public. That can be the case, however, there are always restocks. If you wait until the very end of the sale to shop you might be able to get exactly what you are looking for.
Nordstrom has always been my go-to department store. I love their customer service and they have free shipping and returns. Any time I want to find something a little nicer, I always turn to Nordstrom. That's why every year when this sale rolls around I like to browse it to see what brands are in the sale and what styles are being shown. I typically set aside a budget and allow myself to buy one or two items that I have been eyeing, but I only shop the sale if I see something that I really want to buy.
Plan Before You Shop
I always encourage my followers to create a wish list before they do any kind of shopping. Start in your closet and do an inventory of it. If you feel that you are lacking some items add them to a wishlist. Write it down in the notes on your phone or somewhere you can have easy access to it. Anytime you see something that you would like to add to your wardrobe, add it to your list. The Nordstrom Anniversary sale is the perfect sale to plan out your shopping list. Don't get stuck with a bunch of impulse purchases that you don't love. If you are going to shop the sale, take the time to plan out your purchases to make sure you are only buying what you need or really want.
There are certain splurge-worthy items in this sale that never go on sale this low any other time of the year. That's why I always say that if there is something on your splurge list that you've been eyeing, now is the time to buy it. Last year I splurged on a pair of Spax faux leather leggings. I knew that they were something that I would wear all the time and I also knew that it was the lowest price I could buy them at. This year I have my eye on a True & Co. bralette.
How to use the Nordstrom Anniversary Sale if you don't plan on shopping it
For years I didn't shop the sale because I didn't have the budget to do it. However, I still browsed the sale and made a wish list every year. I would take my wish list and look for similar styles while I was shopping at more affordable stores. This is why I always love to do a Splurge or Save post during the Nordstrom sale. (Read last year's post HERE!)
You can also thrift the Nordstrom Anniversary Sale. Okay, so you can't thrift the actual sale this year, but you can thrift items from prior years. A lot of times the same brands participate in the sale and the styles only change slightly. You can find used items people have bought and are now selling or donating. Pay attention to brands like Barefoot Dreams, Vince Camuto, Steve Madden, Madewell, Free People, Zella, and Spanx, to name a few. I find Poshmark and ThredUp easy to search for these brands, but you can also keep your eye out at your local thrift stores as well! (Use code: THRIFTYWIFE to get $10 off your first Poshmark order!)
My Preview Picks!!
I have browsed the preview and picked out my favorites from the sale! I'm sure that they will be adding more to the sale once it opens up so be sure you are following me on the LiketoKnow.it app to see more of my picks! I will keep you updated and let you know if I end up buying anything this year.