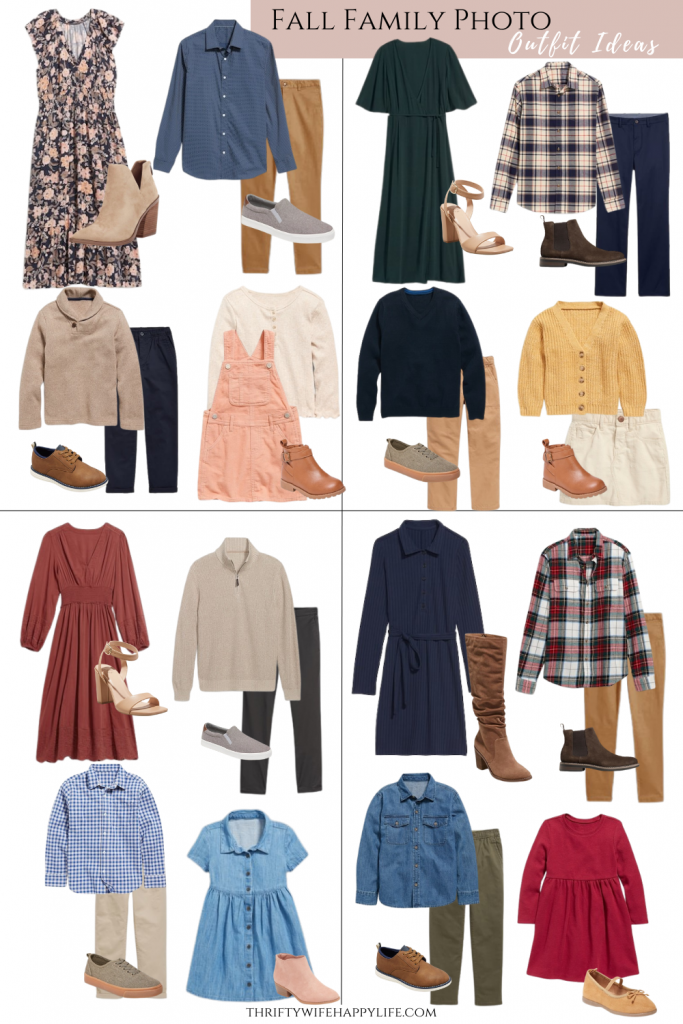 Every year I always get asked about family photo fall outfit ideas. Honestly, I don't have any experience with dressing for family photos because my family doesn't do them. It is hard enough for me to get my family to participate in a quick family photo on a holiday with me. That's why at this point in my life, I have decided that it's not worth it to put myself through the stress of planning family photos. With that said, I do love looking at family photos and if you can do them with your family, then do it. They are precious memories and keepsakes to have forever.
*This post contains affiliate links.
Although I don't have any experience planning out family photo outfits, I do know how to put together an outfit. That's why I thought it would be fun to pick out a few clothing pieces to help with your family photo fall outfit ideas.
Here are a few tips I thought of as I was putting together these outfits.
1.) Keep it affordable
There is no reason to go out and buy your family a brand new wardrobe for your photo shoot. Look inside everyone's closets first before you shop. Try thrifting your outfits, especially for the kids. I always find great dress clothes for children at thrift stores because they are gently worn. You can read more about my favorite clothes to buy at the thrift store HERE!
If you have already shopped your closet and you still aren't sure what to wear, then check out some affordable retailers that sell family clothes. You can often find some similar or coordinating clothes there that you could also re-wear for the holiday season. For the outfits below, I found almost everything at Old Navy and Target.
2.) Don't force anyone to wear something they don't want to
I recommend not making an argument about what your family will wear. Try to pick out comfortable clothes that they won't mind wearing. Make compromises when needed. Something I am currently struggling with right now is a 2-year-old who refuses to wear new clothes. If you also have this issue, I recommend bringing them with your when you pick out the clothes. Also, let your little one try on their picture clothes and wear them around the house first. Get them used to them, so that they won't have a fit on picture day. Avoiding a tantrum over the clothes on picture day is the goal!
3.) Pick out what you want to wear first and build your family outfit around that
When building these family outfit collages, I found it easiest to plan out the mom's outfit first. I picked the dress I would wear first and then coordinated the outfits around that. If you are the person planning the whole photo shoot, then you should have the first pick of what you want to wear. Right?
4.) Keep it balanced
To help balance these family looks I only have one person in the family wearing a print. Everyone else is in solid colors. I felt that if you were mixing in too many prints the outfits would clash and feel off balance.
5.) Don't overthink your outfits
I think many people who struggle with coordinating family outfits are overthinking it too much. You don't need to worry about a color pallet and how each color flows together so much. I would just pull some of the colors from the prints you choose and go with it.
4 Family Photo Fall Outfit Ideas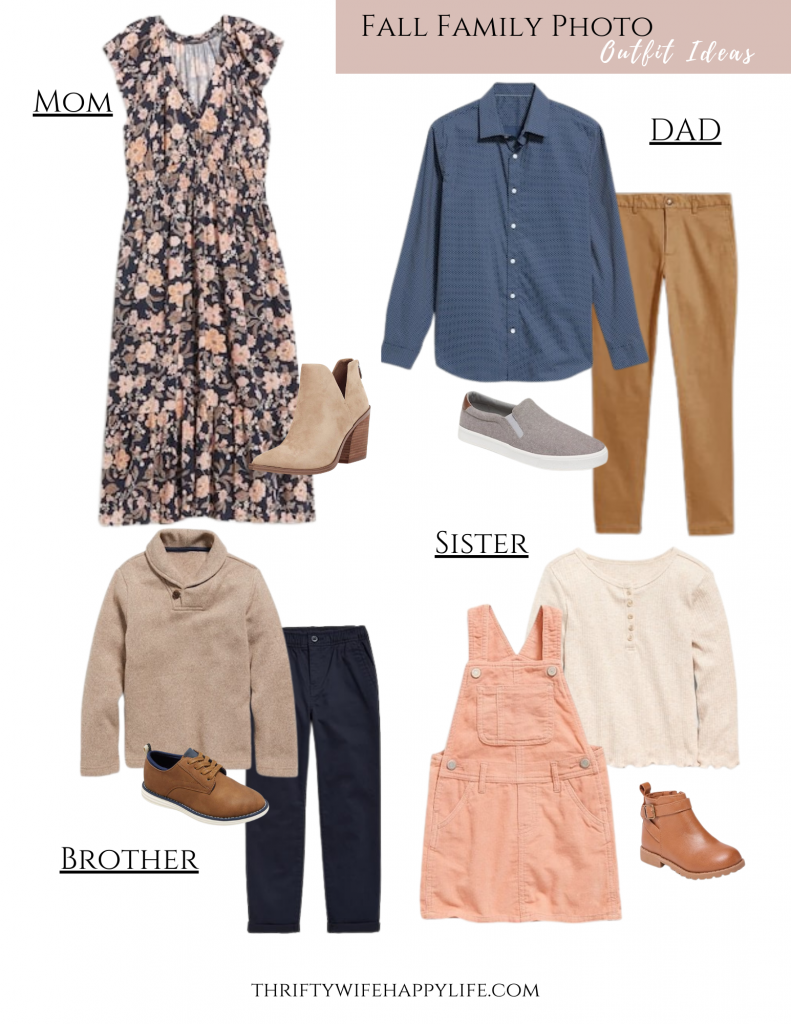 Brother: Sweater // Pants // Shoes
Sister: Shirt // Jumper// Shoes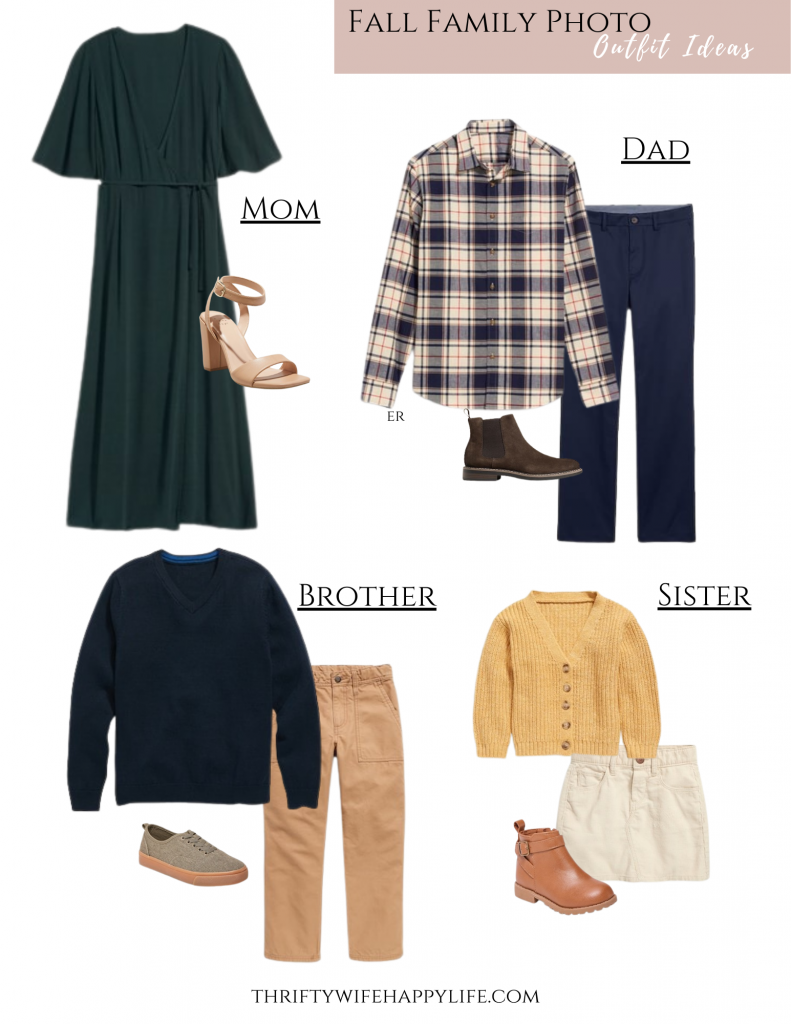 Brother: Sweater // Pants // Shoes
Sister: Sweater // Skirt // Shoes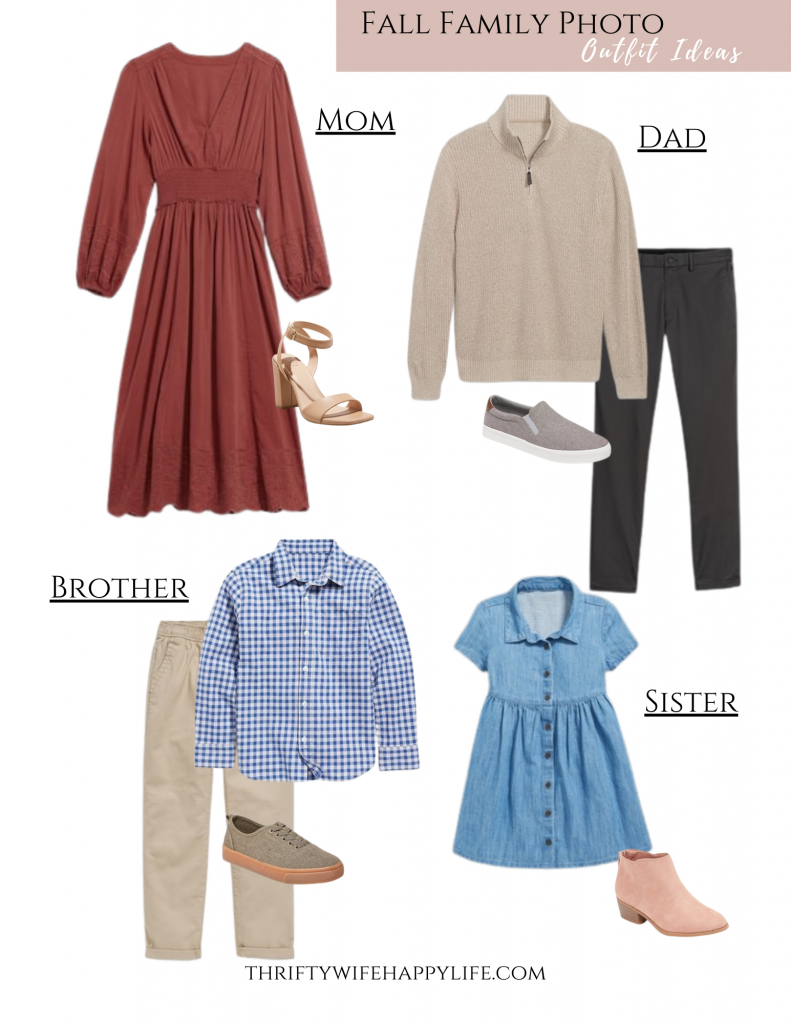 Dad: Sweater // Pants // Shoes
Brother: Shirt // Pants // Shoes
Brother: Shirt // Pants // Shoes