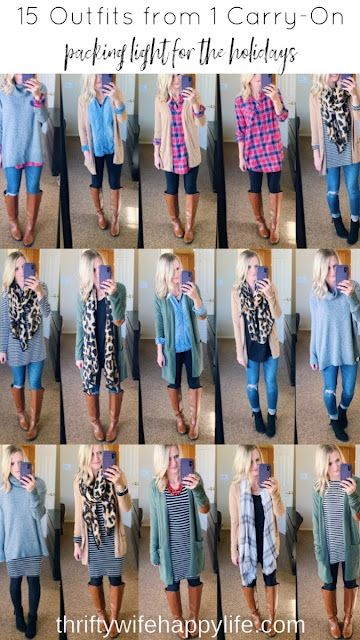 Next week I'm going to be making another trip home to Michigan for my Christmas break. I'm excited, but of course, overwhelmed thinking about it all. It's always stressful traveling around the holidays. My husband is going to be flying our flight, which I'm very excited about, but it also means that I'm on my own with our crazy 2-year-old. The hardest part about traveling by myself with a toddler is the amount of stuff we have to bring. His car seat, stroller, luggage, toys to entertain him… it's a lot. I haven't really mastered how to travel with a kid and look like one of those cool put together moms I see on Instagram. I'm always an over-packer because I hate leaving my wardrobe behind. The last time I traveled home, I learned my lesson that less is more. That's why on this trip home, I'm going to try and travel light. As light as I possibly can. That's why I started planning what I was going to pack for my trip weeks ago. I'm hoping this will help me when the actual travel day comes along.
Today I want to share what's in my suitcase this December. I'm trying to keep it simple, casual, versatile and most importantly warm. Our only plans are to visit with family and we have lots of family to see.
*This post contains affiliate links, which means by clicking on and/or making a purchase from a link, I will earn a small commission for this blog. Thank you for your support!